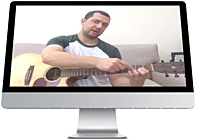 I`m Dan Thorpe, I specialize in teaching classic fingerpicking, strumming and acoustic songs to beginner students over 50… teaching you to play step by step, pain-free and with joy!
At Guitar Domination, you will improve in less than 1 month – guaranteed. 1000`s have done so before via the:
Dan has taught a huge variety of students ranging in skill from absolute beginners who have never played the guitar before, all the way to seasoned pros with 40 years of playing experience.
If you are over 50 and love fingerstyle, strumming and acoustic styles, you will love it here.
If you have ever struggled with bad technique or pain when playing I`ll help you fix this.
If you have struggled with tutors teaching too fast, you will love my step by step method.
If you feel "too old to learn", I`ll show you why this is nonsense. I have helped dozens of players over 50, 60, 70 (and some even 80) years of age in person and 1000`s more online achieve their guitar playing goals.
I really love to teach guitar and have learnt so many tips, tricks and techniques over the years that can and will shave years off your guitar playing…
These are the same techniques that have worked for many of my personal students and have been tried and tested on them over many years.
I want to share with you all those golden nuggets of information, the easy wins and the proper technique that will set you up for the long term.
Do you love playing the guitar and strive to play your favourite songs as good as your guitar heroes?
Does the guitar sometimes frustrate the hell out of you and you feel like you struggle with bad technique?
Do you sometimes browse YouTube looking for some cool guitar lessons but never quite find what you are looking for?
Made for guitarists learning later on in life who love fingerpicking and strumming songs
You will learn a wide variety of things such as:
Fingerpicking
Strumming
Less pain when playing
Better chord changes
Lead guitar
How to practice more efficiently
Riffs
Barre chords
Better technique
How to make your playing sound better
…and lots more
Click HERE to join 12,000 others and get updates sent to your inbox. It's free and you can unsubscribe whenever you like

 A brief history of Guitar Domination
On a breezy, rain-swept day in early 2014, I was desperate to head out and go for a bike ride. I was feeling, well a touch hungover to say the least, after a great gig the night before.
Well, the weather was rubbish (it is England after all!), so I got on my computer and thought I'd try and learn something new on guitar.
For the first time in a while (due to being busy with lessons, gigs and having fun) I browsed about on YouTube and various blogs looking for something fun, quick and awesome to learn. After 45 minutes of clicking about, well let's say I found nothing.
Yes, there are plenty of cool guitar sites and YouTube channels, but none were really doing it for me.
So, I thought 'sod it' (a classic English phrase which is a polite way of saying `f#@k it' ) and said to myself "I'll set my own site up'. Many of my personal students had been encouraging me to do so for years anyway.
After all, at the time I had taught over 120 students and most of those had gone on to achieve great results.
Well, here it is. What started off as a bit of fun has really started to develop into something cool with about a million YouTube video views and a big list of dedicated subscribers which I am massively grateful for.
Now, with well over 12,000 subscribers and a desire to make you the finest guitarist this side of Tommy Emmanuel and James Taylor, we are in for a ride!
Click HERE to join over 12,000 others and get updates sent to your inbox. It's free and you can unsubscribe whenever you like.
About Me
I'm Dan Thorpe, your dedicated and chilled guitar teacher from (not so sunny) Birmingham, England. 
As well as fingerstyle, strumming, rock, pop, and blues, there's also a tonne of other stuff I really love to play and listen to such as jazz, reggae, world music and classical.
I`ve played in loads of bands, original and covers, and I`m even writing and recording my own solo EP.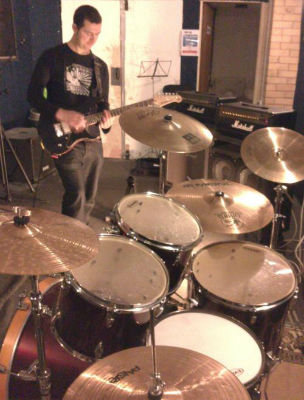 My favourite guitar player ever is probably Jimi Hendrix, but there are literally 100`s who have and will continue to inspire me daily.
I`m also a fan of incorporating techniques used in one genre and applying to another to make things more unique and sometimes easier.
Some of the bands I like range wildly in era and genre.
All the way from James Taylor, The Beatles (obviously), Pink Floyd, Led Zeppelin, Bob Dylan, Simon and Garfunkel,  Chris Cornell, Eric Clapton, Incubus, Ed Sheeran, Chet Atkins, Tommy Emmanuel, Damian Rice, Oasis, Wes Montgomery, Foo Fighters, Chuck Berry, Jimi Hendrix, Red Hot Chili Peppers, Carlos Santana, Artic Monkeys, Bob Marley, Roy Orbison, David Bowie, Jeff Buckley, Tracy Chapman, The Kinks, Queen and many more….
I really think you can learn a lot by having a wide range of influences. I think every guitarist should learn at least one song in every genre!
You can also find my page on Facebook and YouTube.
About You
Why have I included an About You section on this page, well because you are the ones who make this happen.
If you don`t read this blog and stop coming back to the site (don`t even think about it!) then I will probably stop writing, creating videos and making courses, or maybe not, I love it that much.
This is a website dedicated to helping you master the art and science of playing the guitar – particularly fingerpicking, strumming and acoustic guitar for those in their 50`s and above.
I want you to learn with a smile on your face, without tension, and while having lots of fun!
If that sounds like you, hit subscribe to join my completely free mailing list where you will receive free super cool awesome practical tips on things to help you improve your guitar skills.
Plus you get two fine eBooks (and other stuff) completely free.
We will cover tricks, tips and techniques, both in video and written format, as well as more light-hearted stuff for those moments when you just want to relax.
If you`re a fingerpicker, strummer, or rock and blues player, you will find something to `float your boat` here.
Make sure you visit regularly; I will be updating this site frequently.
Click HERE to join 12,000 others and get updates sent to your inbox. It's free and you can unsubscribe whenever you like
I hope you enjoy Guitar Domination. Thanks for joining me on this journey!
Dan Thorpe
(Visited 6,032 time, 39 visit today)