Udemy Exclusive Freebie!
---
Get two of my highly rated eBooks today for FREE
"Good, solid advice for any beginner. Always better to start from a good base knowledge of a few seemingly simple principles instead of wasting time not mastering them from the offset. I have to say the man talks some sense." – Stephen Taylor
As seen on Amazon Kindle, Smashwords, Barnes and Noble and more…
Remember they're FREE!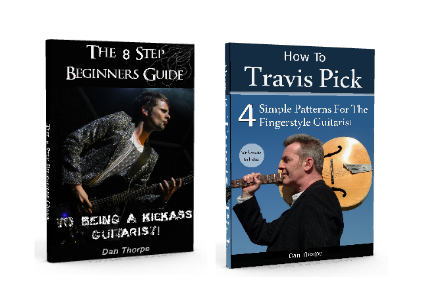 "How to Travis Pick: 4 Simple Patterns For The Fingerstyle Guitarist" 
"The 8 Step Beginner's Guide To Being A Kick Ass Guitarist" 
Please note: Your email is NEVER sold or mistreated. It is purely and strictly confidential.
Join over 10,000 other guitarists on my exclusive Guitar Domination mailing list featuring regular (but not too often) tips, tricks and proven methods to learn the guitar in a simple and fun way.
You can unsubscribe any time you like.
Here is what the others say about theses eBooks…
"This book is great to read when you feel like giving up. This book gives you direction with what you should practice and how long" – Ramon Moreno
Great beginners book! – Amazon Customer
"As a new student I've seen a great deal of advice on how to learn the guitar. Dan's book is the only one I can actually relate to. It it clearly written and contains good, solid advice which actually makes sense. Thanks, Dan." – Daniel B.
"Must read for any guitarist, Great book !!!
Thanks Dan" – Ray Irwin
"Dan gives an excellent strategy for beginners to really get the basics right when starting out. All of the advice will set you up with a solid foundation for future learning." – Marie
(Visited 2,640 time, 3 visit today)