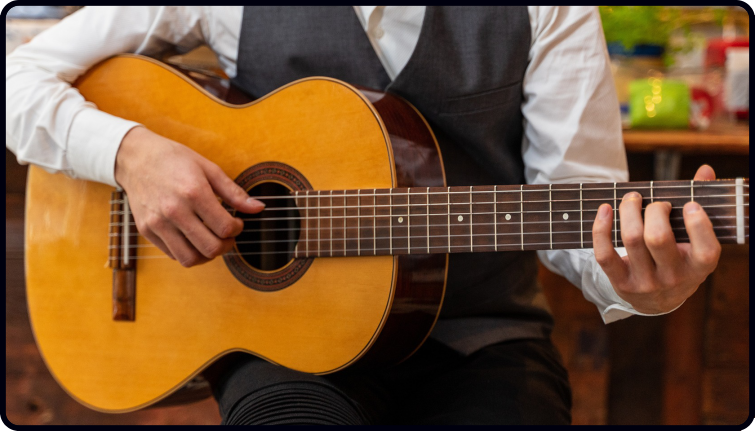 As you develop your playing, there are five cool "tricks" you can add to your playing.
I say the word "tricks" loosely, as that's what some people think of them as…
…But in reality, these are all great techniques…
And they're techniques that sound pretty awesome when you add them to your guitar playing.
If you use them to spice up your playing, they can make everything sound epic.
These techniques are:
Hammer-ons
Pull-offs
Slides
Harmonics
Vibrato
All of these are things I use in my playing.
Especially when I want to spice up a simple G D C chord progression…
…Or when I want to jazz up a melody.
…And I love to use them when making a solo fingerstyle arrangement sound bigger and more grandiose.
I will talk more about all of these in the future, but in this week's Acoustic Asylum podcast, I'm talking specifically about pull-offs.
Pull-offs are probably the easiest (for the average student) to get started with.
…And in the podcast, I share with you what is probably the most important tip when learning pull-offs.
Plus, I also share a very simple two-step plan for learning pull-offs. (By the way, most people try to skip over these two steps, which is a mistake).
Have a listen to Acoustic Asylum today – it will give you some fun ideas to think about and use in your playing.
Anyway, you can have a listen below and I hope you enjoy the podcast.
https://acousticasylum.com/listen/
If you enjoy the Acoustic Asylum podcast, I'd be super grateful if you could leave it a rating and review – these are especially handy if you listen to it on Apple podcasts, by the way!
Enjoy your Sunday… 
Dan Thorpe
Guitar Domination
P.S. Tomorrow is the last chance to get my Essential Guitar Technique book (worth $47) posted to your door as a welcome gift.
When you join, you'll also get the Guitarists Get Theory book (worth $47) which I send to new members…
…But the technique book is a bonus for this month only, so if you want it, please do join before midnight tomorrow. Here is the link to find out more about the academy.
The Dan Thorpe Acoustic Academy
P.P.S. This post was originally taken from Dan Thorpe's private email list. To get blog posts like this sent to you which are full of great tips to make fingerpicking, strumming, and learning guitar more enjoyable (especially if you are over 40) join Dan's list. It's 100% free, HERE.