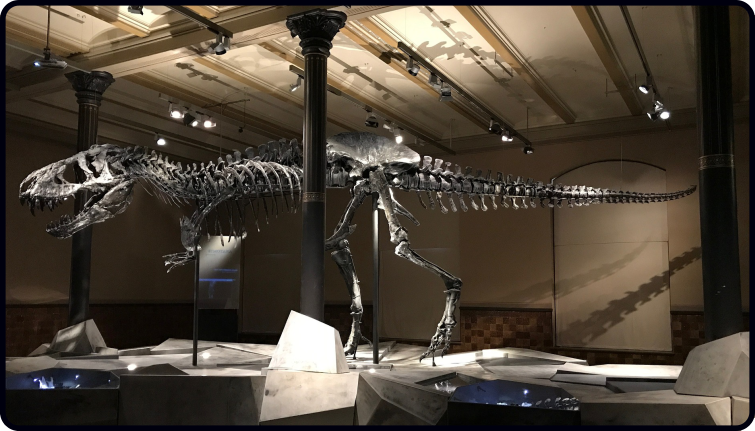 I was always a big fan of the acting and comedy of Robin Williams.
That could be Mork and Mindy re-runs as a kid, Jumanji, Good Morning Vietnam, Mrs Doubtfire, and one of my favourites…
…Night at the Museum.
I know he wasn't the main star in this, but he was great.
If you ain't seen it, it's a family movie about a janitor at a museum (Ben Stiller).
He's working there, the job is dull, but then…
At night everything, all the figures, models, and waxworks all come to life.
You see Ben Stiller chased around by a T-Rex, statues, monkeys, Attila the Hun, and even a waxwork of Theodore Roosevelt (played by Robin Williams) comes to life…
The museum literally goes from being a still memory of the past to being a vibrant, exciting journey through history.
It's a fun film that reminds me of one of the most powerful guitar lessons I know…
That is, how to take something that has no soul or purpose other than to be looked at and bring it fully to life.
What I'm talking about is sheet music – either TAB or notation…
…And making it shine so the notes jump off the pages with joy, passion, and soul.
The problem is with music, many guitarists just play what they see on the page. That's fine but there are 1000 ways to interpret music.
Some people do the minimum, others though, make it sing wonderfully.
Take my latest arrangement which is "Wayfaring Stranger" (a stunning song).
I teach this in a new lesson and when you look at the notes in the arrangement, you may think, "is that it"?
The notation looks simple and sparse. It uses minimal chord shapes, and it has the open E and A string notes to fill out the sound.
All in all, it is pretty simple to play.
This is great for beginners, but what the music doesn't tell you is how to bring these notes to life.
Experienced guitarists may even think "this is easy" and move on to something harder.
If they do that, they will be missing out though.
…Because no matter where you are in your journey, you can have a blast bringing simple songs like this to life.
One easy way to do this is to repeat the piece and change something each time you do so.
Things like dynamics, tempo, phrasing, vibrato, ornamentation (such as hammer-ons and slides), and even improvised sections in between the melody notes…
All of these things work really well in adding passion to a piece.
This process is very much like how the waxwork models in the Night at the Museum come to life at night – showing massive amounts of personality and passion and life.
Anyway, you can use this mindset and the above concept for anything, but if you want to learn "Wayfaring Stranger"…
…In a step-by-step video (along with the TAB and notation) with me showing the process of how I brought it all to life, then you can because…
On February 1st, I release the new Dan Thorpe Acoustic Academy lessons.
This is one of them.
To get it though, you'll need to join before the last day of the month, which is Monday at 11:59 pm.
Here is the link to find out more…
The Dan Thorpe Acoustic Academy
Have a great day of practice…
Dan Thorpe
Guitar Domination
P.S. This post was originally taken from Dan Thorpe's private email list. To get blog posts like this sent to you which are full of great tips to make fingerpicking, strumming, and learning guitar more enjoyable (especially if you are over 40) join Dan's list. It's 100% free, HERE.