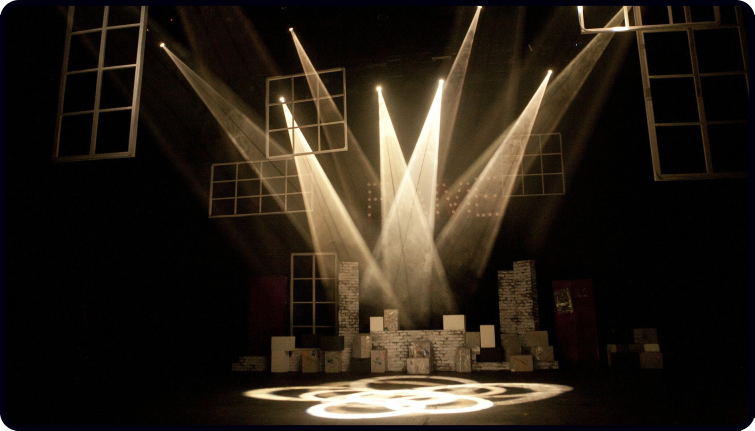 Welcome to a new Monday post with 3 random thoughts on all things guitar, music, and life. This week are a few random thoughts from Archie's and my trip to the theatre the other day to watch a stage production of Bedknobs and Broomsticks.
#1 – Bedknobs and Broomsticks
A couple of weeks ago, we saw an ad for the musical adaptation of the old classic Disney film, Bedknobs and Broomsticks.
I jokingly suggested to Archie we go and watch it. To my surprise, he was 100% up for it.
As has done well at school lately, I was like, "yeah, c'mon then, let's be random, and do it."
So, we got the last pair of good seats right up front and centre and went on Saturday.
The movie was one I enjoyed as a kid and seeing it in the theatre with Arch was great fun.
The production was huge, and it was an experience to behold.
If you've never seen it, it's a crazy fantasy story.
It opens with a war scene. London being bombed from above, the children's parents dying, the kids being shipped off to the country.
Then there's the witch flying, the land of Nopeepo, and, of course, the magical flying bed that took the actors high up in the rafters.
Some people may have hated it (I would have when I was a teenager).
…But it's all about immersing yourself in the experience, the emotion, the drama.
Relating that to the guitar, it's why I like students not to learn too many songs…
Instead, it's better to go deep and really connect with a smaller number of songs you do learn.
Feel every note, let every melody wash over you.
Music, guitar, life (and the theatre) are so much better when you let go and get really into it…
#2 – Performing live it often all goes wrong
About a 1/3 of the way through, it was all going so well…
…But at one point, completely out of character with the set, the director walks on stage, pulls the cast offstage, and the curtain drops.
There's a technical difficulty.
The show stopped, we waited eagerly, and after a long pause, it finally carried on.
The cast all kept their calm and showed a lot of professionalism.
It's easy to lose your focus when something unexpected happens.
It's a bit like on the guitar when you are really getting into playing a piece, and you're totally in the zone, and then bam, the door knocks, or your other half asks you where the remote is and ruins your flow!
Oh yeah, we all get annoyed by things like this.
It's why it's good to practise in a distraction-free zone, so you can focus 100%.
…And when distractions do happen, being a pro and not letting them bother you is important too.
#3 – Listening deeply
One thing about the show that annoyed me, was, actually…
Well, umm, me.
I was loving it, but I'll be honest during the musical parts, I was just listening to the orchestral parts and not paying attention to the words or the visuals all that much.
I do this thing where I listen to all the parts of a song and try to decipher what instruments are playing what parts.
For instance, during one song, there was the brass starting us off, some strings blasting, and then as these notes were dying off, the woodwind took over.
It happened within seconds, and there are obviously more instruments going on throughout too.
It's good ear training doing this when listening to music.
…And it takes a fair bit of concentration – it was just annoying that I was doing it on autopilot, but then again, I'm a sucker for great music and can't help myself.
Anyway, when you listen to music, it is worth practising this.
Doing so is good for your ear.
So, there you go.
Three random thoughts from Archie's and my trip to the theatre.
I hope you enjoyed that, and if you're a music lover, which of course you are, it's well worth heading to a fun theatre show.
Dan Thorpe
Guitar Domination
P.S. Speaking of fun, have you checked out my latest release? It's a ridiculously inexpensive $0.99 eBook for Kindle. It might be inexpensive and small, but it's packed full of good short lessons. I hope you enjoy it if you get it. The link is here…
Find out more about The QuickStart 7-Day Guitar Plan
P.P.S. This post was originally taken from Dan Thorpe's private email list. To get blog posts like this sent to you which are full of great tips to make fingerpicking, strumming, and learning guitar more enjoyable (especially if you are over 40) join Dan's list. It's 100% free, HERE.