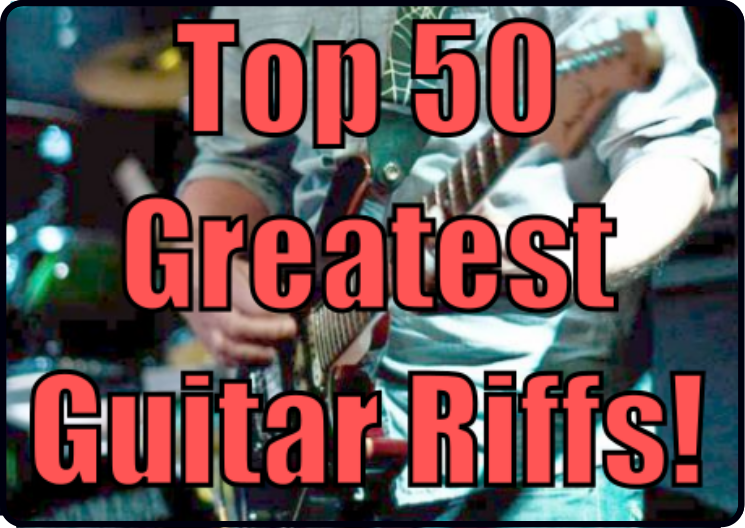 One of my most popular posts on this blog is the Top 50 guitar riffs post which was released a few years ago. It is now getting a massive update and I want this to be the absolute best guitar riff list anywhere so you can have fun, enjoy the best sounding riffs and learn them in a progressive manner.
After teaching 1000s of hours more lessons since this post and conversing with so many of you from around the world I have decided to revamp this list to make it stronger, more suitable for my audience and more progressive in difficulty.
I have always strived to make my free resources better than other tutor's paid resources and this top 50 post is no exception. The only trouble is, it needs updating to reach its maximum potential.
The list will be finalised over the next few months and I want your input.  I'll be creating many more quick videos teaching you how to play the riffs in the list too. Until then, where there isn't a tutorial of mine, I'll be linking to another good tutorial.
There are about 30-35 riffs in the current list that will stay but the ones that aren't really suitable or don't sound as good as some of the others I teach these days will be gone.
If you have any suggestions for your favourite riff of all time, put it in the comments below and let's see if it's one we can add.
The criteria for these riffs are:
Must be instantly recognisable
Must sound great
Must not be excessively difficult to play
If your riff idea fits the above criteria, let me know by leaving a comment below and I'll add it.
For now, check out the current top 50, learn some and let me know which work for you and which don't. I want to make this list the absolute best anywhere.
In a few days, I'll be releasing a new riff video and it's one I'm sure you will love!