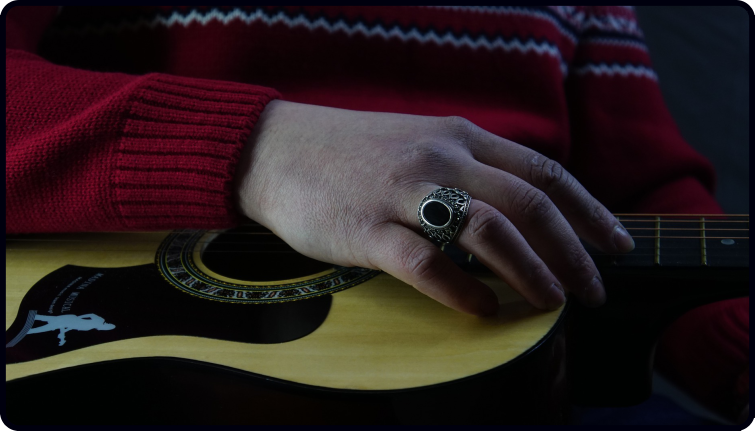 Welcome to a new Monday post with 3 random thoughts on all things guitar, music, and life, including remembering Chris Cornell, a Lennon documentary, and more…
#1 – Lennon: The New York Years
I was watching part of a great documentary the other day.
It was called Lennon: The New York Years.
It was about John Lennon and the time not long before he died.
I have only watched half so far but there's a recording of him talking with his son Sean.
Sean's singing a Beatles tune and John somehow forgets what it was, saying, "ah, that's one me and Paul sang".
It was strange hearing it, almost like he was so detached from the song and the Beatles era.
(It was "With a Little Help From My Friends").
It's an interesting documentary to watch and the whole thing shows how John had changed and moved on so much over the previous years.
Gone was the wild party guy, and he was replaced with a seemingly much gentler family man.
It shows a human side of John.
Like I always say, it's good to see the human side of our musical heroes.
It stops us from looking at them like they are supernaturally talented.
It is really interesting so far, and I'll watch the rest later.
Looks like a good watch if you are a fan.
#2 – In memory of my biggest musical hero, Chris Cornell
Talking of another musical hero of mine…
Last week marked the fourth anniversary of the death of one of my musical heroes, Chris Cornell.
If you don't know his stuff, his music was pretty big in the rock scene for the last 30 years.
He was in bands such as Soundgarden, Audioslave, but also did some wonderful solo acoustic stuff too and sang a Bond theme.
His music was the music I was listening to as a teenager, just as a whole new world of music was opening up to me.
He had a voice that could roar like a lion, but one that could be angelic too.
Me and my best mate were talking about him the other day.
While many of his rock contemporaries were sadly passing away from drugs, illness, or suicide over the years…
Chris always had a steady flow of great music and was constantly evolving.
He just seemed so on point.
When he took his own life, it was a real shock.
Not for one moment did I think that would happen.
Anyway, here's his version of "Nothing Compares 2 U" – a beautiful cover he did a few years before he died.
I had to raise a glass to him last week and this one's for Chris who's no doubt jamming in the great big gig in the sky with all the other great musicians we have lost over the years.
#3 – Ever tried jamming with yourself? It's fun!
Okay, Let's finish on a practical note.
I always encourage students to jam with others.
Sometimes this is not easy though.
Some students have tried it but often the friend they jammed with had played for decades longer, and they were on totally different wavelengths.
Sometimes the other person just was not that patient.
You don't have to jam with others though.
You can jam with yourself!
All it takes is a smartphone, a few chords, and some simple creative ideas.
To do it, try this:
Record yourself strumming a simple chord progression as a loop.
Play it back nice and loudly, grab your guitar and start jamming over the top.
It is lots of fun and you can really get creative and get lost in the moment.
Jamming and improvising like this is great for the brain too, (multiple studies show being creative can help improve your brain age).
Anyway, the June bonus for the Dan Thorpe Acoustic Academy teaches you how to do this.
In it, I take three easy yet great-sounding chords, record them, and jam four unique and distinct ideas over the top.
This includes playing a bassline, fingerpicking, playing lead, and using "triads".
Each idea is lots of fun.
If you ever tried jamming but didn't know what to play, this lesson will be for you.
It will be released on the 1st of June for all members, so if you want it, do join before then.
Below is the link to join:
Find out more about the Dan Thorpe Acoustic Academy
Happy jamming!
Dan Thorpe
Guitar Domination
P.S. This post was originally taken from Dan Thorpe's private email list. To get blog posts like this sent to you which are full of great tips to make fingerpicking, strumming, and learning guitar more enjoyable (especially if you are over 40) join Dan's list. It's 100% free, HERE.