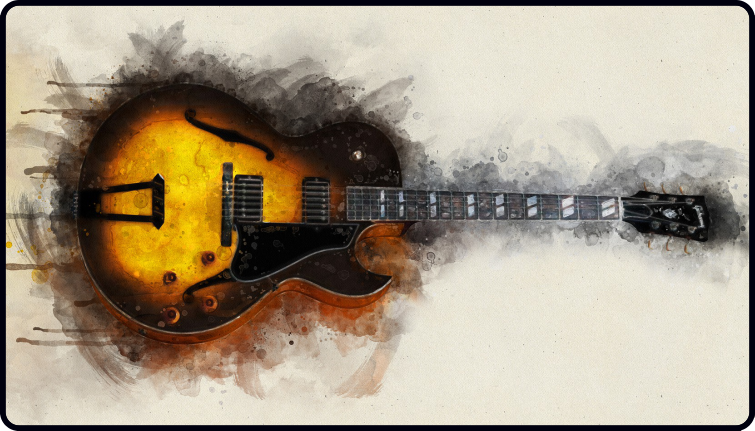 Welcome to a new Monday post with 3 random thoughts on all things guitar, music, and life, including some thoughts from Eric Clapton, jamming ideas, and more.
Here we go…
#1 – Even Eric Clapton struggled once
I've been reading Eric Clapton's autobiography lately.
There are a few really interesting things so far.
For instance, Clapton talked about how he started off learning on a German-made Hoyer guitar that cost £2…
…But how he couldn't get his hand 'round the neck, and he found it painful to play.
He said how he broke a string, had to learn using just five strings, and bizarrely even tried to use a string as a guitar strap at some point.
And in his words, Clapton said:
"I could hardly press the strings down, it seemed like it was going to be impossible, and I was overwhelmed by the reality of it".
It's funny, I've had very, very similar words said to me by new subscribers many times over the years.
I thought I'd share this mainly because many people have no idea about how he struggled…
Or the countless hours he spent just trying to get decent at guitar way before becoming a superstar.
Most of us can only picture our guitar heroes like Eric on stage, on record covers, or in guitar magazines looking and sounding cool.
…But it's wise to remember Eric and the rest are very much human beings who had to work pretty darn hard to get good.
There are plenty more nuggets from this book (which is great so far) and which I'll share more of soon.
#2 – Ways to jam with others
The other day I talked about how me and a certain student used to jam together.
In fact, I still love to jam with students.
If you have a friend who plays guitar or a guitar teacher, you can do the same sort of thing.
Basically, the way we do it is like this:
Choose a song
You play the melody
The other person strums the chords
Once you've done one loop of the song, you swap parts
You get bonus points for making the swap over as seamless as possible.
You don't have to do this with just songs.
In fact, students and I do this with the 12-bar blues too.
…And sometimes we take a random chord chart from the "grade" books I have and apply the same idea here.
It's a simple but fun way of jamming that puts smiles on both of our faces.
This is something I recommend you do when possible, either soon or in the future.
It's a lot of fun and can be very beneficial to your playing.
#3 – Challenge TV
The other night my friend came round and we were chatting away.
Randomly, we flicked over on the TV and a channel called "Challenge TV" came on.
This is a station that plays old quiz shows and game shows.
It was fun watching re-runs of stuff like Who Wants to Be a Millionaire, and Bullseye (a classic darts-based game show).
The haircuts, moustaches, and fashion, from 30 years ago were pretty funny.
…But I love quizzes and I often use them a lot with students.
It's a great way of cementing knowledge, finding out where the holes are in your playing, and refreshing what you know.
One of the coolest things for me as a teacher was when my web developer created some quiz software.
This allowed me to test students around the world in the same way I do with private students.
A quiz I really enjoyed creating was my "Who Wants to Be a Musical Millionaire" quiz.
It's a fun but powerful bonus quiz that is exclusive to my eBook bundle (that's because the questions are based on the eBooks).
You can get this quiz inside the bundle below.
Until midnight tonight (Pacific Time) this bundle is on sale.
Guitar Domination Super eBook Bundle
I hope you found this useful and have a great week ahead.
Dan Thorpe
Guitar Domination
P.S. This post was originally taken from Dan Thorpe's private email list. To get blog posts like this sent to you which are full of great tips to make fingerpicking, strumming, and learning guitar more enjoyable (especially if you are over 40) join Dan's list. It's 100% free, HERE.