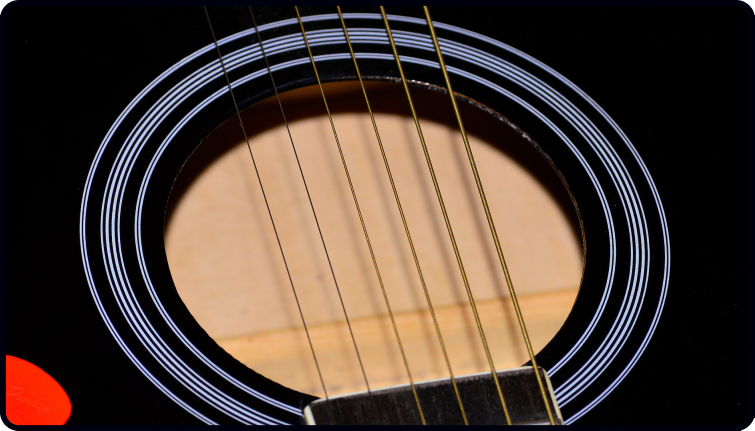 Today I want to talk about two vastly different guitarists.
I never quite realised to what extent the influence these two amazing guitarists have had on me until lately.
…And you too can learn a lot from these two.
The two guitarists in question are James Taylor and Django Reinhardt.
One sadly passed away 70 years ago (Django), while the other is still in good health as far as know (James).
One was a gypsy jazz pioneer who lived in a caravan with two working fingers (Django), while the other is a folk legend whose net worth is said to be around 80 million (James).
In many ways, they are the polar opposite of each other.
Let's talk Django Reinhardt first…
The fire that burnt his fingers and left him with only two working fretting hand fingers (plus his thumb) meant he had to develop a really unique guitar technique.
After the accident, melodic scalic playing became his "bread and butter" so to speak.
He was a master of using the fretboard and running up and down it, focused on scales, arpeggios, and melodies, and he had his own signature imprint he could put on any song.
He also focused a lot on phrasing and elegant licks and had a great sense of groove.
Now, let's talk about the very different style of James Taylor…
James Taylor, on the other hand, has always been a very melodic, chord-based player.
One obvious thing about his playing is that he doesn't tend to use fingerpicking patterns nearly as much as other folk players do. This can make his style trickier to emulate, but what I love is the contrast he gets in this playing. He often uses the higher-pitched strings but focuses on the interplay between those strings and the bass notes.
In many ways, James is a virtuoso acoustic player but one who nearly always crafts his guitar parts to fit the song beautifully.
I once read he said he's not a big fan of the key of C and G on the guitar and they restrict him (I found that fascinating and that makes sense with his style). If you love acoustic playing, you can't not enjoy his calming grooves which sound rich without being overly complex or stuffy.
Although very different in some ways, both guitarists are similar in that they always play for the song, they inspired legions of fans, and have helped make their chosen style of music accessible to the mainstream.
Both are/were at the forefront of their genres.
Many years ago, I went down the rabbit hole of guitar playing. This was a time when I was playing in bands.
I really wanted to develop my own sound on the guitar and I found most other guitarists could play rock and blues brilliantly, but they often sounded similar to each other.
So, I figured I'd learn a couple of different styles that none of my peers were doing.
Folk and gypsy jazz.
I was fascinated by both sounds and styles.
It was a random course I found on gypsy jazz that I tried on a whim that really got me into Django's style and it was listening to James Taylor at my dad's as a teenager that got me into his style.
So anyway, both players can teach you a lot.
…But the point of this email is not really about learning from these two in particular.
It's more about the benefits of choosing a guitarist's style to learn.
Then really going deep on learning about what makes their style work, what techniques they use, what "tricks" they have, and how they have crafted their own sound.
…Because all the great guitarists out there have their own signature sound.
You can learn a lot by mimicking one player's guitar sound.
For me, I never really realised how much these two influenced me until recently when I was creating a new style of playing fingerstyle.
While it's not obvious to the naked eye (or should that be "naked ear") how these two influenced me, the influence is there.
Take my new and super simple "When the Saints Go Marching In" arrangement.
There's a big focus on playing melodies up and down one string (the melody is exclusively played on the high E string, making it easier to play) – ala Django.
Yet there is a big focus on using the low E and A bass strings to fill out the sound and add groove to the piece (a la James Taylor).
While no one would instantly say it sounds like either of those players, the influence is definitely there.
…And that's the cool thing about playing guitar.
You can literally take the bits you enjoy from one guitarist and put them into your playing.
Often you won't even know it is happening.
It goes to show what you learn over the years seeps into your subconscious.
Sometimes these skills jump right out in front of you instantly, like a jack-in-the-box.
Other times, these skills are deep in the recesses of your mind and much like a message in a bottle, they slowly wash up on a beach, taking their time to "arrive" and be usable.
Anyway, keep learning from your guitar heroes.
There's a lot of mileage in doing so.
In terms of the academy, to get the new lessons, which include how to play a simple but beautiful song, improve your chord changes, and discover a secret "weapon" you can add to your playing, here's the link to subscribe while there's still some time left to do so:
The Dan Thorpe Acoustic Academy
Dan Thorpe
Guitar Domination
P.S. This post was originally taken from Dan Thorpe's private email list. To get blog posts like this sent to you which are full of great tips to make fingerpicking, strumming, and learning guitar more enjoyable (especially if you are over 40) join Dan's list. It's 100% free, HERE.