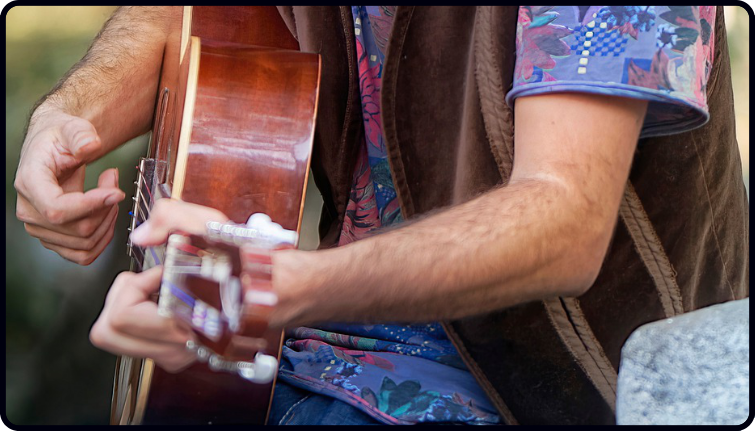 Just a quick email today to tell you that a brand-new Acoustic Asylum podcast episode is now live.
…And there's a new feature I've created for the podcast.
"The Rules of the Asylum"
On the guitar, there are many lessons, principles, and "rules" that I recommend students follow.
I find the most successful students are the ones who follow these as closely as possible.
So, in the occasional podcast episode, I'll start sharing these "rules" with you.
In today's episode, I'm talking about the #1 rule I tell everyone.
I've talked about this before, so you may know what this is, but you may not.
Either way, if you follow this very simple rule, you'll make more progress with your playing, your motivation will improve, and you'll get more enjoyment from your playing.
In the podcast, I give some examples of the rule in the context of speeding up your chord changes, ear training, and some simple fingerpicking.
You can have a listen below if you have an iPhone:
Listen to the Acoustic Asylum on Apple Podcasts
…Or if you don't have an iPhone, you can listen HERE.
I hope you enjoy it and do let me know what you think!
Dan Thorpe
Guitar Domination
P.S. I may start doing two episodes per week. A "normal" free-flowing episode on a random variety of fun stuff and a shorter one where I share a new "rule" of the Asylum.
If this sounds good to you and you're enjoying the podcast, please leave it a review (reviews on Apple Podcast are incredibly useful). If there are enough reviews, I'll definitely be doing more episodes.
P.P.S. This post was originally taken from Dan Thorpe's private email list. To get blog posts like this sent to you which are full of great tips to make fingerpicking, strumming, and learning guitar more enjoyable (especially if you are over 40) join Dan's list. It's 100% free, HERE.