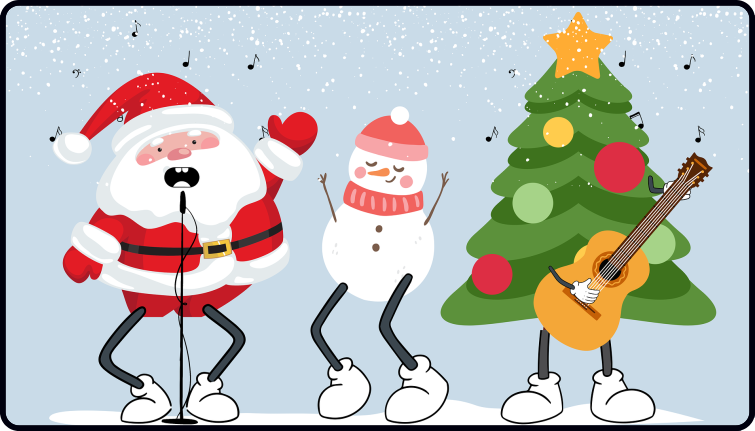 I don't think I've ever compiled my list of favourite Christmas songs before.
I've talked a fair bit about how much I love playing Christmas carols on guitar but…
Today I want to share with you ten of my favourite pop and rock Christmas songs and how they relate to the guitar.
There are a few obvious ones and some alternative ones too!
Hope you enjoy…
Run Rudolph Run – Chuck Berry
Chuck Berry is a real guitar hero of mine, and this is a great feel-good Christmas song. It's full of Chuck's signature guitar riffs throughout. Even Lemmy from Motorhead, Dave Grohl (from Nirvana and Foo Fighters), and Billy Gibbons (from ZZ Top) did a great cover of this years back. It's not Christmas without rocking out to this song in my house!
I Believe in Father Christmas – Greg Lake
The jangly guitars on this one are beautiful. Not only that, there's some wonderful instrumentation, and this is a really interesting arrangement. I've not taught this one, but it sounds like from listening to it, the song uses an alternative tuning (you can hear the low D string rumbling throughout). It also features great lyrics with actual meaning too!
Rockin' Around the Christmas Tree – Brenda Lewis
Home Alone was always one of my favourite movies growing up as a kid. There's a great scene in the movie where Kevin has a fake party with this song playing to scare off the burglars. The song itself is pretty epic with some classic use of the 50s chord progression and a cool sax solo!
River – Joni Mitchell
This is a beautiful Christmas song that sends shivers down my spine. What a voice and what a songwriter Joni is. It's a really magical tune and one that has depth to it too (hence why I love it). Plus, the great James Taylor played a superb version in tribute to Joni (which is on YouTube). One of the best Christmas songs, for sure.
Father Christmas – The Kinks  
Oh my, I love The Kinks, but I only heard this one recently for the first time. It's a big punk-rock number that is infectious and groovy and a whole lot of fun. If you like loud guitars, there's not a lot to dislike with this cracker of a song.
Jingle Bell Rock – Bobby Helms 
Another all-time classic. The guitar intro is pretty awesome, with some very elegant playing and a delightful tone. It's got a real vintage vibe with a great progression and some lovely instrumentation. You can see why this has stood the test of time.
Christmas Time (Don't Let the Bell's End) – The Darkness
In case you don't know this song, it's a big rock number with some amazing electric guitar playing! The Darkness was a band that first came about when I was about 18. This song reminds me of back then, dancing with an old girlfriend and mates while partying in a local rock club. When this song came on at Christmas Eve, everyone went wild for it. Great memory that.
Last Christmas – Wham!
I used to really dislike this song (although I've always admired George Michael's songwriting), but a great memory of this song was when Archie was little. He was singing along in the back of the car when it came on, on the radio, when he was about 2. It's such a cute memory. Yes, it's a bit of a soppy song of course, but actually, it's quite a nice chord progression to play on guitar.
Merry Christmas Baby – Otis Redding
You've got to love some soul at Christmas. This isn't a song I hear a lot on the radio, but I love the music of Otis Redding. What a voice and what a tune!
Fairytale of New York – The Pogues
You hear this everywhere at Christmas (at least in the UK). It's got some great storytelling and really interesting lyrics. It's quite a sad song in some ways with characters in the story who aren't all that nice. Definitely not a sugar-coated candy pop song like many Christmas songs are – and that's probably one reason why it has stood the test of time.
Anyway, I hope you enjoyed that little list of favourite Christmas songs. There are loads of other songs I love that didn't make the list.
Feel free to hit reply and let me know your favourite Christmas song – especially if it's an unusual one!
Also, don't forget my course on barre chords is on sale until tomorrow.
Most of the above songs aren't all that hard to play if you're looking to jam simple strumming versions.
Some require a capo and/or barre chords to play them, but of course, barre chords can open up the doors to you being able to play many more songs and do so much on the guitar.
Here's the link to find out more…
The Ultimate Guide to Barre Chords
Dan Thorpe
Guitar Domination
P.S. This post was originally taken from Dan Thorpe's private email list. To get blog posts like this sent to you which are full of great tips to make fingerpicking, strumming, and learning guitar more enjoyable (especially if you are over 40) join Dan's list. It's 100% free, HERE.