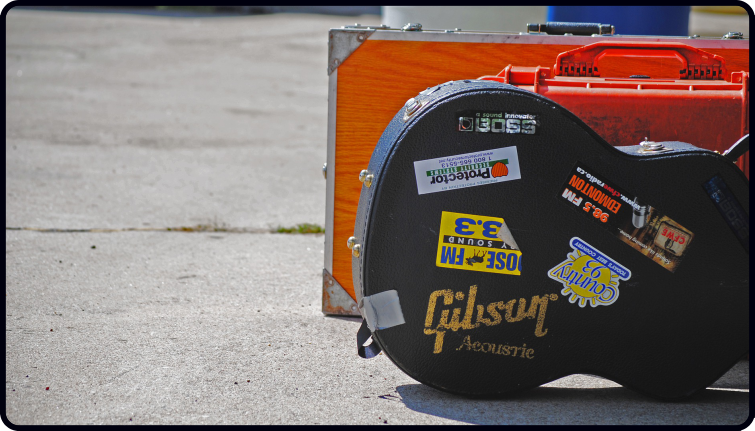 Here are this week's 3 random thoughts on guitar, music, and life, including fun guitar songs, plus a big announcement, but more on that in a moment.
#1 – Build a beautiful setlist
Guitar tuition is often a sea of randomness for many.
Those who are new to my blog often ask:
"Where do I begin, there's so many things to learn"?
I always say…
One of the best things you can do is get a setlist together of 5 songs you love – and learn them.
Doing so is one of the best things you can do for your playing.
Why?
Well, songs are obviously fun to play, and for many, they are the reason why you wanted to learn guitar in the first place.
Learning songs also means you will learn a lot of core skills (e.g., chords, patterns, fretboard, theory, chord changes, etc).
If you ever get lost with your playing or your practice time starts to get too random, keep this in mind.
For most of you, your setlist is one of the keys to fun and success on guitar.
#2 – The special type of song my students love to learn
Talking of songs, when I first started teaching guitar many years ago, I quickly discovered a common trait among my students.
They nearly always wanted to play beautiful, fun guitar songs that:
People recognise
Are fun and exciting to play
Sound great without singing
Don't take blood, sweat, and tears to learn
Can be simplified
Before this discovery, I did the usual thing of teaching "simple strumming songs" like most people do.
I quickly realised though, most strumming songs didn't really tick more than one or maybe two of the above boxes (depending on the song).
Instead of carrying on down this tired old route, I changed tack and chose to start teaching students pieces of music that ticked all of the above boxes.
How did I do this?
One way was by teaching simple solo fingerstyle arrangements.
A "solo fingerstyle arrangement", if you don't know, is when one guitar (usually acoustic or classical) plays all the parts…
The vocal melody and the instrumentation.
Playing these is a lot of fun and something my students love to do.
That is why I have spent the last few years refining a whole bunch of these arrangements I taught them…
Which brings me on to this…
The big announcement…
#3 – The Fingerstyle Collection – Out Now
Today, I am announcing the official release of The Fingerstyle Collection course.
In this course, you will learn how to play some of the most beautiful and recognisable pieces of music I have ever taught.
All of these songs have been designed so you can play them on guitar without the need to sing.
In each arrangement we focus on the melody, then, in a methodical way, we add the bass notes, the chord tones, and finally, the exciting riffs and fills.
Honestly, this course is so much fun.
Each song is a famous piece that ticks all the criteria mentioned above.
The songs range from House of the Rising Sun, Scarborough Fair, Amazing Grace, Whiskey in the Jar, and many more.
There are a few surprises in there too, which I think you will love.
It is on sale until Friday with 50% off.
After that, the price will go up and I doubt it will ever be this low again.
Watch the video at the link below to see and hear just a few things you can be learning today.
Find out more about The Fingerstyle Collection – OUT NOW
On the above page, you can also watch some of my students and those who got the "early bird" version of the course play the pieces.
Most of these students lacked confidence at first, but as you will see, they are now making wonderful progress, and they keep on doing so.
Enjoy!
Dan Thorpe
Guitar Domination
P.S. This post was originally taken from Dan Thorpe's private email list. To get blog posts like this sent to you which are full of great tips to make fingerpicking, strumming, and learning guitar more enjoyable (especially if you are over 40) join Dan's list. It's 100% free, HERE.