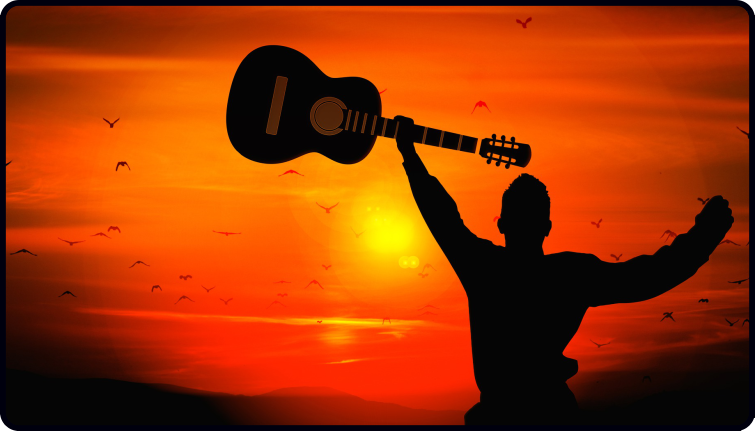 Here are two more interesting emails I have got lately.
I hope you find the emails and my thoughts useful…
Today we are talking about the benefits of jamming in a group and the sometimes painful nature of "official" TAB books.
Email #1
"Dan, a really great way to get over nerves is what I have found in a bluegrass or similar jam group. There are approximately 20 people who sit around in a circle. You can bring a song or not, but you jump in where you can.
Nobody knows or cares if you make mistakes, and you learn from watching others.  You're in the "spotlight" only if you want to be.  Some played by ear; some like me need to have the chords right in front of them.  It's a lot of repetition and so much fun."
Gayle
Totally agree.
I've had multiple students over the years who have played in jam groups.
Ukulele groups in particular are pretty popular over here in the UK, and some of my guitar students enjoy playing both guitar and ukulele.
Playing with others can be great.
As Gayle said, you can sit in the background a little or you can take the limelight if you like.
Guitar groups unfortunately aren't as common though, so some of my students over the years joined ukulele groups.
Some groups don't mind people playing guitar though, and in the case of my student, Glynis, she recently became the bass player at her "uke" group.
If you want to get more confidence and enjoy the social aspect of guitar playing, I definitely urge you to jam with other musicians when you can.
Even if you just do it informally at home with a friend or a family member who plays an instrument.
So many of my students have enjoyed this over the years – just jamming with their kids or grandkids.
As long as you are easygoing, don't put too much pressure on yourself or them, you can have a great time, and experience one of the joys of being a musician which is jamming with others.
Anyway, onto email #2 where Jeff is talking about the difference between official TAB books and my "Fingerstyle Collection" course.
Email #2
"Hi Dan
Early days, but the course has been great so far. I'd been trying to learn some songs from official tab, but it's been slow going, and mostly probably too difficult for me.
At this point, I can just about hack my way through Fogelberg's "Leader of the Band" (great song!), but with probably quite subpar technique and any number of flubbed notes. So I was looking for some easier material and some drills to get my playing more up to snuff.
Your Fingerstyle 101 book has been good in terms of getting me back to basics and have been going over some of the drills and basic patterns in there.  
On the Collection, I started with Amazing Grace. I got the basics down in one session and have been working on getting the rhythm more consistent— also that last twiddle after the Am and then the final three-chord change is tricky for me, but it's getting there.  
Really nice to have a piece that's soulful and so recognisable and somewhat easy to play.
Sounds amazing (ha ha!) when on occasion I get it right!  Probably will try to look at Danny Boy next. Thank you!"
Jeff
One reason I created the Fingerstyle Collection was for the reasons Jeff mentioned.
There are a lot of "official" TAB books with fingerstyle songs that can be hard to decipher.
Even for me, they can be annoying.
This is often because the melody can be buried in excess "filler" notes.
Sometimes I just want to pick up and play something quickly without having to search the TAB like a needle in a haystack trying to find the melody.
What I've found a lot of the times is that it's only when I simplify the TAB that the song becomes clear.
So, if even I, who's played for a long time, find deciphering songs from complex "official" TAB books to be a little time-consuming…
…It's no wonder beginners find it a massive challenge!
If you want to learn my simple method of playing fingerstyle songs where the melody and bass parts are clearly deciphered, meaning you can get cracking learning and playing the tune without headaches…
…You might want to check this out.
The Fingerstyle Collection – learn 18 beautiful arrangements
It's on sale until tomorrow night.
Not only do you get the TAB and notation, but each song is taught clearly via video too.
Dan Thorpe
Guitar Domination
P.S. This post was originally taken from Dan Thorpe's private email list. To get blog posts like this sent to you which are full of great tips to make fingerpicking, strumming, and learning guitar more enjoyable (especially if you are over 40) join Dan's list. It's 100% free, HERE.