Guitar Domination Beginner eBook bundle
Get author Dan Thorpe's Guitar Domination trilogy of beginner books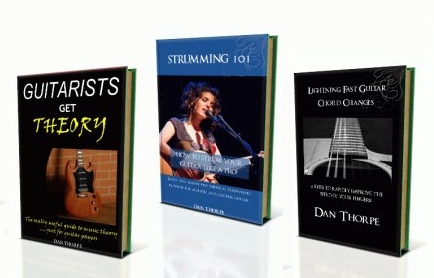 As a thank you for subscribing, this very limited time offer is available to only you on the Guitar Domination mailing list and is NOT available anywhere else in the world.
The Guitar Domination Beginner eBook Bundle includes the Amazon Kindle books:
Lightning Fast Guitar Chord Changes: 6 steps to rapidly improve the speed of your fingers

Strumming 101: How To Strum Your Guitar Like A Pro!

Guitarists Get Theory: The really useful guide to music theory: …..just for guitar players

 All 3 books are available in both pdf and Kindle formats.
You will learn what my private students learn…at a fraction of the cost
Instead of you paying $40 per lesson for  about 6 months of private tuition (which totals $1,040), you can now access key knowledge and lessons that all students are taught for just a fraction of the price –   just $9
Reader Reviews of these eBooks
Strumming 101: How to strum your guitar like a pro
5 stars – "As a beginner to guitar playing, I hadn't realised the importance of strumming patterns, and had always been wondering why my guitar skills were so terrible. Thankfully, this excellent guide has put me back on track as the author goes through a variety of different patterns as well as explaining the theory behind the various notes." – Sky Nealon
5 stars "I started out as a classical guitarist and never used a pick or learned to strum, and being a complete novice I had no idea there was so much to learn! The information in this book is very well explained and easy to understand." – Kindle Customer
5 stars – " Lots of good stuff" – Gordon Wadsworth
Lightning Fast Guitar Chord Changes
5 stars – "I've tried the tips and they work! It's not magic, you'll have to practice, but you'll improve a lot faster using this guide."  Jenny C
5 stars – "I don't plan to become a musician, nor will I probably have an audience other than my family and close friends – but having some tips and tricks handy about posture, chords and other important aspects when it comes to playing a guitar is a help very much needed that I appreciated finding in this book." – Brianna
4 stars – "As a means of finding how to change chords more efficiently this ebook does the trick. I recommend it – Mr A. Mowatt
Guitarists Get Theory: The Really Useful Guide To Music Theory…Just For Guitar Players
5 stars – "A great book that simplifies guitar music theory for beginners. Just what I was looking for."- John White
5 stars – "It is very well written, easy to understand and fun to understand what it is we do. I believe having knowledge of music theory and really understanding how it all works can only make you a better musician. This is a goldmine of well explained information!" – Kindle Customer
4 stars – "It's well written and for someone who doesn't even know what an octave is this is a good place to start. This book would have saved me some months of fumbling about." Kindle Customer
Buy all 3 books for just $9 US Dollars.
To purchase, click the add to cart button below.

Buy the Guitar Domination Beginner Book Bundle and if you are in any way dissatisfied once you have read the books and within 30 days, I will refund all of your money, immediately, no questions asked.
I have no problem offering this kind of guarantee. Why? The techniques I use to teach guitar work repeatedly for countless students of my own either in direct one to one lessons, group lessons or the students who have studied my eBooks.  I know these techniques work. They'll work for you too.
Because of this guarantee, there is no risk to you ordering this right now.