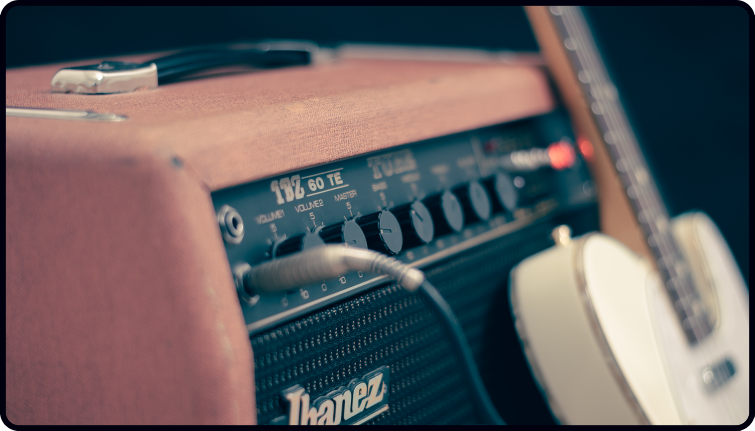 Welcome to a new Monday email with 3 random thoughts on all things guitar, music, and life, including thoughts on guitar gear, humming as an exercise, and more. Here we go…
#1 – A lesson about guitar gear
Annoyingly, when I drove down on holiday last week, I had to get a hire car.
The car I was buying was not quite ready on time.
This was pretty annoying, but it was better than buying some car I didn't want.
The hire car was almost brand new, but it was a wimpy car to drive.
I have never driven such a stylish-looking, modern, techno, gadgets-up-to-its-eyeball's car, that had so little power. (It actually has about 60% of the horsepower of my new car).
It reminds me of guitars and guitar equipment such as amps.
A lot of modern guitar gear comes with all sorts of bells and whistles which can be great, but they can sometimes just get in the way, or cover up an average piece of gear.
Personally, I couldn't care less about built-in tuners on guitars, locking tremolo systems, or amps with a thousand programmable settings.
Just give me something that feels great, plays great, and sounds great.
Many great players agree that they often value high-quality classic, simple equipment.
Always worth keeping in mind when hunting for new gear.
#2 – Humming is so useful
I am not sure I have mentioned this before but a great game Sally and I have played a few times is a certain music quiz.
There are four rounds on things like pop trivia, number 1 records, one-hit wonders, etc.
The round that is quite cool is the "hum a tune" round.
You read the song title and artist on a card and then hum the song to the other person.
It is a real good test of how well you know a song and how good your aural skills are.
(It is also a good laugh and fun to play with others after a few drinks).
As a guitarist, humming the tune/melody of a song is a good way to test yourself and your ear.
It is not easy at first but all the best musicians I have met have all been able to do this sort of thing when needed.
Right, one more…
#3 – Oscar Wilde inspiration
When away last week, Sally and I went to an outdoor theatre.
We saw a quirky production of The Importance of Being Earnest by Oscar Wilde.
(This sort of thing was a first for us both but was lots of fun).
It was a glorious evening and sitting there sipping a beer with the sunset and great entertainment was lots of fun…
So much so I would probably have even enjoyed watching a live performance of the Teletubbies (okay, maybe not).
The play was wonderful though.
They took a very famous play and made it their own, with two actors playing the parts and having rapid-fire costume changes while a stagehand made it all work and involved the audience.
It was very creative.
Taking something classic and making it your own is what I recommend you do on guitar too.
When I learn a song, that is what I like to do.
First, I learn a straight-up cover of the song but often I end up doing another version…
One where I change up little aspects of the song (like adding bass runs, fingerpicking bits, or adding instrumental sections, etc.)
When playing a song you love, particularly if it is a simple one, it is always worth adding your own spin to it.
You can have some great creative fun when doing so.
Anyway, I hope you enjoyed those three random thoughts this week.
If you did, and you would like to learn more from me, albeit in a more direct, less waffling way, then you may want to check out my book below:
Fingerstyle 101 – a step-by-step guide to beautiful fingerpicking guitar playing
Have a great week ahead!
Dan Thorpe
Guitar Domination
P.S. This post was originally taken from Dan Thorpe's private email list. To get blog posts like this sent to you which are full of great tips to make fingerpicking, strumming, and learning guitar more enjoyable (especially if you are over 40) join Dan's list. It's 100% free, HERE.