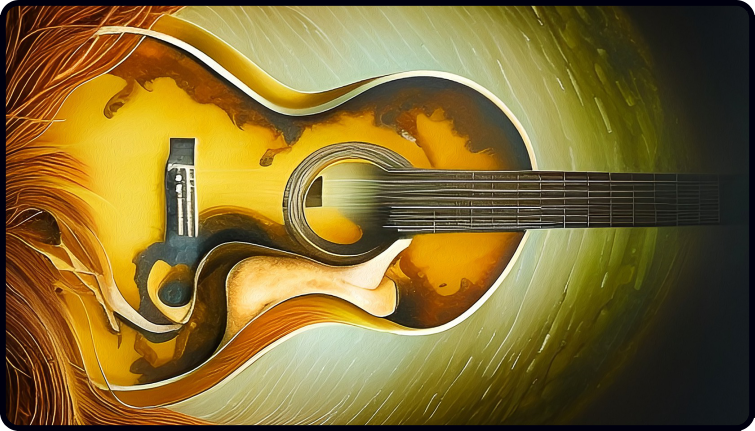 Over the past few months, I've dabbled with meditating.
It's made me feel relaxed, happier, and more peaceful in life.
I'll be honest, this is something pretty new to me.
Yet taking some time to breathe deeply, connect with my body and mind, and let go of all the random chaotic thoughts life brings, has been great.
And guess what?
This can be powerful for us guitarists too.
When you play guitar, no doubt some days you might feel scatterbrained and stressed.
I'd say about 95% of beginners are way more stressed and tense playing guitar than they should be.
If you are like this, it means you'll be far less likely to play to your maximum potential.
I talk a lot about good technique, relaxation, and "connecting" with the guitar.
It's something all the pros do, but the problem is most people need more assistance here.
It can be like having the feeling that the guitar is there in your hands, but your mind is elsewhere.
…Like you're at one end of a foggy street, but the music you're trying to play is at the other end.
You're then left searching through the fog trying to "find" the music you want to play, but it eludes you.
On other days, you probably feel more relaxed, more connected, and more in the zone when practising.
This "flow" state is wonderful, and that's where a lot of progress happens.
…But what if you could get this connected feeling with the guitar every day?
Well, you can.
For some exciting news, I've just recorded the very first of my "guitar meditations".
It's a very practical five-minute audio which if you use it at the beginning of a practice session, I guarantee…
Will help you relax, shake off the day's stress, and make your practice the best it can be.
Imagine every day being able to pick up the guitar, be in the zone, feel relaxed, happy, and totally focused every time. Think of how much more progress you can make over the year when practising like this.
You can double the effectiveness of your practice and once you play in this relaxed flow state every day, you'll likely find your progress will speed up at an ever-increasing rate.
Of course, I give no guarantees to this, and this isn't a miracle cure to make you play like Tommy Emmanuel overnight…
…because you will still have to practise, of course, but this can help make 2023 one of the best for your playing.
This meditation is a bonus lesson for members of the Dan Thorpe Acoustic Academy.
The way it works is like this…
You simply press play on the audio, follow my simple instructions (it's highly practical), and see the results of more relaxed playing almost immediately.
The audio is downloadable, accessible from anywhere, and you can put it on your phone, PC or wherever for ease of use.
To get the lesson when it's released as one of the new January lessons, head to the link below:
The Dan Thorpe Acoustic Academy
Dan Thorpe
Guitar Domination
P.S. This post was originally taken from Dan Thorpe's private email list. To get blog posts like this sent to you which are full of great tips to make fingerpicking, strumming, and learning guitar more enjoyable (especially if you are over 40) join Dan's list. It's 100% free, HERE.