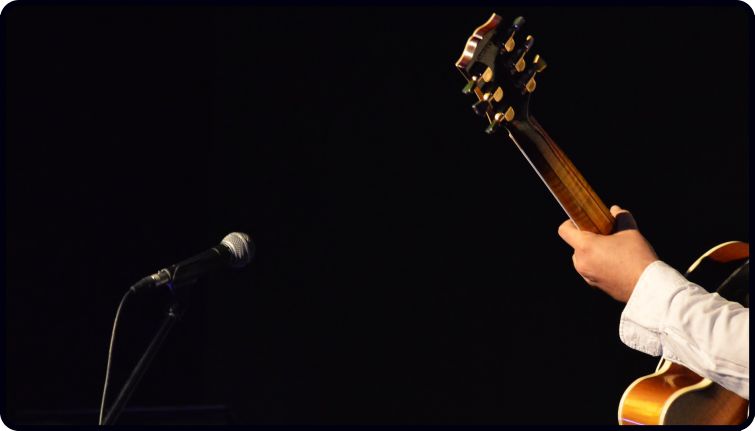 Each Monday I write a post with 3 random thoughts on all things guitar, music, and life. Here is this week's including the inspiring Pam, guitar performing tips, and more…
#1 – Pam is back!
Pam is 70 years old and from Texas.
She once told me guitar playing is her lifelong dream, but it used to be so hard "she could cry".
These days, it is a different story.
Over the last year especially, Pam has made leaps and bounds with her playing.
She is becoming a very good player and impresses many with her playing and singing.
Last week though, Pam had a frustrating day and expressed it in the Fingerstyle 101 Facebook group.
Everyone was supportive, and rallied around Pam, and then the next day, bam…
Pam posted one of her best videos yet.
She was back to her best and rocking that guitar.
It goes to show even model students have off days, but more than that…
Pam is a true inspiration, and she has shown if you ever find the journey tough, you can do it.
Always remember that.
#2 – A knight tells you how it's done
The other day Sir Stephen Fry (a legend of UK TV screens, cinema, and the stage) was getting interviewed during the break of a game of cricket between England and India.
Like me, he's a big cricket fan.
England were rubbish and one of the presenters asked him about comparing playing sport and performing on stage in front of 1000s.
He said, when performing the key to a good performance is the "strange blend of concentration and relaxation".
If you only concentrate, you don't give a good performance.
If you only relax, you're all over the place.
Getting the right balance of the two is what we need.
Wise words, and as guitarists we all feel the pressure when performing on guitar.
Sometimes it is to family or friends, and sometimes in front of the video camera while filming yourself (which gets more pressurised after take #54).
Most of the time performing on guitar is something we do for ourselves though.
No matter what, getting this blend of concentration and relaxation, or "flow" as some people call it, is something we should try to do as much as possible.
The more frequently you get in this place, the better and more enjoyable your playing will be.
#3 – A simple way to learn faster
The other day, DTAA member Scott sent me a cool chart he created.
It contained chord diagrams for the various ways of playing the chords in the key of G and different transitions to make the chord changes easier.
It was really cool to see (Scott kindly let me add it to the Members area so other DTAA members can use it too).
Many of my best student over the years make notes and diagrams to help remind themselves.
I urge you all to do the same.
Making notes is proven to help you learn faster and remember more.
That is something everyone wants and is worth it for the small amount of effort.
If you haven't already got one, it might be time for a guitar playing journal or notebook.
If you want to improve your playing faster and get in a "flow" state more, then you might want to check out my book below…
Fingerstyle 101 – a step-by-step guide to beautiful fingerpicking guitar playing
All those who get the book get access to the exclusive Facebook group too. This is a fantastic community of 600+ members who all have the book (with more joining daily).
Everyone learns from and helps each other.
You also get to see and be inspired by Pam and the others too.
There you have it.
I hope you enjoyed these thoughts and have a nice Monday!
Dan Thorpe
Guitar Domination 
P.S. This post was originally taken from Dan Thorpe's private email list. To get blog posts like this sent to you which are full of great tips to make fingerpicking, strumming, and learning guitar more enjoyable (especially if you are over 40) join Dan's list. It's 100% free, HERE.