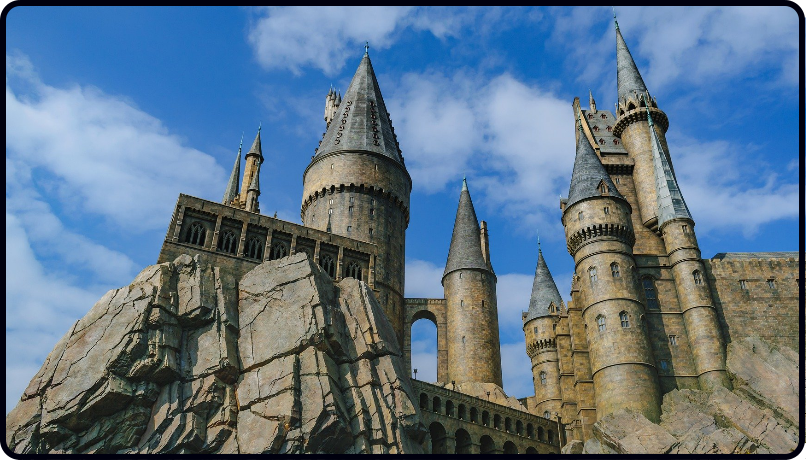 Recently, me and my son, Archie, sat down to watch Harry Potter and the Deathly Hallows.
As you may or may not know, in Harry Potter there is a certain Lord Voldemort, an evil wizard capable of cruel and inhuman things.
The good people of the wizarding world are scared to death of this guy, and they refuse to say his name out loud.
For most of the books and films they actually call Lord Voldemort "he who must not be named".
That is until they pluck up the courage to fight back later on with our bespectacled hero leading the way.
It's a great battle between Harry and Voldemort.
It got me thinking, in the guitar world there is something that most guitarists deem "shall not be named". – like the Lord Voldemort of guitar playing.
It's the simple fact that most guitarists out there just don't have enough fun on the guitar.
And like Voldemort, I rarely hear guitarists mention it.
It's only when I teach new students or those in my membership and we get deep into their problems that this issue shows up.
A big question to ask yourself is this: "Each day I pick up the guitar, do I have fun?"
I place a big emphasis on students learning the right techniques, the most exciting songs, and how to play properly,
…but the most important thing really, at the end of it all, is that you are having fun.
If you are struggling, try this:
Each day, learn the most simple, fun and basic little riff or melody you can.


Obviously, you can do everything else you have been doing, (working on fingerpicking songs, improving your strumming and becoming a better guitarist, etc).
That's essential, but having five minutes of fun learning something simple is great too.
Guitar playing shouldn't be a slog. It should be fun.

Anyway, below are some of my recommendations of fun little bits you can learn.
I have taught these a lot and they usually bring a smile from my students as well as gives them something fun to play.
Some are taken from films, some everyone knows, some are basslines played on guitar and others are just distinctive intros.
Some are easier than others and all can be simplified. They are all enjoyable.
Queen – Another One Bites The Dust (bassline)
The Kingsmen – Louie, Louie
Lalo Schifrin – Mission Impossible Theme (bassline)
Pink Floyd – Money (bassline)
The Kinks – You Really Got Me
Traditional – Happy Birthday
The Doors – Break on Through (To the Otherside)
Fleetwood Mac – The Chain (bassline)
David Bowie – China Girl
John Williams – Jaws Theme
John Barry – James Bond Theme
Ritchie Valens – La Bamba
The Temptations – My Girl (intro riff)
The Beatles – Day Tripper
The Cure – Boys Don't Cry (lead melody)
Muddy Waters – I'm Your Hoochie Coochie Man
The Byrds – Mr. Tambourine Man (intro)
Van Morrison – Brown Eyed Girl (intro)
I'll probably have to add the Harry Potter theme to this list now.
It's worth noting that unless you are a really advanced player, you will always get some benefit and likely improve in a small way even when you learn something easy for you.
This could be learning a new movement with the fingers, discovering a new pattern, improving your tone, etc.
Dan Thorpe
Guitar Domination
P.S. You can learn the above riffs on pretty much most tab sites, or you can learn them all in my membership programme on the "riff of the month" page.
There are over 40 riffs in total in the EGIC. The above ones are just some great ones to get you started with and the video tutorials are mostly 2-3 minutes long. Find out more here…
P.P.S. By the way, if you like audiobooks, the Stephen Fry narrated Harry Potter ones are great. I loved listening to them.
P.P.P.S. This post was originally taken from Dan Thorpe's private email list. To get blog posts like this sent to you which are full of great tips to make fingerpicking, strumming, and learning guitar more enjoyable (especially if you are over 40) join Dan's list. It's 100% free, HERE.