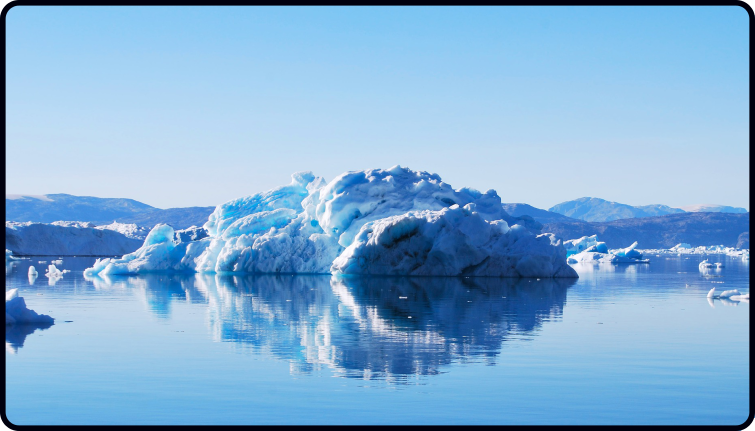 Welcome to a new Monday post with 3 random thoughts on all things guitar, music, and life, including icebergs, Get Back, and more.
Here we go…
#1 – Icebergs and musicians
In the Fingerstyle 101 Facebook group, we have a member called Mikael who loves to share the best photos he sees on the net.
One he recently shared was very poignant.
It is a photo of an iceberg with some words and pointing to the small part of the iceberg sticking out of the water, it said:
"A good musician."
Next to the far, far bigger part of the iceberg hidden underwater which we never see, it said:
"His years of practice."
Who knew icebergs could make such a great point.
It shows that so much of the practice we do as musicians is never seen by anyone else.
The graft, the hours, the repetition, the constant focus on the details, etc…
None of these things are seen by others.
…And that's okay.
Practice is a private thing, performance is public.
A good thing to remember though, the next time you see an amazing musician who makes playing music look easy is this…
Just remember, like with icebergs, we never see all the countless hours it took to make them get so good.
#2 – "Get Back"
I have been hearing lots about the new Beatles documentary, Get Back this past week.
In case you don't know, there was a whopping 57 hours of footage of the band filmed during the recording sessions for the Let It Be album.
It was then edited down to about 8 hours by Lord of the Rings director, Peter Jackson.
This is something I cannot wait to watch and the more I hear about it, the more excited I get.
The clips I have seen are super interesting and show the human side of this legendary band.
In the trailer, they seem a little nervous, they haven't played live in 3 years, and certainly not everything is going swimmingly in the studio.
Anyway, it already seems to highlight just how even the best have those sort of "oh-no" moments.
I mean there is a clip of John Lennon looking perplexed, saying how they have 3 weeks to write and record 14 tracks!
I can't comment too much yet until I have watched it, but if you have seen it, let me know what you think!
#3 – The "3 days in a row" Method
Today is Archie's (my son) 6th birthday.
Wow, time flies.
He is a lovely boy who really does love everything.
For about the last 6 weeks, he has been telling me what he wants for his birthday.
…But every day or so, he would change his mind and want something else.
So, a few weeks ago I joked with him saying:
"If you can tell me what you want for 3 days in a row, I will get it".
So instead of him changing his mind like the weather, he thought about it and told me for 3 days in a row what he wanted.
So, I got it for him.
He seemed super pleased.
This "3 days in a row" method is something I have used in the past on myself, and it can help you too.
If you ever want to learn any new songs or techniques on guitar right now, try this…
Stop and wait 3 days before starting it.
What this will do is give your brain enough time to make sure you really want to commit the time and energy to it.
After all, new songs and new techniques take time to learn and…
If you are like me, you may have been guilty in the past of starting lots of new songs but never finishing them.
This little technique can help prevent that and can help make sure what you start learning next is something you really want to do.
Hope you enjoyed that.
Have a great Monday!
Dan Thorpe
Guitar Domination
P.S. Want more help, tips, and advice? If so, you may want to check out my eBook bundle. It features 7 books on fundamental technique (a topic very much neglected by most teachers), strumming, theory, chord changes, and more…
You can find out about it below:
Guitar Domination Super eBook Bundle
P.P.S. This post was originally taken from Dan Thorpe's private email list. To get blog posts like this sent to you which are full of great tips to make fingerpicking, strumming, and learning guitar more enjoyable (especially if you are over 40) join Dan's list. It's 100% free, HERE.