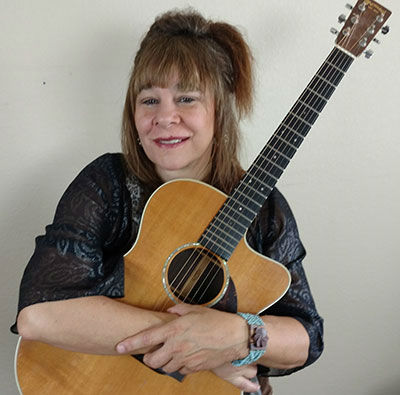 This Q and A is one of the most exciting I have done yet. It features Jamie Andreas, who is easily one of the best guitar tutors I have ever come across.
She is one of my favourite guitar tutors out there as she doesn't bombard people with content and lessons but is absolutely determined to get her students playing with proper technique right from the get-go – saving them years of frustrations that many guitar students suffer.

Most beginner (and even advanced beginner and beyond) guitarists struggle to play with proper technique. Instead of fixing technical issues they often just learn more songs.
As Jamie describes in her very highly regarded book "The Principles of Correct Practice For Guitar", these students are often unaware of their deep technical issues but know that something is not quite right with their playing – hence why they don't enjoy it as much as they had hoped.
Most tutors don't address this at all. Just check out YouTube to see what I mean there – it is pretty much 99% "learn this or that song".
Jamie is very technique-driven and not for the sake of it – she has taught many struggling beginners and knows what it takes to get them from fighting the guitar to working with the guitar with much more enjoyment.
So here we are – our fun and inspiring Q and A.
Enjoy!
Bands and inspiration
Your favourite guitarist?
Who's the best band/artist you have seen live?
Toss up between Tommy Emmanuel and Alice Cooper, with great female guitarist Orianthi!
What's your favourite album? 
I have a lot of favourites, one is Leonard Cohen "Songs From A Room".
Favourite song to listen to on a depressing day?
Greatest guitar piece ever recorded?
Tombeua Sur la Mort De Comte De Logy – one of the most mystical pieces ever written. Must be Bream's interpretation. Written by Sylvius Leopold Weiss in the 1600's, it sounds like the impressionistic music of 300 years later!
You as a guitarist
Most difficult thing you've ever learned to play on guitar?
They're all difficult, some more than others. I regularly re-learn things I've "mastered", tear them apart and put them back together, resulting in a higher level of technical and musical mastery.
Who's your favourite guitarist and/or biggest influence ever?
Julian Bream, guitarist. Beethoven, musician & composer.
What's the first song/riff you ever learned on guitar?
Long Black Veil – picked out the notes to the melody the first time I picked up a guitar.
Why did you choose to play the guitar?
I never chose it. I found it, I sat down with it, I never got up. I never thought about it, there just never seemed to be anything else worth doing or living for.
What's the first guitar you owned? 
A simple "Danelectro".
Self-taught or formal lessons?
Began self-taught, then sought out the best Classical and Jazz teachers I could find for the next 20-30 years. I studied with world class teachers who taught at the NY area music schools, but never formally attended them. All my study has been private.
 Your music and gear
What's your most embarrassing moment on stage?
The time I forgot to bring my guitar to the gig! I had to ask the audience if anybody had one.
The best moment of being a performer so far?
Having one of my students join me on stage for the performance of one of my original guitar duets. This student studied with me for over ten years and went from being an extremely shy kid who never spoke to anyone, to being a performer himself.
Where do you find your inspiration for song ideas?
Deep, deep inside.
Tips and advice
What does a typical day of your practice routine look like?
For the last 45 years, it's been 2 hours of technical work in the morning, random sessions throughout the day, and 2 to 3 hours at night.
Now, I'm getting kinda good ("kinda good" haha at that – Jamie is a seriously good player – Dan), so I'm slacking off a bit!
Tips you'd like to share with other guitarists?
Listen to yourself, then listen to others, then listen to yourself.
Greatest ever chord?
Toss up between E Major and Emin….open position.
Best advice for beginner guitarists?
Understand that the physical aspect of playing is the doorway to musical expression. Do what is necessary to achieve a relaxed yet powerful technique. Always record yourself, and be brutally honest about your playing. Learn how to practice correctly so that you can constantly improve.
As you develop, no matter how good you get, always think to yourself, "I don't know how to play the guitar". This will keep you in a state of "Beginner's Mind", which is essential to have if you want to see the next step that is necessary for you to take in your path of development.
The best tip or one piece of advice you were ever given as a guitarist?
The one I gave myself. "When you see the complexity of what you think is simple, you will see the simplicity of what you think is complex".
An example is touching the string to produce a note.
When we play, we are interacting with an elastic medium, the guitar string. In the same way a pro diver will get lots of spring from the diving board, because he or she knows exactly how to contact the board and use its potential energy, so a good guitar player touches the string to access its energy.
A great player is literally bouncing off the strings and using their energy to produce movement. An undeveloped player is holding body tension they don't know about, and therefore, the strings are dead and unresponsive. This is the reason so many students cannot play fast.
Never be afraid to feel like an idiot while practising. I often do, as I finally see the answer to some playing problem and realize it has been staring me in the face for years, but I never noticed it. I call these "Idiot Moments". I seek them out, they are the doorway to growth and discovery.
General thoughts on learning guitar for our readers. 
Be pure in your relationship to music and the guitar. Always take your ego out of the equation, whether it is thinking you are great or thinking that you suck. Neither is ever true.
I was giving concerts within 3 years of beginning guitar. I was pretty good, but in many ways, pretty bad. I knew I had fundamental problems and should not have had to work so hard to play many things I was playing.
This made me feel terrible about myself as a guitarist. But, I lived with the feelings and continued to work. As years went by, I discovered the reasons for my problems, reasons that no teacher had ever been able to tell me. These insights became the foundation of my teaching methods, which begins with my book "The Principles of Correct Practice For Guitar".
Love your music with your whole body, mind, and soul. Realize that music is divine, and you are its servant. Realize that music is, as Beethoven said, "the highest truth, higher than all philosophy and religion".
Fun stuff
Song to romance your other half with?
"Long, Long, Long", written by George Harrison, on The Beatles White Album, the most romantic song I know.
Which superhero would make the best guitarist?
Obviously, Mr. Fantastic from the Fantastic Four. With his ability to stretch any part of his body as long as he wants, he could do a barre chord across a hundred guitars at once!
Festival you would most like to play?
Red Rocks in Colorado.
Most underrated band ever?
The Ramones. True artists who never let the fact that they knew nothing about music stand in the way of making it!
What's next for you?
Setting up an online school to provide my complete system for guitar mastery to all students.
---
There it is. I hope you enjoyed that and learned plenty from one of my all time favourite guitar teachers.  I would just like to say thanks to Jamie for taking the time out of her busy schedule for the interview.
Jamie is the author of the acclaimed method for guitar "The Principles of Correct Practice For Guitar" which has been called "The Holy Grail" of guitar books.
Check out the book here. It is a real eye-opener for those who have only ever been bombarded with learning more materials rather than how to actually play the guitar better.
An interesting little fact – In 2012 Jamie was profiled in the book "Guitar Zero" (great book by the way), a study of how adults learn to play guitar. The book was written by NYU Professor Dr. Gary Marcus and he interviewed some of the worlds leading guitarists/teachers, including jazz legend Pat Martino and Tom Morello from Rage Against The Machine as well as Jamie herself.
Leave a comment below and let me know what you thought of this Q and A. Also, if you are a guitarist who is interested in doing a Q and A, get in touch and let me know!