Welcome to my updated and impartial Jamplay review for 2019 where we look at the good and the bad of Jamplay.
If you are looking for online guitar lessons, Jamplay is an online guitar tuition website that has been used by over 325,000 guitarists since it began. It has 4,684 lessons by 79 different instructors. If you are into learning guitar via the medium of video in HD, you may be interested in what Jamplay has to offer. Here is my review of Jamplay.
I am going to give you my updated in-depth super honest and brutal Jamplay guitar review. It is not only honest but thorough too – it's definitely not one of those scam sales type reviews which I hate!
Before you read the very long and in-depth Jamplay review I have written, you may prefer to read a synopsis of that review.
Jamplay Review Summary
I think Jamplay is an incredibly useful resource for any guitarist out there. It has a few faults which I will cover, but overall it is a very good investment and one that will help you take your guitar playing to the next level. My Jamplay review reveals all so keep reading for the juicy details.
Essentially, Jamplay is broken up into 4 section, or phases as they are called.
Each phase covers a different thing – such as fundamental skills, genre lessons, real songs that you know and love, and songwriting.
There is even an artist series featuring real high-quality lessons from some of your favourite guitarists. Jamplay comes with a forum too.
The lessons are all filmed to a very high quality and every instructor I have watched teaches you what you need to learn in a very effective manner.
Naturally, you will prefer some teachers and their style over others, but the good thing is many of the teachers do a variety of lessons so you can stick with your favourite teacher for different things.
There's a lot of great songs on here and loads of different styles taught. You can literally never run out of things to learn on Jamplay.
Some of the styles include fingerpicking folk, rock, pop, indie rock, gypsy jazz, fingerstyle blues, and much more. There isn't any Scandinavian techno metal but it does have pretty much everything else you can think of though!
That is my short summary of Jamplay. If you want to get a full account, you can do so and get a big discount too.
You can join Jamplay today and get 25% off your first month below.
Join Jamplay and get a 25% discount
If you prefer to read the full review as below, you can do so…
A selection of Jamplay lessons for YOU to review…
Before we go super in-depth on the nuts and bolts of Jamplay, here are five very cool lessons from their YouTube channel.
These make for a good taster and watching one or two will help you to put the rest of the review in better context (not essential though as the following is a super in-depth Jamplay review!)
Amazing Grace – played using harmonics
This is a really cool lesson and is a wonderful take on this classic tune!
Learning to create music as a beginner
Here, we have a fun lesson that will help to open doors for a struggling beginner.
Blues Rhythmic Foundation Guitar Lesson
Everyone loves the blues and if this is something you want to get into, watch this.
Simple but sophisticated strumming
This is a cool trick and one that has a great groove. It's played on a really simple E minor chord too.
Jamplay Review 2019
Here we go, and full and honest Jamply review for 2019.
Right, the first thing to notice about Jamplay when you log in to your account for the first time is that there are a huge number of options as for what you can do, so much so it can feel a bit overwhelming.
You can dive straight into a massive amount of videos spanning a mindboggling amount of genres, head to the forum, (which is like Reddit but without the negativity) look at the artist series of lessons, and more.
The Dashboard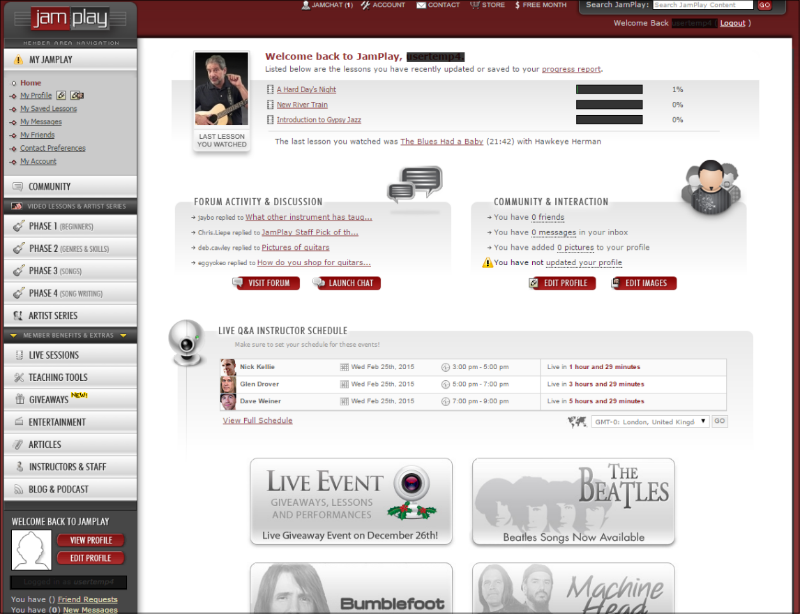 The first thing I noticed after logging in is a little box at the top of the dashboard which highlights the last '3 videos I watched'. (If this is your first time logging in, you won't see this of course).
These last 3 videos I took a look at were:
'Red River Valley' by Jim Deeming
'Gypsy Jazz' by Austin Filingo
'A Hard Day's Night' (The Beatles) by John Auker
I must have had a pretty quick glance at these as I can't really remember them, but let's look at them in detail later on in the review as those 3 videos sum up the range of Jamplay pretty well.
Beneath the 'Last 3 video's watched' feature is the latest 'Forum activity and discussion'. If I'm honest, the forum isn't great, but then again there are plenty of other useful forums out there that are free and much more frequented such as the Ultimate Guitar forum.
The useful thing about the Jamplay forum though is the 'Help with Lessons' section – as this is Jam play specific and that's what we want. There are users giving each other advice on what specific lessons are suitable for what skill level in your chosen genre or style, which is very useful. It's actually very easy to get overwhelmed with some aspects of Jamplay especially if you are looking at videos for super popular styles such as blues and acoustic rock. So, use the forum for any lesson related questions.
You could also use the live chat feature to ask your questions in a chat room style popup. It's probably very useful, I can imagine, but both times when I went on, there was only one other person there to chat to. Admittedly it was 9:00 am UK time which would be the middle of the night for most of Jamplay's American user base.
I can see it being handy though – just don't make the cardinal sin of chatting about guitar and not actually playing it!
The next section is the 'Community and interaction' part of the website. I'm not sure about you, but this isn't really for me. I'm only on Jamplay to learn something new, challenging and probably intricate. I don't really want to be uploading pictures and talking guitar scales with the community. Besides, I have got all you at the Guitar Domination community to keep me company and very busy.
Next up, we have our Live Instructor Q and A schedule panel to look at. This is where we can see what times what instructors are live for a workshop style session. I haven't tried one as yet, but have set myself a reminder to get on a Classic Blues session when I have a bit of free time over the next few days.
The juicy stuff – Jamplay's Content
The real juicy and exciting part of Jamplay is the panel on the left where we have access to all the cool and exciting videos. Let's review Jamplay's layout.
The layout is pretty well organised and the video lessons are split into 'Phases' and aimed at your skill level which is:
Phase 1 – If you're a beginner or looking to brush up on the fundamentals…this is the place to go.
Phase 2 – A focus on a specific skill, playing style, or genre.
Phase 3 – Songs, songs, and more songs. Check out this section to learn to play your favourite tunes!
Phase 4 – Learn how to write songs!
Artist Series – Take lessons from the world's most successful & famous teachers and guitarists. Learn directly from the pros.
Teaching Tools – This is a section where you can explore hundreds of backing tracks, licks, the scale library, and more.
Phase 1- Jamplay for Beginners
Let's click on Phase 1 and take a look at the Beginner lessons. The panel on the left is broken up into two parts for both acoustic and electric guitarists and there are a variety of teachers for both – in fact 12 for acoustic and 6 for electric.
Basic Guitar with Jim
The last video I watched was 'Red River Valley' by Jim Deeming. This play-along tutorial of the song is part of a phase 1 Beginners series titled Basic Guitar with Jim, so let's take a quick look at the whole of the series.
Jim Deeming, come on down. Mr Deeming has 46 years of experience and is apparently a fingerstyle expert and you can tell that he knows what he is doing just by listening to his introduction. If you are a fan of the likes of Tommy Emmanuel or Bert Jansch, you will be impressed by Jim's playing and teaching.
There are 25 videos in this series ranging in length from 6 minutes to 52 minutes. The videos start with the absolute basics such as choosing a guitar, changing the strings, strumming techniques, basic chords, and builds up to the aforementioned 'Red River Valley', movable chords, and bits on music theory.
The series totals 643 minutes worth of video content. Wow! Even though he's a fingerstyle expert, this is a phase 1 beginners section, so most of the stuff covered in the 25 lessons is real basic stuff aimed at players who are brand new or novices for the most part and then, later on, he gets deep down and dirty with fingerstyle.
It's a good series with a nice slow steady pace for the most part that really suits complete novices. I found that there is a little bit of fluff thrown in there, but sometimes that helps slow the pace down for complete newbie's. When I was learning, I personally just wanted to get straight down to playing, but then I have always been a little impatient.
I have looked through most of the videos in this series and can honestly it's really good stuff. As a teacher myself for many years, I like the way Jim goes through each section of learning the guitar in a clear and easy to understand fashion. I would probably have laid out the syllabus a little differently as there are a few big jumps in skill levels – he quickly goes from open to movable chords and strumming to Travis picking.  I don't think there are two guitar teachers in the world who when create their own courses would things exactly the same though.
There are plenty of things you can learn though even if you have played for a while such drop d tuning, changing strings, alternating chords and bass in the Travis picking styles of Jansch, Emmanuel and of course, Merle Travis.
'Red River Valley'
Let's take a closer look at 'Red River Valley'. Once we click on the video, we are taken to a new screen which is our Jamplay video section. We can watch the video in a variety of different settings, all the way from super HD, to low quality to 720px.
In HD the quality of the video is great and the sound is what you would expect from a pro tuition video – nicely compressed and crystal clear. 'Red River Valley' is a folk song that is known by a few different names such as 'Cowboy Love Song', 'Bright Sherman Valley' and 'Bright Little Valley.'
The lesson itself is broken down into lots of mini sections – from an introduction to a basic strum-along, all the way up to a much more advanced intermediate fingerstyle arrangement.
Jim puts a lot of emphasis on learning the proper rhythm and taking very steady steps with the song which is great for novices.
These various mini videos within this lesson teach you about adding the melody, incorporating an optional triplet feel, and adding a bass run. At various points throughout the video, the screen is split into 3 sections with camera focused on 3 parts of the guitar. Camera 1 shows the whole of the fretboard, camera 2, the soundhole and camera 3 a close up of the fretting hand. The detail here is pretty impressive.
I would probably have laid out the syllabus and the video a little differently as there are a few big jumps in skill levels – he quickly goes from open to movable chords, and strumming to Travis picking which is strange and not very linear. Overall, Jim does a pretty good job with this course and the Red River Valley video.
You may find that you do not complete his course in a short space of time. That's because of the intermediate techniques used later on.
So many choices
The rest of the Phase 1 lessons are all laid out like this. I'm not really sure if I was a beginner acoustic guitarist that I would need 12 different teachers showing me the basics over so many minutes worth of lessons. There is naturally a fair bit of crossover from instructor to instructor in phase 1 but no doubt, just as if you were picking a real teacher, you will enjoy learning with one instructor more than another. The choice is yours.
Don't be tempted to hop across from one instructor to another though. Spend 20 minutes or so finding an instructor you like and stick with them through the phase 1 lessons if you are a beginner.
All the instructors I have come across are all professional and communicate well, some better than others if I'm honest. Take your time, and find one who suits you. The Basic Acoustic Guitar Lessons by Eva Goldberg is also a good place to start for any online guitar lesson for beginners.
Phase 2 – Now Jamplay gets exciting
Phase 2 will be where Jamplay starts to earn its money so to speak for most players. Yes, phase 1 is useful and you definitely need to go over the basics in-depth. Once those are mastered, however, it time to start learning some specific skills based either for playing in your chosen genre or to enhance your guitar playing as a whole. That's why Jamplay have split phase 2 into 2 sections. They are Genre Lessons and Skills Lessons.
Genre Lessons
'Genre Lessons' does what it says on the tin and is all about learning from the ground up how to play for your chosen genre on the guitar. For example, if you play fingerpicking folk, you won't want to use pinched harmonics very often, but if you play Pantera style metal, you probably will.
What I do love about the layout is that when you click on your chosen genre, the videos are all shown in a nice linear fashion. This makes it so much easier not to get overwhelmed as that can be a problem when there is so much material. I refer to this as the "YouTube Syndrome". It's where there are so many choices for videos that you can get overwhelmed and not actually watch one all the way through and learn from it properly.
One of the coolest videos I have seen on Jamplay is aimed totally at beginners and guitarists with physical difficulties and is by the aforementioned Randall Williams. It really is groundbreaking in its ideas about the use of the partial capo for guitar players with physical disabilities which is something that doesn't get enough attention on the web.
Many students who are brand new to guitar and those who lack the physical ability to play the instrument (and are often wrongly told not to bother or to play keyboards instead) will benefit hugely from this. I teach guitar full time and one day per week I teach in a school where one of the students lacks full mobility of his right hand. We are definitely trying this idea when I get back to school after the summer holidays.
I do think a site like Jamplay's strong points are teaching you how to PLAY the guitar, and not just mindlessly learn some songs. I always recommend if you want to learn songs, you try to work them out for yourself. You will be a much better guitarist for it. It will get you thinking about the instrument in the right way and help give you the ability to play comfortably in your favourite genre, write songs of your own, master the required techniques, understand your playing.
Also, one of the plus points of Jamplay is the variety of styles on offer. You may be tempted to learn some other styles you may never of thought about such as bluegrass and funk, and incorporate those into your own playing. I recommend you do that just to improve your overall guitar skills. I always encourage my own students to learn some different styles, often styles that they don't even know they like. If you do the same you will be a hell of a guitarist.
A massive plus for Jam play is that there is no need to go trawling through YouTube for hours on end trying to find a video on Gypsy Jazz scales or whammy bar dive-bomb techniques as Jamplay pretty much has most style covered.
The next video we will take a look at in the Phase 2 section Jamplay is the Gypsy Jazz series by Austin Filingo. If you have ever listened to the brilliant Django Reinhardt and wanted to learn a bit in that style then this is supposed to be the series for you. I've always enjoyed playing a little gypsy jazz. It's fun and very unique sounding.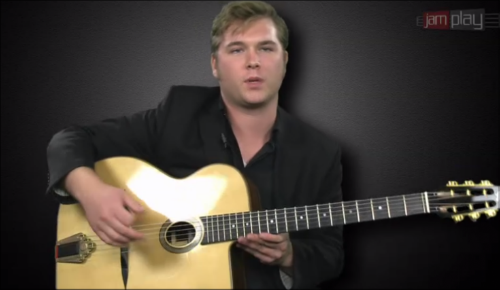 In the first video aptly titled an Introduction to Gypsy Jazz Austin goes through the difficulty level of this style as well as what foundations you should already have with your own playing to be able to play Gypsy Jazz on guitar. This is or can be a pretty good time saver as believe me; Gypsy Jazz is not for beginners.
The rest of the videos in the series are all structured very nicely with right-hand techniques taught, the La Pompe rhythm, bread and butter Gypsy Jazz guitar chords. It's high quality and thorough series which is fun to watch and play along with.
Annoyingly Austin does a lot of 'um-ing' throughout the videos. If you are a bit impatient when learning from videos you may find this incredibly annoying. I know he did. If I'm honest, I almost turned off but resisted the temptation. I was glad I did as he is a good instructor who will get you there with 'Gypsy Jazz' and his is a quality series of online guitar tutorials.
I'll be honest, I have never reached the dizzying heights or really explored Gypsy Jazz as much as I'd like, so taking a close look at this series was fun for the most part. If Gypsy Jazz is not your thing, there are so many other styles on here, it's enough to really make your mouth water.
There was a slight problem with one of the warm-up videos in the Gypsy Jazz Series as the sound was missing. Strange, but it seems like a bug in the system. Apart from that, I didn't have any other problems from a technical point of view with the site.
You can learn pretty much anything.
Not just genre but skills too
The great thing about Phase 2 is that we don't just have to learn new skills by genre, but we can learn a skill purely on its own. We all know that many skills can transcend genres such as sweep picking being used in metal and in some forms of jazz, so learning one skill and applying it to your genre is a great thing to do.
You may also hear about some skill that someone talks about. Instead of searching for a decent video on that subject on the, you can simply head to this section and it's probably there.
It's a pretty big section covering a huge amount of skills from 'Singing with the guitar', Using a Capo', Impact Soloing' and something rather excitingly titled 'Nomad's modal magic show' – which is a pretty fine series about learning and understanding modes.
There's so much more to this section that you can literally spend days browsing. Just don't get caught learning skills for the sake of it. I always say to my private students that before you spend a lot of time learning a particular skill, make sure you have a good idea of what you are going to use it for and why.
This is where it pays to either ask a teacher or try the chat part of the site. Yes, some skills are great and can cross genres or you can make it work in another genre, but beginners in particular probably want to spend time learning songs and learning genres specific skills. If you have been playing for years or have done the above that's where this section really will help you move forward with your guitar playing.
Phase 3 – Learning Songs
The weakest area of Jamplay at the moment is probably Phase 3 – the song area. Some may disagree with me as yes, there is a tonne of songs, and yes they are presented in superb quality, but the downside is that there is a lack of songs in certain genres. For instance, I love alternative rock, but at the moment there are just two songs listed in this genre, but then I guess it's not the most popular of genres.
I also tested this section out by searching for 5 of the most popular songs I teach to my own students to see if Jamplay has tutorials for them. Of the 5 I searched for, 3 had video tutorials. They were:
The Beatles 'Blackbird'
Van Morrison's'Brown Eyed Girl'
Nirvana's 'Come as You Are'.
The two that I searched for but didn't exist were the classic songs of:
'Johnny B. Goode' by Chuck Berry
'Wonderwall' by Oasis.
This was marginally surprising as these are super popular songs, but I guess there is a limit to what Jamplay has and to be fair to them they are updating and adding videos all the time.
The thing I was slightly disappointed about though is that there is a distinct lack of British rock and indie acts. I think with a bit more of an emphasis on these kinds of bands Jamplay would be able to tap into the British market a bit more.
To be honest, though, most of the song tutorials can be found on YouTube in pretty quick time, and like I say Jamplay's strong points are its Phase 1, 2 and 4 sections, and anyway, it's best to work songs out for yourself.
If you click on rock, metal and country songs though, you get a huge choice and Jamplay are constantly updating and creating more videos anyway.
'A Hard Day's Night'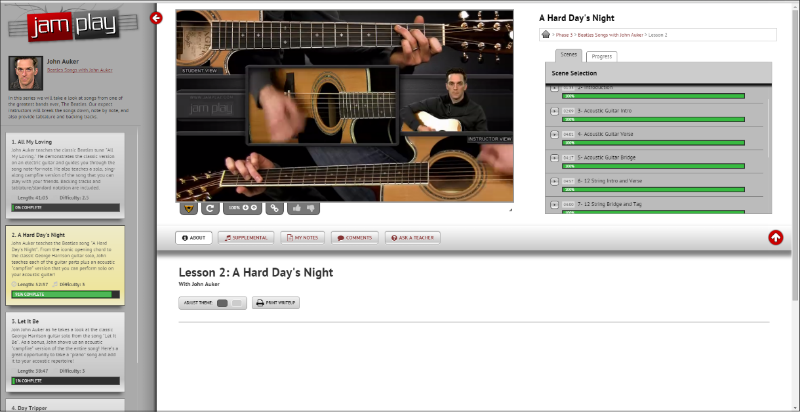 Our phase 3 video that was showing earlier on was 'A Hard Day's Night' by The Beatles. Presented by John Auker
It's a really nicely laid out way of teaching the song. There are 12 videos which teach you the song in a variety of ways along with the song demonstration.
First, we have the official version of the acoustic parts John Lennon played with John taking you through the intro, verse, chorus and bridge. He then even talks at length about the hotly contested intro chord than many have debated and with frequency analysis guides you through exactly how to play it.
Up next is George Harrison's 12 string parts, guitar solos and even a cool video teaching you the campfire version of the song which will appeal to many guitarists starting out or who aren't in bands.
It's a great video lesson to play the song and allows you to learn the song in a variety of useful ways depending on what gear you have and in which ways you wish to perform or play the song.
Phase 4 Song Writing
The last section we will look at is phase 4 – the songwriting section. In my experience of teaching, before lessons, most of my students had never really thought about writing a song.
I think every musician should write and record at least one song they are proud in their guitar playing lifetime – ideally, you should write and record an album, it is so much fun. Songwriting isn't for everyone though, but for those who are keen and willing (you need to be as it's hard work) this part of Jamplay is very good indeed.
I decided to check out Mark Lincoln's series on songwriting as he is an acoustic rock guitarist who has three decades worth of experience. There's 11 videos in his series taking you from the basics of the I-IV-V chord progression to writing melodies, to a deconstruction of lyrics.
It's all good stuff if not particularly groundbreaking. If you have ever wanted to write a song or improve your songwriting skills, this series of videos is a good place to start. You will need to have learned the basics, such as your open chords first though.
Jamplay Alternatives
There aren't a huge amount of paid subscription sites out there that have the professionalism of Jamplay. One of the most popular though is Guitar Tricks.
Jamplay vs Guitar Tricks Review
Learning guitar online can be daunting as there are many sites out there. Many guitarists have used Guitar Tricks over the years and since posting this review I have been asked a few times which one I would recommend. The truth is that I have never used Guitar Tricks so cannot give you a review of it as yet. I will, however, be creating an account and reviewing it in the future, maybe even creating a battle royale of Jamplay vs Guitar Tricks. That could get heavy!
I have noticed a similarity between Jamplay and Guitar Tricks though in the 'trial' account options.
With Jamplay you can get a 'Freemium' account which is a restricted account that you can upgrade anytime. It's still very good and a great way to take a look around Jamplay to see if it's for you. If you have taken the time to read this super long review, I would get yourself a Freemium account and see how you get on from there as you have access to a whole bunch of free online guitar lessons. There is no obligation to give any details other than an email address and to be fair to Jamplay since I tested this out, they haven't spammed me with emails trying to get me to sign up, In fact, I have only had 4 emails off them in 5 weeks.
You can also get a restricted version of Guitar Tricks which features 24 lessons for you to take a look at. Even if you do subscribe, you get a 14-day free trial which gives you complete access to over 5000 lessons. You will need to enter a credit card for this option though, so be aware that if you don't cancel before the 14 period you will no doubt be charged.
Just so we are clear some reviews and products (some, note all) mentioned on this site are affiliate linked which means that if you go ahead and purchase something then I will get a small amount of compensation. This does not mean that my opinions are biased by this. In fact, absolutely 100% of what I talk about is accurate and genuine. It's far more important to me to give you a completely honest opinion than it is to make a bit of extra cash via affiliate links.
Jamplay in a nutshell
So there's my online review of Jamplay. You have to be patient with a site like Jamplay. Spend a bit of time browsing at what you want to learn. Then pick one thing, start it, learn it all the way through so you are completely comfortable with the techniques taught, then move on to another set of videos. You will certainly be a better guitarist for using the site in a sensible, steady way. Jamplay does provide you with the tools but it's up to you to use them well.
There's s so much more to the site too. Go and take a look around. I've seen a few reviews of Jamplay and to be honest they all seem like are there to advertise it.  The best thing to do unless you don't mind forking out some cash is to get yourself a free account, set aside an hour or two and have some fun and then, later on, see if you want to pay for it.
I hope you enjoyed that in-depth and brutally honest review of Jamplay. Let me know what you think of Jamplay and the review of it, in the comments below.
If you enjoyed this Jamplay review and want to give it a try, remember, you can join Jamplay today and get 25% off your first month below.
Join Jamplay and get a 25% discount
Don't forget you can join the mailing list for free to get more reviews sent to your inbox as well as tips, tricks and techniques for guitar – and a free eBook.