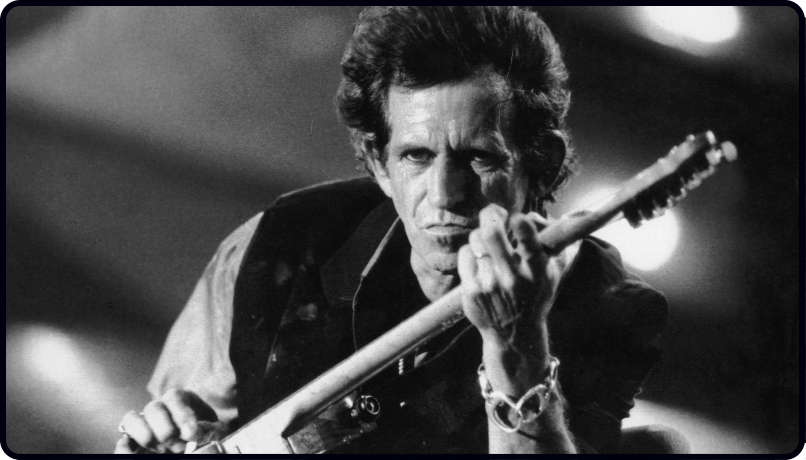 Love him or loathe him (personally I love him), Keith Richards of The Rolling Stones knows a thing or two about guitar playing.
After all, he's older than a conker tree and has over 3000 guitars (which is 2992 more than me!). Here are some tips from "Keef", (courtesy of an interview with Alan di Perna) that are very apt…
"I don't have any electric guitar at home, or an amp. I never play electric guitar at home. I play acoustic all the time.
If all you play is electric, you're not just playing guitar, you're playing electricity. You get used to the tricks. The extra sustain and all. Which is fine. But you can become over-reliant on that.

When you go to an acoustic guitar, those tricks don't work. That little round hole and that bit of wood—that's the Truth. That's how long a note will sustain. So when you go back to electric, you find yourself a little more precise. You should always keep an acoustic going, and work things out on that.
Ah, that's so true. I actually don't think anyone could say it any better. The acoustic will tell you so much about your playing.
When I started to play more acoustic, years ago, I realised that I had a lot to work on.
Most of you own and play acoustics anyway, but I'd be interested to know how many of you play both and how big the differences are between the two for you.
As much as the acoustic is a test of your playing, if you want some light relief, grab an electric, it can be fun and in some instances, can reinvigorate your playing.
I love playing both electric and acoustic, but these days, the acoustic is where I am more at home.
Here's another quote from the legend himself.
"When in doubt, if something doesn't sound right, just brush on an acoustic guitar and see what happens.
What it does, if you're recording a band, is fill the air between the cymbals and all the electric instruments. It's like a wash in painting. Just a magical thing.
If something sounds a little dry or heavy or tight, put on an acoustic. Somehow it will just add that extra glue."
So true, and I know most of you aren't all that bothered about recording an album or whatever, but that's just a lovely quote and one that says a lot about the power of the acoustic.
If you ever jam with others, mix it up and have one playing acoustic and one electric.
My students and I do this, and it creates a really deep, full groove which comes to life. Try it if you get the chance.
Anyway, that's all for today.
Thanks, Keef!
Dan Thorpe
Guitar Domination
P.S. Just be careful when playing acoustic, they can be tough as nails for things where there are big stretches or the issue of barre chords. A great benchmark of your acoustic technique ability is how well you can play barre chords with zero pain and discomfort up and down the neck.
Barre chords can be brutal especially on an acoustic but you really don't need much pressure as long as you have precise technique. Keep that in mind when playing.
If you want to learn to play barre chords properly and want to stop the horrible aches and soreness that they may give you, learn how to do so below.
The Ultimate Guide to Barre Chords
P.P.S. This post was originally taken from Dan Thorpe's private email list. To get blog posts like this sent to you which are full of great tips to make fingerpicking, strumming, and learning guitar more enjoyable (especially if you are over 40) join Dan's list. It's 100% free, HERE.