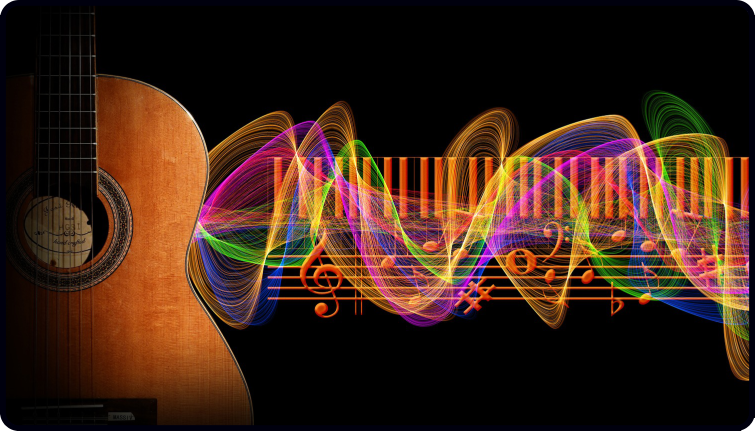 Yesterday, I talked about the "No Chord Fingerstyle" method of playing songs.
This is a new style I've been developing for guitarists.
Today, I want to talk about how it came about and how you can use this style to improve your playing faster than a Tommy Emmanuel flurry of notes!
It's all about the keyboard.
A couple of years ago, a student gave me a keyboard book for Archie.
Archie and I have been playing about with the book lately and learning a few songs.
The more I look at this book, the more impressed I am with how keyboard and piano are taught…
Especially compared to the guitar.
In the book, everything is simple and based around getting you to play REAL songs quickly.
So, after working out where the notes were on the keyboard, Archie (who is 7 years old now) was playing recognisable pieces of music…
…In just minutes.
Of course, he didn't quite sound like Elton John or Frederic Chopin yet.
…But he was playing real music.
And both of us had big beaming smiles on our faces.
I was proud and a teeny bit jealous…
Because when I was learning guitar, I reckon I'd played for a year or two before being able to play recognisable music like this!
It's crazy that keyboard players can play real songs quickly, yet there are guitarists out there who have been playing on and off for decades and still struggle to play anything they can recognise.
I've said it before and I'll say it again…
This is rarely the student's fault.
It's nearly always the methods of the guitar teacher that are at fault – big time.
You see, keyboard and piano teachers have known something for a long time.
It's the fact that simple "one note at a time" melodies are powerful.
On the guitar, the emphasis has pretty much always been on chords for beginners (although I aim to change this).
Chords are useful but 100% NOT the "be all and end all" – far from it.
So, the next time you go to learn a song, think like a keyboardist, and learn the melody.
It's the most recognisable part.
It's the part we all know and hum.
…And playing melodies can give you more joy, help you develop your technique, give you a boost in confidence, and more.
Plus, everyone loves to hear a famous melody!
Yet no one recognises chord-based playing unless you're a singer or you can do fancy things with your chords.
If you've ever strummed a few chords for a loved one and had them stare blankly, you will know what I mean.
So, keep this in mind as you play.
Melodies are powerful – especially when you combine them with some simple open-string bass notes as I'm teaching in a new Dan Thorpe Acoustic Academy lesson.
In one of these lessons, I will teach you how to play a very famous melody very quickly.
The lesson is taught in HD video with complete TAB/notation and backing tracks.
It's a really exciting one.
You can take a listen to the song and arrangement here
Dan Thorpe
Guitar Domination
P.S. This post was originally taken from Dan Thorpe's private email list. To get blog posts like this sent to you which are full of great tips to make fingerpicking, strumming, and learning guitar more enjoyable (especially if you are over 40) join Dan's list. It's 100% free, HERE.