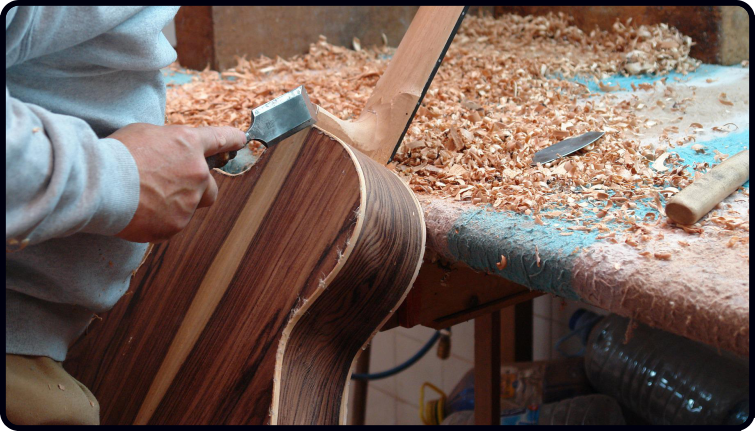 Welcome to a new Monday post with 3 random thoughts on all things guitar, music, and life, including making guitars, earplugs, and July 4th.
Here we go…
#1 – Earplugs!
Sally and I went to see a band Saturday night.
It was one of her favourite rock bands from the late 90s called The Get Up Kids.
It was a great gig, but my word it was insanely loud.
That probably makes me sound old, but I wish I had taken my earplugs for sure!
It's important to look after our ears after all.
It had been a while since I'd been to a gig.
I thought there were legal limits on volume and stuff, so didn't really think about earplugs.
…Especially as it was at an established venue.
I was okay afterwards, but Sally had some ringing in her ears which, thankfully, was just temporary.
It just goes to show though, the danger of excessive volume and how important it is to look after our ears!
#2 – The sheer passion that goes into making guitars…
I was reading earlier about Martin guitars.
They make some fine instruments of course.
I didn't actually realise the Martin company was almost 200 years old.
The interview was with their new CEO.
He's actually the first CEO they have who is not a family member.
…But what I found interesting was how he talked about the amount of painstaking detail that goes into building their guitars.
Whereas most companies use machines a lot, at Martin, humans are involved at every stage.
There are luthiers there at every step to assess the materials, see if the details are right, and listen to every nuance of sound.
I've met a luthier a few times in the past who worked on some of my guitars.
He made some £2000-3000 guitars, and he showed me around his workshop.
So, I got to see a glimpse of the amount of sheer dedication and passion that goes into making these high-end instruments.
It really is an exciting labour of love.
I love the whole process of how all these bits of wood are wonderfully crafted into an instrument that we can play till our heart's content.
In fact, sometimes it's nice to sit there and look at my guitars and see and feel how beautifully made they are.
It definitely makes me appreciate them that bit more.
#3 – Freedom
As today is Independence Day, I thought I'd share a little quote about "musical freedom" as I call it.
It's a comment left in the Fingerstyle 101 group the other day by William: 
"Glad I took a chance with Dan's teachings. Totally has changed my life for the best. Learning some James Taylor and Carole King now and when I hit some of the notes with such clarity it chokes me up. Never really thought I'd be playing their songs. Till Dan got through to me, picking was only a dream. Now it is coming true."
That was a really nice comment to read.
It's nice that I helped, but the credit goes to William for applying the lessons and having the passion to stick with the guitar.
He deserves huge credit.
And I love that he has the "musical freedom" as I call it to really express himself through his guitar.
This just goes to show how powerful music can be.
It's a great feeling.
And that can be whether it's learning a song you love and hearing the notes come to life, or the first time you ever played a song that sounded like the actual song…
Or for me being able to jam with my son, or create a haunting melody that makes the hairs on the back of my neck stand up.
That to me is what it's all about, and that is freedom on the guitar.
We can all have that.
Yeah, lots of things are involved in getting this freedom – good technique, a positive mindset, self-belief, good habits, effective practise methods, etc…
…But it's good to remember even the simplest of music played well, can create those feelings on the guitar.
And that's musical freedom.
Keep driving forwards and you'll get there if you haven't already.
It's a special feeling.
Anyway, if you want to play some simple music that is highly exciting, here's a great song that goes back in time…
Find out more about the Travis picking, strumming, and fingerstyle Tom Dooley Mini Masterclass
Have a great day to my U.S. friends and everyone else wherever you are in the world.
Dan Thorpe
Guitar Domination
P.S. This post was originally taken from Dan Thorpe's private email list. To get blog posts like this sent to you which are full of great tips to make fingerpicking, strumming, and learning guitar more enjoyable (especially if you are over 40) join Dan's list. It's 100% free, HERE.