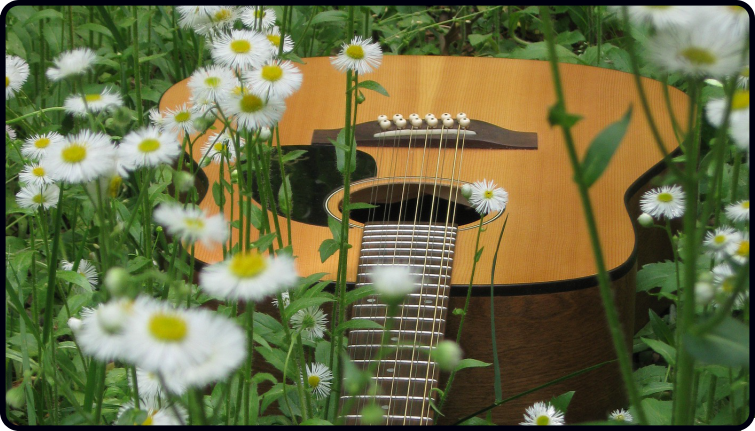 Welcome to a new Monday post with 3 random thoughts on all things guitar, music, and life. This week's post is all about my family trip to Wales last week and some useful musical thoughts from it including music tests, breaks, and more…
#1 – Having a break is good
Me and Archie and my family all went to Tenby, which is a lovely place in Wales.
There were no guitars and no work for me, and it was ace.
Two things I love are my guitar and my work, but it was nice to have a break and totally switch off from both.
Since I came back, I feel more refreshed and have some new ideas for lessons and resources I probably wouldn't have come up with otherwise.
This is like something I tell students…
If you play every day religiously, take a day or two off here and there.
If you are going away for a break, it's okay to leave the guitar at home.
As long as you practise with real focus and commitment the rest of the time, it is perfectly fine to have a small break, and often these recharging breaks are really beneficial.
#2 – Sometimes a little pressure is ideal
On the holiday, one of the activities I booked for Archie and my niece was circus training.
It was plate spinning, juggling, and other stuff.
When it came to the juggling, the lady running the show saw me showing Archie and Amelie (my niece) how to juggle.
Right away she egged me up on stage and before I knew it, I was being dragged up there. (They love embarrassing you at these places!)
Being the cheesy dad up on stage ain't my thing, but "what the heck", I thought.
I hadn't been up on stage for a few years and have only ever been on stage as an adult with the security of my guitar, so I was a bit nervous.
I was up on stage juggling away and thought, you know what, let's try this little trick.
This is where I juggle and throw a ball 'round my back and carry on.
I rarely nail this trick but somehow managed to do it in front of these folks.
It went down well, but it was the cheesiest thing I have ever done yet it was good fun.
It is good to get out of your comfort zone, even in a small way like this.
That is one of the reasons why I encourage students to play in front of others.
It can bring the best out of you, especially if you see it in a light-hearted, fun way.
#3 – Musical challenges are everywhere, embrace them
Even though I went away without any thoughts of music, one thing I realised is this:
Music and ways to test ourselves are often all around us.
For example, in the town near the harbour, there were some buskers.
My dad jokingly tested me by asking me what chords they were playing.
There was a dance machine in the arcade, which is mostly about rhythm and co-ordination rather than actual dance moves.
In the club, they had this Australia-themed quiz where you had to listen to famous tunes played on a didgeridoo, and then write down the name of the song. ("Baby, One More Time" by Britney Spears played on a didgeridoo is interesting).
These were all fun challenges and the sort of music tests I love for students to do.
Music is everywhere and there are various little ways to test yourself and improve your musical skills, often without really thinking about it.
Doing these music tests won't make you instantly a better musician, but each adds another brick in the wall of your playing, helping you improve all the time.
Anyway, I hope you enjoyed those three random thoughts from a fun holiday!
With the pandemic, this was the fourth time we booked, so it was nice to finally get away.
Hopefully, you will be able to get away and have some fun too.
Dan Thorpe
Guitar Domination
P.S. Speaking of fun, one of my favourite resources that I created over the last few years is The Fingerstyle Collection course.
It features 17 beautiful arrangements all played fingerstyle.
Each has given me and my students many hours of joy and they can for you too. Find out more at the link below:
The Fingerstyle Collection – learn 17 beautiful arrangements
P.P.S. This post was originally taken from Dan Thorpe's private email list. To get blog posts like this sent to you which are full of great tips to make fingerpicking, strumming, and learning guitar more enjoyable (especially if you are over 40) join Dan's list. It's 100% free, HERE.