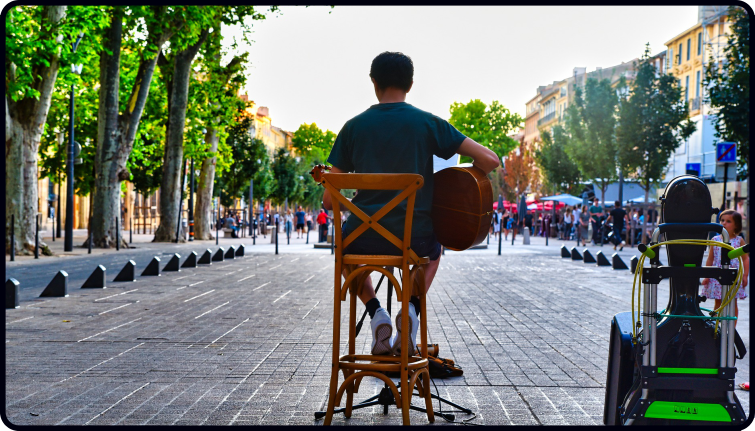 Welcome to a new Monday post with 3 random thoughts on all things guitar, music, and life, including riffs, Beethoven, and more.
Here we go…
#1 – Riffs are awesome
Something I probably don't talk about enough is the power of the guitar riff.
I'm a big believer everyone should learn a few famous riffs.
Why?
Because they are the polar opposite to most strumming songs…
Riffs are short, fun, memorable, don't need any singing, and are instantly recognisable to most.
And they don't require full chords or changes, so they can be easier for some.
Take a look at some classic riffs such as La Bamba, Mr Tambourine Man, Beat It, Enter Sandman, Brown-Eyed Girl, the James Bond theme, and loads more, which are easily recognisable and popular.
If you don't know any riffs, it is definitely always a good idea to learn one or two.
#2 – The Fingerstyle 101 competition winner
Last week, in the Fingerstyle 101 group, we had a little competition for all members.
To enter, each member simply had to play a fingerpicking piece on the guitar, record themselves on video, and…
Share the video in the group (to about 1400 other folks).
Recording yourself can be hard work and daunting, and this is before sharing with the world.
However, recording yourself nearly always helps you improve.
We all had a vote on it and well done to Melinda for winning.
Melinda will get a copy of my newest paperback book, The Ultimate Guide to Strumming, as a gift posted out to her.
The paperback version of the book has not been published yet, but it will be very soon.
A big well done to everyone who entered or has posted videos in the group lately.
All your recordings sound fantastic and I was delighted that you posted them.
This was a little taster competition and the next one will be bigger and better.
#3 – Beethoven and "Ode to Joy"
I make no secret of my love for Beethoven.
Along with J.S. Bach and Chopin, he is one of my favourite composers ever.
Beethoven's music is beautiful, stunning, passionate, and powerful, often all at once.
A piece I have always loved is "Ode to Joy".
It has a simple and beautiful melody which most people will recognise quickly.
Anyway, the other day I recorded a detailed video lesson on playing it.
The lesson itself is the new bonus for the Dan Thorpe Acoustic Academy for the month of September.
You can take a listen to it below (see if you recognise it) and if you want to learn it, you can in the DTAA.
Check out my simple arrangement of "Ode to Joy" here
I am always keen to know, what are your favourite classical pieces?
Hope you are enjoying your Monday!
Dan Thorpe 
Guitar Domination
P.S. If you are a beginner or struggling to play anything recognisable, you will be pleased to know, in the "Ode to Joy" lesson above I also teach you how to simplify it in a way that will help set you up for when you want to play the full version. This is a mini-lesson within the lesson and a very important one at that.
P.P.S. This post was originally taken from Dan Thorpe's private email list. To get blog posts like this sent to you which are full of great tips to make fingerpicking, strumming, and learning guitar more enjoyable (especially if you are over 40) join Dan's list. It's 100% free, HERE.