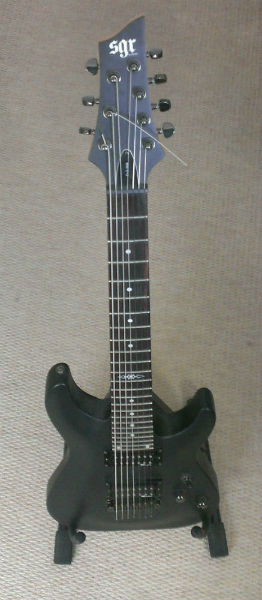 I have decided recently that it would be a good idea to review the entire guitar related gear that I own or have ever owned. Therefore, there will be a lot of reviews coming up on this site. One the first reviews I will be doing is a Schecter C-7 SGR
review. This guitar was bought for me by my girlfriend last Christmas. Yes, I know – how lucky am I that my girlfriend buys me such things as guitars, let alone 7-string guitars!
The version I have is a superb looking matt black one with a finish that I absolutely love. This gives the guitar an edgy, modern feel and is a world away from some of my more classic looking shiny/glossy guitars.  The look alone makes the guitar stand out a mile.
The SGR branding is part of Schecter's budget branch but don't let that fool you, this is a pretty good guitar. It is a Superstrat style guitar with two passive humbuckers, 24 frets, and a pleasing 26.75 inch scale length which is great for detuning. The main aim of this guitar is to please modern hard rock and metal guitarists so the scale length is great. I've found that tuning to my regular G# on the seventh string works well on this guitar.
You don't get much in the way of bells and whistles in terms of hardware. The aforementioned two passive humbuckers are solid, but not great. With any guitar in the sub £500 ($840) price range, a change of pickups is a great investment, (if the guitar is worth it of course).
The bridge pickup is what I use mostly as I like a cutting, edgy sound, but unfortunately the stock pickups don't quite give it to me. They do handle the high gain sounds that I get from my Marshall 8100 pretty well, but compared to the Seymour Duncan JB I have in another guitar, they just don't compete.
At the nearest opportunity I am going to swap the bridge pickup for a Bareknuckle Aftermath or maybe a Juggernaught. The neck pickup is pretty muddy sounding and can really only be used well for clean sounds. I tried going for some stoner rock-esq Queens of the Stone Age stuff with it, but it lacks the power to make it work.
I don't usually spend a huge amount of time on the neck pickup, so swapping this isn't really worth it. (I never get why a lot of guitarists swap out all their pickups when they religiously use just one, why not invest that extra money into getting the absolute best pickup for the position you use most?)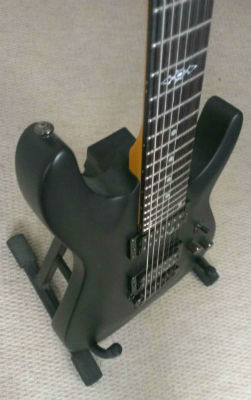 The neck quality is a definite highlight of the Schecter C-7 SGR
as it is dead straight and a joy to play. I love a guitar that just inspires me to play and the feel of the neck has a lot to do with this. The action is smooth and easy. Fast, silky runs are a breeze which makes technical/progressive rock and metal a joy to play.
My main gripes with this guitar (apart from the pickups which I'm not complaining about for the price) is build quality is relatively poor. Whoever or wherever these guitars were assembled were done by an amateur. The join of the neck to the body is poor and it isn't a smooth fit. Thankfully, this doesn't affect any part of the playability which is very surprising. If I'm honest, I think I have got lucky with this guitar.
As the guitar was a gift, (I had it ordered for me). The first guitar came, but was damaged (the supplier or distributors fault), the second had an electrical issue which meant no sound was available and the third is the one I have got now, which also had a slight electrical issue (which meant every now and then the sound would drop). Quality control doesn't seem overly high at the SGR factory to me!
I'm glad I have it sorted now, but it was a frustrating couple of weeks getting it sorted. Since getting one that works however the guitar has been great to play. Due to my slightly unusual tuning of G# C# G# C# F# A# D#, I had to put heavy gauge strings on and tweak the setup. The guitar sounds and plays fine after doing that. I have just got to order the awesome Bareknuckle pickup now!
The Schecter C-7 SGR
is a good quality guitar, but I would urge you to try before you buy. This isn't like buying a high end Gibson, where you know all the guitars (barring a freak!) will be made and constructed to a very high standard.
Play one, if you like it, get it, change the pickup(s) and you will be on to a winner. Just don't order online!
Features
4/5
Sound Quality
4/5
Build Quality
2/5
Playability
5/5
Value for Money
5/5