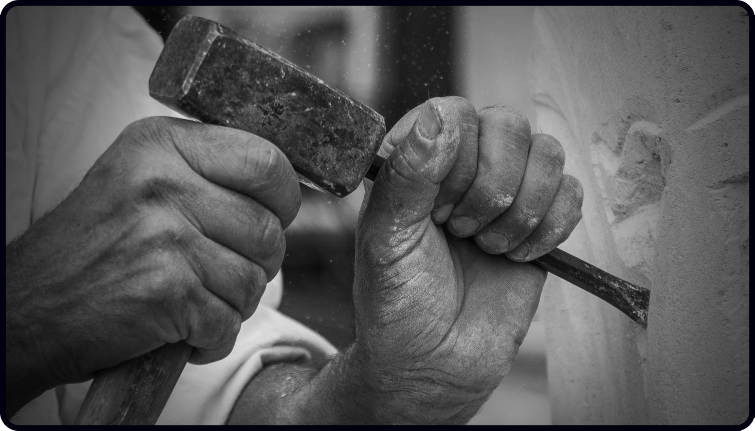 Welcome to a new Monday post with 3 random thoughts on all things guitar, music, and life, including wise words from Tommy Emmanuel, how barre chord practice is similar to creating sculptures, and more. Here we go…
#1 – Paying the price
I read something interesting recently about achieving goals.
It was the fact that if there is something in life you want to achieve, you have to pay the price first.
Imagine your favourite restaurant where they serve the best meal and drinks you've ever had.
You go there, and you have to pay for your meal before you eat it.
Once you've paid, you can go back the next day and eat it.
Achieving things is a lot like that.
We have to pay the price first and put in the work.
I like this philosophy and it's very true with the guitar.
We have to put in the work and then the succulent, delicious, and mouth-watering meal will come later…
For us guitarists, that means wonderful music, exciting jams, and songs that make the hairs on the back of your neck stand up.
If playing ever feels tough, remember that.
Stick with it and put in the work.
The good times are coming.
This brings me to another point…
#2 – A great Tommy Emmanuel quote
Do you ever get the feeling that one day you are doing great on guitar…
…But the next your fingers and thumbs are tripping over each other like a bunch of sugar-rushed kids playing musical chairs blindfolded?
Oh, how I used to hate that feeling.
If that's a feeling you get sometimes, read this quote from the great Tommy Emmanuel.
He said:
"One day you pick up the guitar and you feel like a great master, and the next day you feel like a fool. It's because we're different every day, but the guitar is always the same, beautiful."
Yep, that is so true.
We never really have the exact same level of concentration and focus as the day before.
Sometimes it's more, sometimes it's less.
So, when you have a bad day on the guitar, try to think back to a day when the guitar felt natural.
The chances are when you had a great day you were relaxed, chilled, didn't put too much pressure on yourself, were having fun, and had some sort of focus on what to practise.
Ultimately, though, it's a good idea to go easy on yourself if you ever have a bad day.
A better day of practice is around the corner.
#3 – Sculptures
Today I filmed a new lesson on barre chords.
It's an alternative way of helping you improve them.
Many guitarists try barre chords one way.
…That is, they pick a shape and work on it in the same way over and over.
Usually only paying attention to the barre finger and little else.
This usually leaves their hand and fingers twisted up and sore in the process.
In terms of barre chords, I like to imagine learning them is like creating sculptures.
Whereas most people try to hack away using one tool…
A master will chip away at their sculptures from different angles.
Sometimes you can take big chunks out of it, sometimes small chunks.
Barre chords are the same.
Trying one way doesn't often lead to great results.
There are too many nuances.
Having different ways of chipping away at barre chords though is fun, exciting, and productive.
This is the way I like to teach them so that you can improve your barre finger, your technique, reduce pressure, alleviate pain, increase dexterity in your non-barre fingers, and more.
In the new lesson, I cover 9 ways of chipping away at barre chords.
They're organised into a fun little workout you can do daily or a few times a week.
This workout takes minutes and it'll improve not only your barre chords but also all your technique.
The new lesson will be released on the 1st of October as part of my membership programme.
Find out more about the Dan Thorpe Acoustic Academy
Have a great week!
Dan Thorpe
Guitar Domination
P.S. This post was originally taken from Dan Thorpe's private email list. To get blog posts like this sent to you which are full of great tips to make fingerpicking, strumming, and learning guitar more enjoyable (especially if you are over 40) join Dan's list. It's 100% free, HERE.