One simple chord trick you can do today to improve your guitar playing and add some sophistication to your chords is the use of what is commonly called 'chord anchors'. This is where you keep some of your fingers on the same fret and same string throughout a chord progression and in this is what we will be going over in this weeks One Minute Guitar Trick.
In the example we are using you keep your 3rd and 4th fingers on the 3rd fret of the 1st and 2nd strings respectively. If that sounds a little confusing, it is very simple in practice and sounds fantastic. Look at the chord charts below to see how simple they are.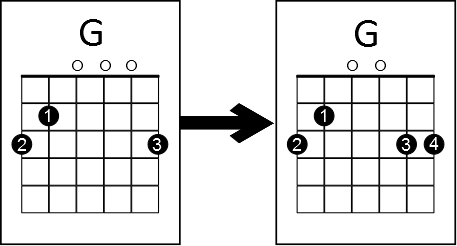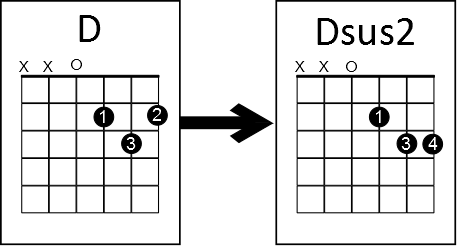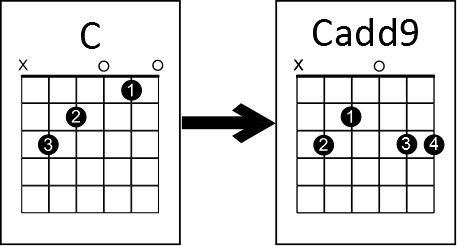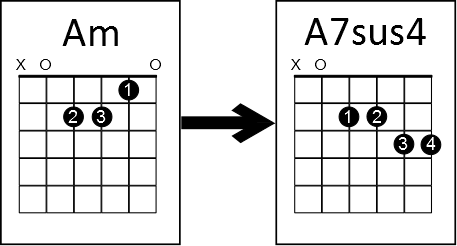 Playing these 'chord anchors' turns the:
Em to a Em7
C to Cadd9
D to Dsus 4
Am to Asus4
G stays as a G (as the notes in the chord are the same, G, B, D, we have just swapped a B for a D.)
See how your 3rd and 4th fingers stay exactly where they are with all of these chords. Have a play through them and listen closely to how lush they sound.
Many of you will know about the popularity of the i-v-vi-iv chord progression which in the key of G is G, D, Em, C. Now with these 'chord anchors' you can spice up that overused progression. Compare it to a straight i-v-vi-iv and hear how it sounds a little lighter.
A great trick is to use a chord progression without anchors for the verse of a song and then with the anchors for the chorus. This will make your chorus sound more uplifting and more powerful than the verse. It doesn't matter what progression you use to get this effect.
"Come on skinny love just last the year"
Ed Sheeran uses this idea really well in his cover of Bon Iver's (which Birdie also covered) song 'Skinny Love'. With a capo on the 1st fret, the verse is played, Em, C, G and the chorus is played G, Em7, Cadd9.
All the chorus is, is those chords reversed and played with the chord anchors. Very clever and subtle. Just listen to how the verse is a little darker and chorus is far more uplifting because of this simple chord trick.
The most well known songs that use this simple chord trick are Wonderwall by Oasis and Good Riddance (Time of your life) by Green Day. Both of these songs apply this simple chord trick to great effect and are very distinctive for it.
Everyone should write at least one song that uses this trick. If you are worried about sounding like either of those songs in particular, just change it up.
Try picking the notes instead of strumming them, play with a capo higher up, use a unique strumming pattern, don't use a typical chord progressions, or write a really strong, original melody over the top of it. There are loads of ways of making this sound unique and awesome.
Check out these songs that use this simple chord trick and watch the video below to hear how it sounds. Have fun with these chords and have a play about and come up with your own chord anchors.
Popular songs that use this simple chord trick
Oasis – Wonderwall
James Blunt – You're Beautiful
Green Day – Good Riddance (Time Of Your Life)
Pearl Jam – Elderley Woman Behind A Counter In A Small Town
Poison – Every Rose Has Its Thorn
Ed Sheeran – Skinny Love (Bon Iver Cover)