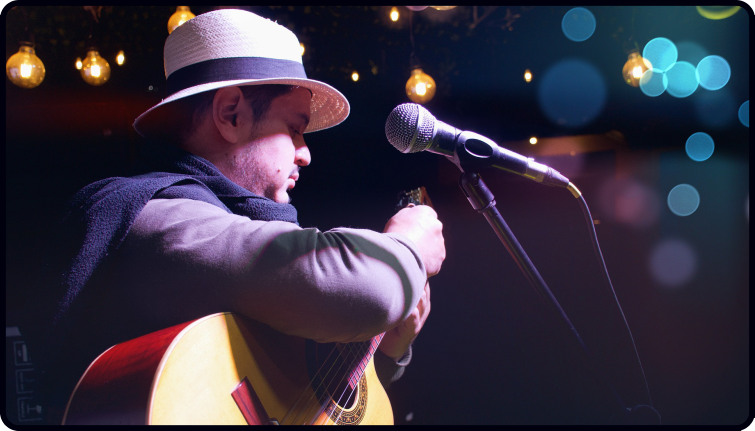 Here is another Friday 10-second tip for you to enjoy. It's all about singing and strumming.
A lot of people spend ages learning how to strum a song.
Then, when it finally sounds good on the guitar, they try to add in the singing…
…But a new problem arises.
That is the fact they often struggle to keep the rhythm of the strumming going while singing!
The reason?
Usually, the strumming pattern is too complex for them to sing over at this stage.
When I teach students to sing and strum, we will nearly always use the following process.
Learn the chords and make sure the changes are smooth.
Ensure they can sing the tune accurately.
Play a very simple strumming pattern (the simpler the better at this stage).
Finally, we add in the singing while keeping the simple strumming pattern going.
I get the students to do this over and over until it sounds great.
(This step can take multiple days).
After a while, when everything is natural and sounds tight, and I can see the student no longer has to think about it…
We will look at filling out the strumming or playing a more interesting strumming pattern.
But it all starts with strumming the song simply and strumming it well.
…Because when you sing and play guitar, it's the vocals that most people listen to.
When you stop singing, that's when the guitar comes to the fore.
In other words, you need to keep it simple!
If not, frustration can occur!
Anyway, for more help with singing and strumming, you might want to check out my Tom Dooley course that's on sale this week.
While the main bulk of the course is on playing a stunning fingerstyle version of the tune, there is a bonus section on singing and strumming which will help with this specifically.
Here's the link to find out more about it.
Dan Thorpe
Guitar Domination
P.S. This post was originally taken from Dan Thorpe's private email list. To get blog posts like this sent to you which are full of great tips to make fingerpicking, strumming, and learning guitar more enjoyable (especially if you are over 40) join Dan's list. It's 100% free, HERE.