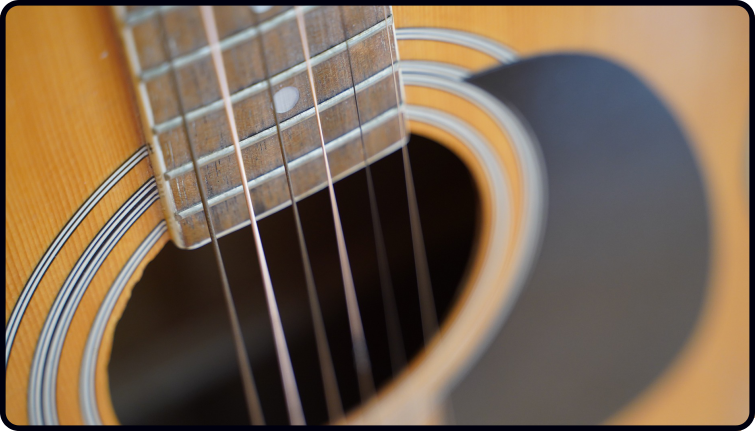 Welcome to a new Monday post with 3 random thoughts on all things guitar, music, and life, including the benefits of studying songs, why it's important to always be prepared, and more. Here we go…
#1 – Studying as well as learning songs
One thing I have always done when learning songs is to study them deeply.
Before I knew much about theory, I would try to work out the key and chord progression.
I would compare the song to other songs I knew and see if I could spot similarities and differences between the two.
I did this when I started playing before we had the internet to help, so a lot of it was guesswork.
It was good fun though and often led to more questions than answers, like when I was curious why "Hotel California" has an F# Major in it or what key "Sweet Child O' Mine" was in.
No doubt as you learn more and study more and go deeper, more questions will be raised.
Do what it takes to answer them, and always keep being curious about what you are learning.
The more you can connect the dots of everything, the better it is.
I always found the more time I spent studying songs, the more passionate about them I was and the more motivated I was to play them well.
It is simple advice, but something I still do to this day.
#2 Why I am happy that I closed my studio down
A few weeks ago, I made the final trip to my music studio.
Me and Sally, my partner, loaded up the car and brought back my guitars, amps, books, and equipment and I said goodbye to the place for a final time.
When I switched off the lights and shut the doors, it felt like the final scene in Friends when they leave the apartment one last time!
I liked the place and had a good 3 years there but overall, leaving it felt great.
Why?
Well, for starters, I hated travelling there. The traffic around there could be bad.
More importantly, the place was not that inspiring and apart from teaching and filming lessons, I was never there.
I have done all my main work, like writing these emails, planning, creating arrangements, lessons, managing accounts, dreaming up new products, etc., all at home on the desktop or out in the garden, and occasionally out in the great outdoors somewhere.
I find it far more inspiring there.
As for lessons, I still do them in person, but as mentioned in other emails, I have cut down the amount of one-to-one teaching I do massively.
For a couple of these lessons, I go to students' houses which is nice, as it is as much about visiting an old friend as teaching.
Maybe one day I will get a studio again but for now, this new setup is far better, and I am feeling much more productive for it.
It just goes to show your environment makes a difference to everything, and it's why I talk about making your practice environment a really positive one.
#3 – A lesson from a camping trip
I talk a lot about preparation with students.
Instead of winging it each time you pick up the guitar, it is always a good idea to think ahead and either follow a course, lesson plan, or create your own for the day.
However you practise, be prepared.
If you don't, all sorts of things can happen…
Like Friday night, I took Archie camping for the first time ever.
My mom and stepdad have friends who have a farm nearby with a fishing pool surrounded by trees. It is a beautiful secluded place to camp.
In the middle of the night, I woke needing the bathroom, and got up, took a walk, and realised I was about half an inch from stepping right into the fishing pool.
Imagine that – a nice cold swim at 4:00 am.
Lack of planning was the cause.
Be prepared, no matter what.
On the guitar, this means a little planning and thinking about what you will practise for the day, even if that means just logging in and following a course or opening up a book where you left off…
When camping, it means always pack a torch!
I hope you enjoyed these random thoughts and enjoy your Monday!
Dan Thorpe
Guitar Domination
P.S. For a little help with planning your playing, you may want to check this out.
P.P.S. This post was originally taken from Dan Thorpe's private email list. To get blog posts like this sent to you which are full of great tips to make fingerpicking, strumming, and learning guitar more enjoyable (especially if you are over 40) join Dan's list. It's 100% free, HERE.