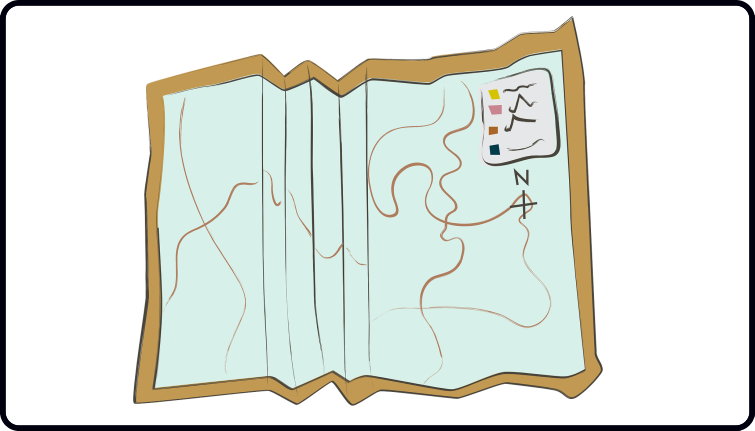 Over the years, my son Archie has loved it when I create little treasure maps for him.
I've loved creating these for him too.
My love of this probably stems from growing up watching classic movies such as The Goonies and It's a Mad, Mad, Mad, Mad World.
Anyway, a while back I thought, why not make a kind of treasure hunt for guitarists?
So, I did.
Learning guitar should be fun after all.
The truth is though, some people kick the fun out of it.
This can be by teaching in a boring way or teaching things that are not relevant to the student.
Over the years, I made it my mission to avoid this at all costs.


As well as that, though, I have always tried to make learning more fun for students in my own quirky ways by bringing in some good old-fashioned fun and games.
It is not that easy doing this online, but technology is making this easier and easier to do.
Take my Fingerstyle 101 video course, for instance, which is a video course on my website.
As you go through the course, you can mark lessons as "complete" meaning you know what you've done…
You can visually see where you are with the lessons, so you don't get lost…
…But better than that, I have added a fun little "treasure hunt".

As you go through the course, there are encouraging messages that pop up on certain pages.
Each message unlocks one of three "keys".
When you get all three keys, a series of bonuses "magically" appear in your account.
There is no way to get these bonuses other than by going through the course and unlocking them.
Yes, it's a bit of fun, but it works.
Some folks buy courses and need no motivation to use them, but others need a nudge.
I know this sort of fun-filled motivation would 100% make me want to dive into the course right away, and I hope it will for you too.
Obviously, this is the icing on the cake with the course.
The main thing is the course will take you by the hand and help you be the fingerpicking guitarist you really want to be.
That is the most important thing.
Think of the treasure hunt as a light-hearted way of making your journey with fingerpicking a more memorable and exciting experience.
To find out more about the course and dive in with the treasure hunt, head to the link below:
Find out more about the Fingerstyle 101 Video Course
The course is on sale until tomorrow night.
Remember, however you learn and improve on guitar, always keep it fun.
Dan Thorpe
Guitar Domination
P.S. This post was originally taken from Dan Thorpe's private email list. To get blog posts like this sent to you which are full of great tips to make fingerpicking, strumming, and learning guitar more enjoyable (especially if you are over 40) join Dan's list. It's 100% free, HERE.