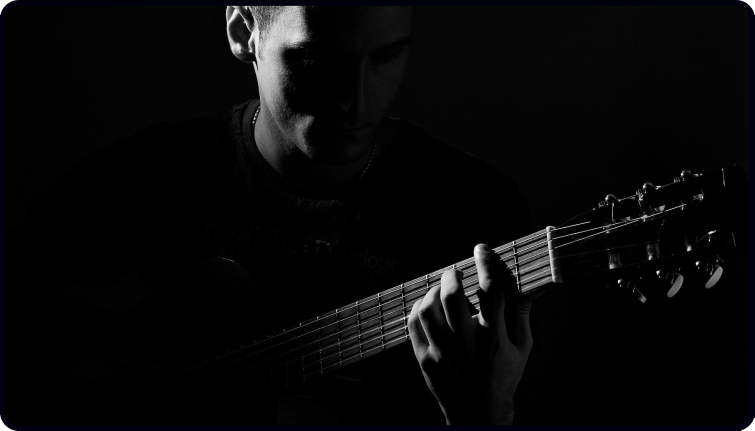 There's a pretty special thing you can do with your playing and…
Once you can do this, you'll have a great balance of melody and rhythm.
You'll be able to combine lead and chords at the same time…
And you'll be able to make your guitar sound rich and vibrant at any time.
What is this magical thing I'm talking about?
It's the ability to play "triads".
A "triad", in case you don't know, is where we strip back a Major or minor chord to its three core notes.
We then play these three notes ANYWHERE on the fretboard.
…And doing this gives us the flavour of the chord but can massively change up its feel and tone, which can be very exciting.
If you've never tried playing triads, they can be so much fun.
In terms of why we use them, well, there are two main benefits of using them.
Triads can help you:
#1 – Make your playing more exciting and allow you to really start to "unlock" the fretboard.
#2 – Understand your playing, know what notes you are playing and connect the dots of theory and fretboard knowledge.
Of course, you can use triads to "noodle", improvise, play along with friends, create interesting versions of songs, and even jam with yourself using a looper pedal.
The options are endless really.
So, if you've ever wanted to move beyond the 5th fret of your guitar…
…And use the whole range of the fretboard (instead of using about 15% like most guitarists do), then triads are a great way forward.
The key thing is you take it steady and learn them in a clear and methodical way.
If this sounds good to you, well, on Wednesday, in the Dan Thorpe Acoustic Academy, I'm going to release a brand-new lesson on triads, where I cover all this.
So, if you want to learn this way of playing, which will add an exciting new string to your bow, then check out the link below.
The Dan Thorpe Acoustic Academy
By the way, as well as being fun, triads can be easier to play than you may think.
They only use three strings after all.
That means a triad version of a C chord can be a whole lot easier than a normal C chord.
They are well worth learning…
Have a fun day of practice!
Dan Thorpe
Guitar Domination
P.S. This post was originally taken from Dan Thorpe's private email list. To get blog posts like this sent to you which are full of great tips to make fingerpicking, strumming, and learning guitar more enjoyable (especially if you are over 40) join Dan's list. It's 100% free, HERE.