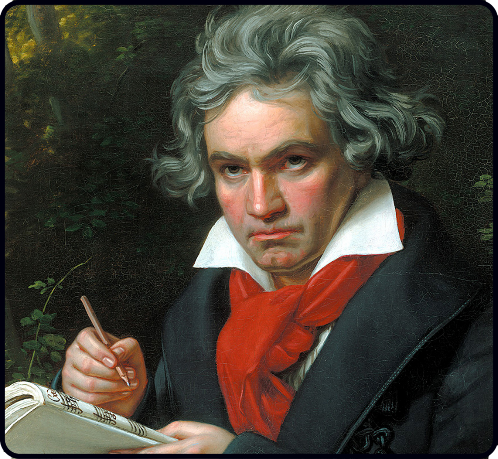 What's Beethoven's favourite fruit?
BA-NA-NA-NAAAAAA.
What a corker of a joke.
Tell it to all your friends but make sure you sing the BA-NA-NA-NAAAAAA bit with some vigour. My 3-year-old loves this joke (not because he is a massive Beethoven fan yet – it's probably more to do with my silly voice when saying it).
Anyway, something I don't talk about much is how wonderful classical music is and how just a little bit of it can be wonderful for your playing.
Every guitarist should learn at least one stunning and recognisable classical piece, and after a few years, a couple more.
There are lots of cool reasons for this.
Great classical music has stood the test of time, so you know it's good
It uses harmony (which is when more than two notes are played at once) amazingly well
You will look super cool and sophisticated to your friends (or you could just get a monocle)
Classical music sounds great as it is designed to be played instrumentally (you don't get classical music butchered by out of tune warbling on TV talent shows)
The chord voicings and fingers required often call for subtly different techniques which will develop your playing
You do have to be careful with classical music though – particularly classical music written for the guitar.
A lot of classical music written for guitar is nice, but unless you listen to it regularly, you might not recognise it and therefore most other people won't.
Personally, I think it is much more exciting to learn stunning classical pieces that we all know and love.
These are ones we have heard in films, on T.V., at sporting events or wherever. The ones that are memorable.
Think of:
"Ride of the Valkyries", in the helicopter scene in Apocalypse Now (one of my favourite films ever), the music from 2001 – A Space Oddity, Beethoven's "Ninth Symphony" in A Clockwork Orange, and the ace music from Fantasia.
There is also…
"Toccata and Fugue" by J.S. Bach (which is better known as the scary, creepy, haunted house music in films and T.V.) – I am certain you know this infamous piece.
It is one of the best classical pieces in my opinion and it transfers to the guitar really well.
It was used in The Phantom of the Opera and there is even a more wacky, psychedelic version in the film, Ocean's 8.
You can learn it in the link below (you will recognise it within about 1 second and it is great fun to play!)
Learn the super fun Toccata and Fugue
As well as the Toccata and Fugue, I have taught quite a few other fun classical pieces (both "real" classical and modern classical) over the years which include:
Spanish Romance (another beauty that is simpler to play)
The Godfather Theme
Darth Vader's Theme from Star Wars and more…
Learn the above and more of the most fun and instantly recognisable classical pieces in my Elite Guitarist Inner Circle.
They are great fun to play and a joy to add to your repertoire – particularly if the music means something to you, i.e. from a film, T.V. or from memories of a loved one playing them many years ago.
Dan Thorpe
Guitar Domination
P.S. What classical pieces do you like to play on the guitar?
This post was originally taken from Dan Thorpe's private email list. To get blog posts like this sent to you which are full of great tips to make fingerpicking, strumming and learning guitar more enjoyable, (especially if you are over 40) then join Dan's list. It's 100% free, HERE