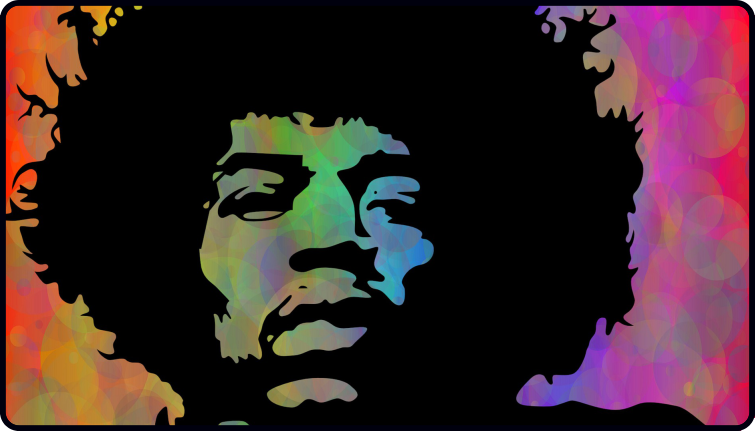 Welcome to a new Monday post with 3 random thoughts on all things guitar, music, and life, including the story of when Jimi Hendrix stunned Eric Clapton, the importance of managing your time, and more.
Here we go…
#1 – When Hendrix stunned Clapton
I've been enjoying reading the Eric Clapton autobiography lately (which I mentioned a short while back).
I enjoy autobiographies, but I like to read them in short bursts every now and then.
Today, I was reading about when Clapton was in Cream.
The band was hanging out backstage before a gig in London.
In walked Chas Chandler (bassist in The Animals) and a young American guitarist, called Jimi Hendrix.
Chas said Jimi wanted to play with the band for a few numbers.
Eric and Jack Bruce were up for this, but the drummer, Ginger Baker, was a bit more hostile (no surprises there!)
In the end, the band and Jimi started jamming the song, "Killing Floor" by Howling Wolf (great tune).
Eric talked about how even during the very first jam together, Hendrix was going for it…
He said about Jimi:
"He blew me away, he played guitar with his teeth, behind his head, doing the splits, it was amazing."
To blow Eric Clapton away, you know you must be good.
What an experience that must have been for the band, Jimi, and the audience.
#2 – Time management
How you manage your time is really important.
Many of us are busy.
If you work full time, have kids or grandkids to look after, you'll know this feeling.
Even if you're retired, you're no doubt pretty busy too.
(Some of my retired students "are busier than ever" they tell me).
This is why managing your time is key.
For me, I get a fair few replies to most emails I send (which I love).
One email that got a lot of replies lately was the one about "modern radio music being overrated". (I'll share some of those excellent replies soon).
The thing is, I can't always reply to them as much as I'd like.
I do try though, and I most certainly read and appreciate them all.
It's all about managing time.
At the moment, I'm working on two very cool projects:
…One will be free and one will be inexpensive, and I think you'll love both.
It's all about balance.
To get these projects finished means I have to be very "time aware".
On the guitar, I recommend all students do the same too.
Think closely about what you want to achieve in each practice session.
Put some time aside (even 10 minutes per day) to really go after achieving this mini-goal.
Then, you can kick back and enjoy jamming and playing once you've put in that dedicated time each day.
#3 – Songwriting challenge
Today, I created a new poll in the Fingerstyle 101 group about the songwriting challenge that we're doing.
I've intentionally kept things moving at a bit of a slow pace.
Mainly for two reasons – so everyone can catch up and not miss out, but also rushing through something like this seems like a daft thing to do.
There are almost 2000 people in the Facebook group, so writing a song with that many people is a big task!
It's okay for Bob Dylan and Ed Sheeran, who both claim to write 9 or 10 songs per day, but for most people, this is a new skill, so let's take it slow.
Anyway, today I created the poll asking everyone to let me know which chord progression will be the main bulk of the song.
Together, we decided that our key is going to be the key of G.
The possible chord progressions are:
G – D – Em -C
G – Em – C – D
G – C – G – D
Em – C – G – D
G – D – Am – C
If you're in the group, you can add your own progressions to the list.
Even if you're not in the Facebook group, you can play about with these ideas to use a chord progression as the backbone of a song…
…But if you do want to get involved in the group (where I'll share more details and stuff), you can.
The group is only for those who have purchased any of my products.
That's to keep the quality of the group high (it helps to prevent spam) and so the group is full of like-minded folk.
Anyway, if you have any products of mine, you will see the link below to access the group.
If you don't see the link, but you should, send us an email and let us know.
Otherwise, you're welcome to take a look around on my products page below:
Dan Thorpe's List of Resources
Have a great Monday!
Dan Thorpe
Guitar Domination
P.S. This post was originally taken from Dan Thorpe's private email list. To get blog posts like this sent to you which are full of great tips to make fingerpicking, strumming, and learning guitar more enjoyable (especially if you are over 40) join Dan's list. It's 100% free, HERE.