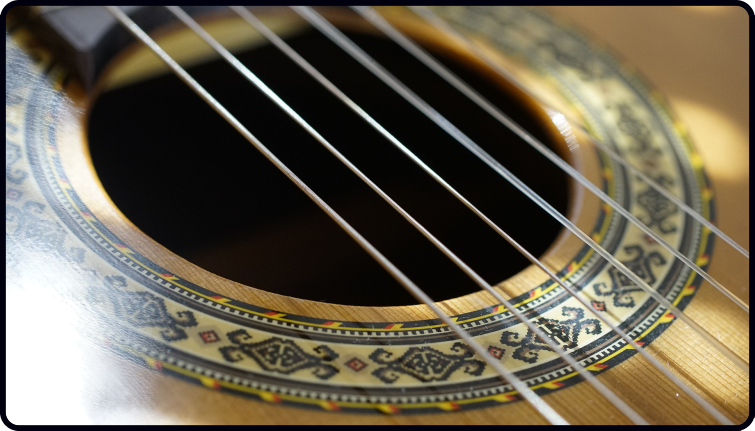 The great Chet Atkins once said:
"Everyone has their own sound and if you're heard, enough folks will come to recognise it."
Well, over the last few years, I've taken this advice to heart even more.
One thing I love to do is sit with my guitar and play a little Travis picking piece.
…For some reason, this exact piece always gets my foot stomping, my energy up high and my musical mojo sizzling.
It's just one of those pieces I love to play.
This exact Travis picking piece is one of these things for me.
It's very Chet-inspired, but I've put my own spin on it.
…And everyone should have a "go-to" piece to play like this.
You know what I mean, where you have a thing you play that just feels right and natural and very "you".
…Where it's like a part of your soul being sent through your fingers into the guitar to play music that feels like it's coming deep from within.
It doesn't matter what the piece is really.
You might prefer to strum, play riffs, fingerpick patterns, or do your own crazy hybrid of them all.
…But if you do like to Travis pick and want to learn my little foot stomping piece, you can.
It's my favourite ever Travis picking pattern too.
There's so much you can do with it.
…And I'm super excited to release this lesson on Friday, the 1st of July.
I break it all down in my usual style.
First, we start with the bass notes only, so you can get a tight groove, then in a step-by-step way…
…I show you how to add more and more melody, syncopation, and "feel", and it all builds to an exciting crescendo.
To get this lesson though, you will need to join the academy before the end of June, as the lesson will be released on Friday, the 1st of July.
Find out more about the Dan Thorpe Acoustic Academy
…Either way, it's definitely a good thing to think about getting yourself a "go-to" piece you can play at any time and any place.
Having one is so much fun!
Dan Thorpe
Guitar Domination
P.S. This post was originally taken from Dan Thorpe's private email list. To get blog posts like this sent to you which are full of great tips to make fingerpicking, strumming, and learning guitar more enjoyable (especially if you are over 40) join Dan's list. It's 100% free, HERE.