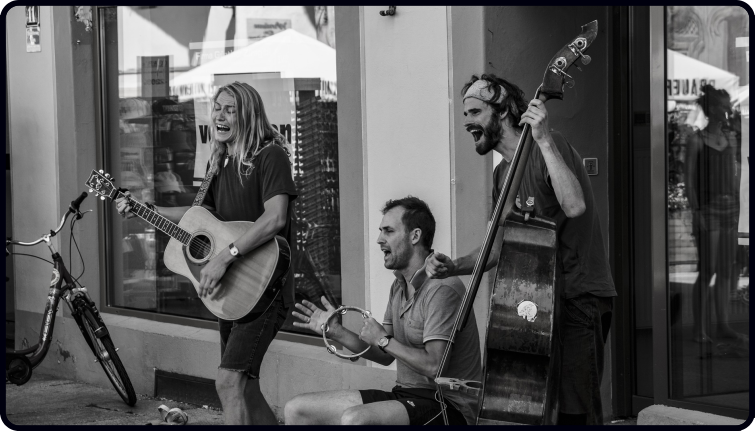 No, this post is not about the terrible Michael Jackson song, "You Are Not Alone".
It is instead about telling you you're not alone in this world of learning guitar.
When someone joins the Fingerstyle 101 group right after purchasing the book or course, I ask them what was the reason that made them get it at this time.
These are the responses over the last week or so.
I'll keep them all anonymous but hopefully, they will help you realise if you are struggling on the guitar, you are not alone.
Here we go…
#1 – "I'm stuck in the learning process…love fingerpicking, need better technique for pain and playing through recovering from pinched nerve".
#2 – "I have been trying for 40+ years to play guitar. I end up getting frustrated and not being able to play anything. Yes, I am a tad impatient, so here I am with a clean slate and open mind. This is day 2 for me and already I have had a lot of 'Oh !' moments watching your lessons!"
#3 – "I'm 60. Had guitars since I was 18. About time I learned to play properly!!!"
#4 – "I've been playing guitar since 1979, my freshman year in high school. I've always admired fingerstyle players. I really would like to improve my technique."
#5 – "Improve from decades of getting nowhere fingerstyle."
All of these are familiar things I hear a lot.
The thing is, most students think they are the only ones who feel this way.
If you do, you definitely are not the only one.
In fact, I find it a little unusual if a student has never thought any of the above things in their first few years of playing.
Anyway, here are a few more…
#6 – "I hit a plateau in my ability to fingerpick and was drawn to you. I just started on guitar. I am almost 67. Thought this is the one I have been looking for!!!"
#7 – "I took lessons when I was a kid for about a year.  I have tried to pick it up again from time to time.  Each time I give up mainly due to lack of time.  Each time I forget how to read music and have to start at square one all over again.  I have recently retired and hope that I will stick with it this time."
#8 – "Been dabbling with the guitar for several years. Have retired and getting a little more serious about learning. I can cord and read music but really want [to] learn to fingerpick. I was impressed by the first exercises upon viewing a sample."
#9 – "I took guitar lessons years ago, but only for a short while, I didn't enjoy what we were learning, I love fingerpicking style and am eager to learn more."
#10 – "I needed basic fundamentals. My playing was buzzy no matter how hard I practiced. I'm already seeing results!"
No doubt some of those responses will resonate with some of you.
Do any of those 10 above resonate with you?
Some students have been frustrated for too long.
Frustration often leads to action, and this action can make all the difference
If you are struggling right now, take action.
That could be just by being more positive each day, taking it slower each session, making sure you have more fun on the guitar, etc.
…And if you are doing well with your playing, see how you can make your practice even better!
Enjoy your day!
Dan Thorpe
Guitar Domination
P.S. If you do want to check out the Fingerstyle 101 book or video course, you can do so below:
Fingerstyle 101 – a step-by-step guide to beautiful fingerpicking guitar playing
If you get it, you will also have exclusive access to the Fingerstyle 101 Facebook group. It is an exclusive group and support network that has over 1400 members so far. It really is a cool place to talk guitar and fingerpicking.
P.P.S. This post was originally taken from Dan Thorpe's private email list. To get blog posts like this sent to you which are full of great tips to make fingerpicking, strumming, and learning guitar more enjoyable (especially if you are over 40) join Dan's list. It's 100% free, HERE.