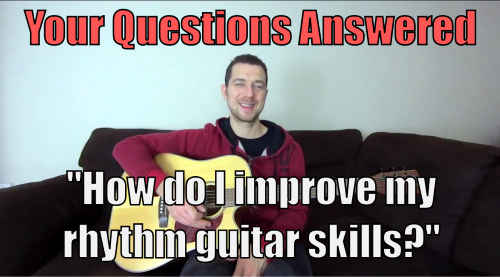 I recently got a reader question asking me "How do I improve rhythm skills on the guitar?" It's a great question and one I get a lot so I decided to create a video on it. To find out 4 ways to improve your rhythm skills on the guitar check out the video HERE (and please like and comment).
If you have a question yourself on anything to do with your guitar playing, ask below by leaving a comment or go to the YouTube video page and leave a comment there.
In this video we cover the essential and crucial aspects of rhythm which you can find below.
Learn your core strumming patterns
Tap your foot to the beat when playing
Master the sub-division game 
Play the 'radio game'
If you enjoyed this video, please like it and subscribe to my channel. The more subscribers there are the more I will post more videos for you guitarists out there!
Also, just for those of you who are really keen, if you want to get better rhythm and strumming skills, then I have a course dedicated to the subject called Strumming With Soul which will help your rhythm and strumming skills in a variety of ways.
I hope you are having fun with your guitar playing, and any questions, please comment below and I'll get back to you!