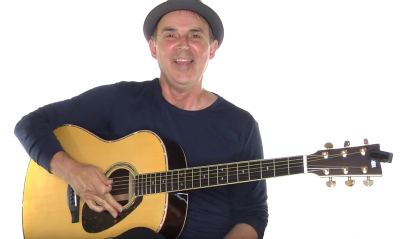 It's been a little while since the last Q and A as I have been so busy with new projects such as my new guitar podcast and the new stuff I have coming out (more on all this soon) but here is a really cool Q and A with a really cool guy – flamenco guitar teacher Tomas Michaud. 
If you have looked on YouTube at any guitar lessons, you may well have come across Tomas' channel as he has a huge following over there.
Although I think of Tomas as the 'go to' guy for flamenco guitar there is more to his teaching than just that.
Now, flamenco is something we haven't looked at here on Guitar Domination but it is a style I like a lot and there are a lot of cool things we can learn from flamenco, (strumming is an obvious one!)
In this month's Q and A, Tomas shares with us what his practice routine looks like, some of his best tips for learning, and shares a really interesting story from his experiences.
Let's begin…
Bands and inspiration
Your favourite guitarist?
Who's the best band/artist you have seen live?
Greatest guitar piece ever recorded?
Best guitar of all time?
My Flamenco Negra made by Lester Devoe
You as a guitarist
Most difficult thing you've ever learned to play on guitar?
Who's your favourite guitarist and/or biggest influence ever?
Probably Ottmar Liebert. I've been playing in bands for years and I was feeling disillusioned with the rock 'n' roll lifestyle. Hearing his early music on the radio helped me realize there are other ways I can express myself beside rock music.
What's the first song/riff you ever learned on guitar?
Stairway to Heaven (I learned it poorly)
Why did you choose to play the guitar?
It wasn't just about playing guitar but also creating my own music.
I remember sitting in my room as a teenager listening to guitar music. It really spoke to me and made me feel better. I think I wanted a way to express myself as well as connect with other people. It seems like playing guitar would be a good way to do that.
What's the first guitar you owned?
Some cheap acoustic guitar… Likely made overseas somewhere. The strings were like 1/4 inch off the neck. I'm not sure if it even had a brand.  I was so used to it that when a friend of my father's offered me a better guitar at first I refused. But wisdom prevailed… I tried a better guitar and never went back.
Self taught or formal lessons?
I started out self-taught. I picked up things from friends to play guitar and got books and CDs from the music store. Eventually I took private lessons and group classes at the junior college. I went on to study classical guitar at the University.
Any unusual tunings you love to use?
I mostly stick with standard tuning, but occasionally use a drop tuning. I love the sound of that low D bass note. (Here's a good one to learn – Dan)
Song you'd most like to cover but haven't yet?
A pop flamenco instrumental version of 'Somewhere over the rainbow'.
Your music and gear
What was your best ever gig?
Playing a concert in Vancouver British Columbia with guitarist John Gilliat. Great audience, great musicians and everything just flowed.
Favourite effects to use and why (if any)?
I don't use effects other than a little reverb.
What does your current gear setup look like?
A flamenco guitar with a pickup going into a sound system.
One piece of gear you couldn't live without?
My guitar?
Favourite song to play live?
Seville… from my CD 'New World Flamenco Jazz'
What's your most embarrassing moment on stage?
The most embarrassing moment I can remember is when I was playing as an opening act for Johannes Linstead. He is someone that I admire and I was happy to be able to perform with him on the same stage. I was using the musicians from another group instead of my usual guys.
They were good musicians but we probably didn't rehearse enough. About halfway through the song 'Seville' they went off to a different section of the song than I was playing. Fortunately it didn't last long and we got back together. I'm not sure how much the audience noticed, but I'm sure Johannes did…And that's what was most embarrassing.
Where do you find your inspiration for song ideas?
When I composed the song 'Seville' I had a dream that I was sitting in front of a CD player listening to the song. It was so real that when I woke up for a few seconds I was trying to remember which CD the song was on. Once I realized it wasn't on a CD yet I ran in the bathroom with my little digital recorder so that I could remember the gist of the song.
I often get ideas for songs and dreams. For that reason I keep a guitar and recording device close by so I can record quickly. Sometimes I get song ideas when I'm driving, walking along the beach or sitting in the airport waiting for the next flight.
Tips and advice
Top advice for any new bands/artists trying to make it?
Pay attention to playing music as well as spending time with other musicians that are aligned with your values.
Advice for new bands/artists?
Practice more than you think you need to.
What does a typical day of your practice routine look like?
Right now I'm on a maintenance routine while I am deep in the process of creating lessons for my Real Guitar Success membership program. My maintenance routine is a 25 minute session each day. I have a specific set of exercises that I practice that cover different areas of my playing.
Tips you'd like to share with other guitarists?
Let the music you create reflect who you are as a person. To that end make sure you are the kind of person that you would want to reverberate in the ears and hearts of those who hear your music.
Best advice for beginner guitarists?
There's two things that come to mind…
First, even though I've learned some things without an instructor, I'm sure I would've progressed much more quickly with a good organized instructor or learning program. I'd recommend making an effort to get good instruction.
For private teachers it pays to do your homework. Many guitar teachers are not really very good teachers. In particular they're not very organized. I've created a post that will give you a good overview of what to look for in a guitar instructor and even a checklist you can download.
The second tip is to create a small practice routine that you can do every day. I see a lot of students that are overly ambitious at first, but then find they never have time to practice.
Create a short practice routine and do it every day. Create a longer practice routine that's aimed at making progress. Schedule this for four or five days a week. If life gets busy and you can't do your longer practice routine, at least you have the short one. (This is great advice – Dan)
General thoughts on learning guitar for our readers.
When I started learning guitar I was a young "rocker". Mostly we would try to learn the cool parts of songs or riffs that we liked in the vein of Smoke On The Water, Iron Man, Crazy Train, etc.
After several years of this, and lots of what I thought was "practicing", I began to get more and more unsatisfied with my progress.
I realized while watching more accomplished guitarists that there was something missing in my playing. There was something elusive that I didn't know how to figure out… a kind of ease or fluidity that made a big difference. It almost seemed like some kind of mystical element. I did begin to wonder if some people were just born with it, and I wasn't.
I decided I needed a more rigorous foundation… and learning classical guitar would provide that. In fact I would go to college and major in guitar – easier said than done. I discovered pretty quickly that the bar was a bit high just to get in. So I studied with a local teacher for a few years with the goal of playing classical guitar well enough to get in at the university level.
The first big breakthrough came when I applied to Cal State Hayward and was accepted by the sought after classical guitar instructor Jim Bertram. It was somewhat both luck and good timing that he accepted someone as undistinguished as myself as his student. He happened to have several holes in his schedule when I showed up with the minimum acceptable skill level. He did mention once that he liked that I was a pretty determined young man, in his typical calm, unenthusiastic demeanor.
I'll never forget our first meeting. I was very nervous, but still proceeded to tell him what I wanted to learn like I had done with previous instructors. In particular I wanted to master a song called "Recuerdos De La Alhambra" by the well known composer Tarrega. It required a particular tremolo technique and I had been working on this song for quite a while.
Jim listened patiently, then put down his guitar and asked to see my nails. He took out a file and proceeded to show me how to properly shape my nails on my right hand. He explained what kind of file to use and instructed me to buy a special grit of sandpaper to finish off the process. The lesson was over. I was ready to get down to action, but my instruction was to work on filing my nails properly for the week until our next lesson.
The following lesson I began to reiterate what I wanted and needed to learn. I was sure we were ready to get down to "serious business". Jim listened again, and then asked to see my nails. He pulled out a file and made a few corrections as I sat quietly. He then told me something that changed the way I approached music lessons.
He said he will not teach me "Recuerdos", at least not for several years because I wasn't ready. Not only would I butcher a beautiful composition at my current skill level, but I would retard my overall progress by not preparing properly. I could learn the notes, but it wouldn't sound like "Recuerdos" until I was ready.
Furthermore, the way the lessons would work was that I would be following his program. He would dictate which songs and exercises I was to work on. If I trusted him and worked hard I would be happy with the results.
That was difficult for me to hear. I'd never had a teacher refuse to teach me a particular song indefinitely. I'd never actually had a teacher tell me what I needed to learn. I'll have to admit I was a little afraid. What if I didn't like the music? What if I got bored? What if I wasn't good enough to keep up?
One of the best things I've done in my music learning career, if not my life, was to just go with it. I wish I could thank Jim for what he did for me. Unfortunately he died in a motorcycle accident before I got the chance.
Tomas
---
Well, that's it. Wow, what a wonderfully powerful story to finish off with. I want to give Tomas a big thanks for taking part in this Q and A. I absolutely loved what he said and the tips he has shared with us.
If you want to check out more stuff from Tomas, and if you're a beginner on guitar, or if you'd just like to review the basics, you can check out his free beginner guitar for grownups course and you can of course catch him over at YouTube where he has a tonne of videos.
Thanks for reading and I hope you enjoyed and learnt from this superb player and teacher. Over the next few weeks, I'll be back with a new podcast and some more posts as well as YouTube videos so make sure you subscribe to my channel to keep updated.
Keep on enjoying your playing!
Dan