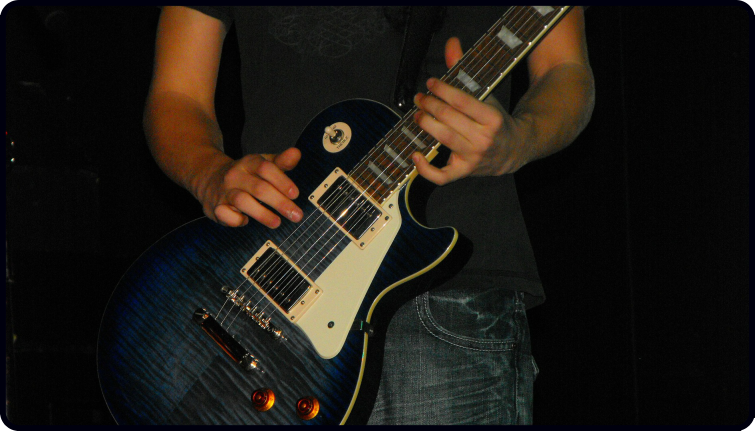 One of the worst habits a guitarist can have (and one I used to be very guilty of committing myself) is the habit of 'bouncing' their fingers off the fretboard. I talked about this briefly in my Ultimate Guide to Practicing Scales but want to expand upon this, as it is a very important subject. 
In this post, you will learn why 'bouncing' your fingers can really hamper the way you play guitar, why fixing it will make a big difference to the accuracy of your playing and how to actually fix it.

First, let me be clear about what I mean by 'bouncing' your fingers off the fretboard.
I call it 'bouncing' as when a guitarist plays a note, once that finger has just been used – they then 'bounce' the finger a large distance off the fretboard creating a big gap between the finger and the fretboard.
There are multiple reasons why 'bouncing ' your fingers so far away from the fretboard causes some big issues.
These issues include:
A lack of accuracy when putting the finger back on the fretboard
It takes longer to get the finger back on the fretboard, thereby slowing down your playing.
Hampers the development of finger independence; as the action of keeping fingers close to the fretboard requires more control
Left and right hand co-ordination suffers as one hand is lagging behind the other
The aim should generally be to keep your fingers within an inch of the fretboard as a minimum.
Take a look at the video below. This is me purposefully 'bouncing' my fingers away from the fretboard when playing the classic riff 'Sunshine of Your Love' by Cream.
Example 1 – Riff
I chose this riff because when most beginner guitarists play it, they are guilty of bouncing their fingers off the fretboard – big time.
I often teach this one to beginners as it is something fun for them but also gives me a chance to cover what we are doing today and most beginners really do bounce their fingers when playing this one!
Notice how far the pinkie travels to get to the fretboard for the final note of the riff (played on the 13th fret). This is super common with beginners and the reason it is so bad is that when the pinkie is travelling so far, the chances of it accurately landing on the string are shortened.
Instead of hitting the string in the middle of the finger, most guitarists land with their finger slightly off the string resulting in a buzz note. It doesn't always happen but when bouncing your fingers, the chances of this happening increases.
Now watch this video.
This is what you should be aiming for. Can you see the control? It is more efficient (but could be even better) and leads to a much better habit being formed.
The fingers stay closer to the fretboard the whole time, meaning the chances of hitting each note cleanly increases.
Example 2 – Scales
Below are two videos of me playing one octave of the A minor scale. Watch them both below and see if you can spot the difference between them – one has me showing control and one has me bouncing my fingers on purpose.
Again, can you see the lack of control and laziness of my fretting hand in the video above?
Now check out the video below to see me making more effort to keep my fingers closer to the fretboard.
Example 3 – Chords
'Bouncing' happens mostly on riffs and melodies as these often require less fingers on the fretboard at any one time. It can still happen on chords and does a lot.
In the above video my fingers are fretting a C Major chord, an Asus2 chord and a G Major chord which require either three fingers or two fingers.
Notice how for the C Major and G Major chords the finger not required (the pinkie) flies up in the air faster than a Jeff Beck lick?
Can you also see how on the Asus2 chord my two fingers not required (ring and pinkie fingers) also bounce up?
This is not good.
Below is what should be happening on these chord changes…
See that control?
It is much better. By not bouncing your fingers you will improve your all round technique AND get faster chord changes. As we all know chord changes are the bane of most beginner guitarists playing. This is especially so if they have been playing for 2 years or less, or still find this area tough.
If you do struggle with chord changes, ensure you are not bouncing your fingers and if you need extra help on the subject, my inexpensive faster chord changes eBook will help you here.
How to know if your guitar technique causes you to 'bounce' your fingers
Now you are aware of the pitfalls of bouncing your fingers and what it looks like, how do you actually spot it to see if you actually do it?
The best way to is play a couple of pieces of music – any pieces you know well and don't have to think about playing, and film yourself playing them on your smart phone. I recommend choosing something that you find pretty comfortable to play; as this way you will see if bouncing your fingers is a habit of yours.
If it is a piece you are learning or have just learned lately you might find you make more effort not to 'bounce'. Instead we want to find out if it is something ingrained into your playing.
How to fix your 'bouncing' issues for better guitar technique
If you do currently 'bounce' when you play, it will take a bit of effort to get out of the habit of doing it but the benefits will be well worth it.
Here's how to get out of the habit of 'bouncing'.
Choose a passage that isn't too technically demanding for you. Ideally it should be a short piece –  a one octave scale, simple riff or fun melody will work
At first, whatever passage you play should be slowed down to a very slow pace
Play the piece, slowly paying close attention to the feeling in your fingers. Naturally they will want to do what they have always done and bounce.
Fight the sensation of the bounce and reach over with the picking hand if need be to move your fretting hand finger(s) closer to the fretboard
Keep going at this super slow speed until the sensation of close control to the fretboard (it will feel weird) starts to kick in
Do this for 2-3 minutes, go to something else, then come back to it
It is hard to not bounce if that is something you have done for a while and it does require lots of concentration.
Although it is tricky to get out of the habit of bouncing your fingers, as long as you are focused on it, spend some time on specifically addressing it, and keep an eye on it, you may be surprised at just how quick you can eradicate it from your playing.
There are lots of benefits to doing so too, which include:
Better accuracy when fretting notes
An ability to play faster
More accurate and faster chord changes
Improved left and right hand co-ordination
More control of your fingers and improved finger independence
I would love to know your thoughts on 'bouncing' in the comments below. It is one of those rarely talked about subjects, but one that can really hamper your playing if you don't fix it.