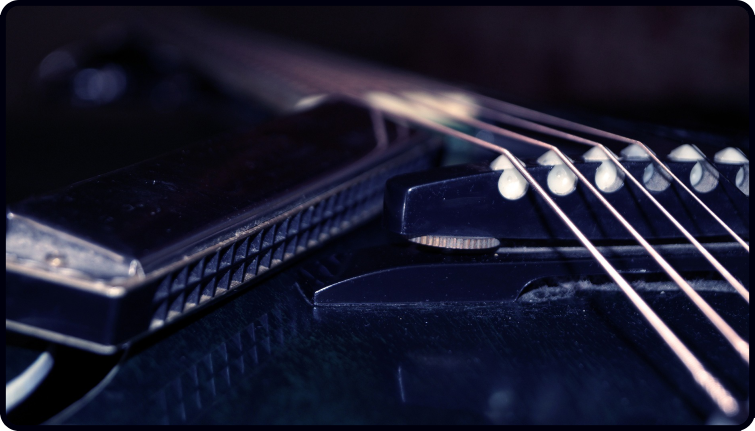 As you probably know, I'm a huge fan of Eric Clapton.
I love his live performances, the music he created in the band Cream, and pretty much all of his blues playing.
Well, here's a great quote from Sir Eric of Clapton that really defines the blues better than I've heard anyone else do so…
"My definition of blues is that it's a musical form which is very disciplined and structured coupled with a state of mind, and you can have either of those things but it's the two together that make it what it is.
And you need to be a student for one, and a human being for the other, but those things alone don't do it." – Eric Clapton
That is powerful and sums up the blues brilliantly.
I often talk about the blues being both an art and a science.
On the one hand, there is the solid structure of the 12-bar blues, which you can use time and again.
This includes the 12 bars, the chord changes, and the fact those changes rarely change from song to song.
The blues is a solid template – like a science.
I think of it like an outline of a beautiful drawing.
On the other hand, just like Eric talked about, it's how you fill in the blank spaces in the blues template that counts.
It's how you colour them musically to create a sparkling and stunning image that radiates off the canvas.
That's what makes the blues very "human" and very exciting.
…The art and the science.
I'm no visual artist.
Music is my art.
And the blues is one of my favourite canvases.
I'm not saying I'm a master of the blues like Clapton, and of course, I can't teach you how to be as good as Clapton (no one can).
…But I can help you discover the art and science of the blues.
Where you will learn the core structure, play it to a high standard, and jam it with fun and exciting riffs to make the blues truly shine.
The key thing is to start simply and build up your blues one brush stroke at a time.
You can find out how to do this in my course, which is on sale this week.
You can check it out below:
Find out more about the 12-Bar Blues Mini Masterclass
Enjoy your day of practice…
Dan Thorpe
Guitar Domination
P.S. This post was originally taken from Dan Thorpe's private email list. To get blog posts like this sent to you which are full of great tips to make fingerpicking, strumming, and learning guitar more enjoyable (especially if you are over 40) join Dan's list. It's 100% free, HERE.