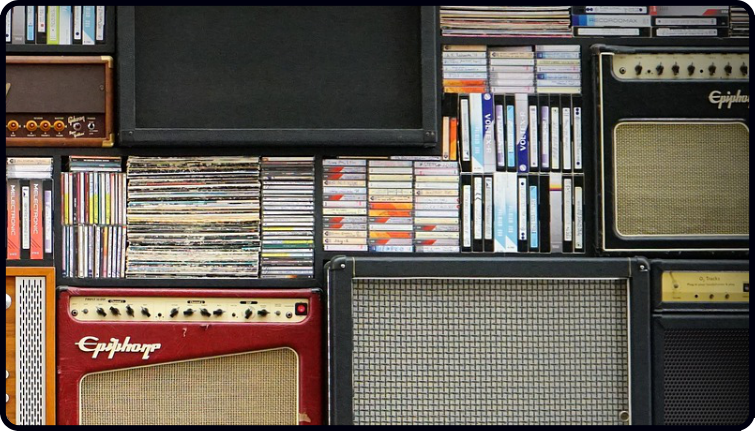 I was watching a rare interview the other day.
It was with an amazing guitarist who died young in a tragic helicopter crash.
This fella was a beast of a guitarist and even Mick Jagger and Keith Richards talked about him as being one of the best of all time.
It was the legendary Stevie Ray Vaughan.
I've not written too much about Stevie before, but he was an insanely good guitarist.
In the 80s, "shred" guitar was taking over.
Guitar virtuosos had taken the Van Halen two-hand tapping technique to another level and were pushing the guitar to the limit.
The problem was this overly technical style of playing often lacked soul.
…Especially for casual guitarists, like most of my readers, who weren't excited by this stuff.
Unless you wanted to spend the whole of the 80s locked up in your bedroom for 10 hours a day practising scales, sweep picking, etc., this style probably wasn't for you!
Enter Mr Stevie Ray Vaughan.
He took the soul, the emotion, and the passion of the blues and cranked it up in his own unique way.
This meant on the one side you had the shredders playing a million miles an hour but with no obvious soul.
On the other, you had Stevie playing huge tunes with lightning-fast technique, yet they were full of bluesy passion.
Stevie was one of those players that had a crossover appeal – to me, his style was part Hendrix, part B.B. King, and part Clapton.
You know someone is worth listening to when…
…David Bowie invited him to play for him (which Stevie did do on the album "Let's Dance")
…Or when you're inducted into the Rock and Roll Hall of Fame.
…And when Rolling Stone magazine ranked him as their seventh greatest guitarist of all time.
Anyway, if you like the blues, Stevie is a great player to listen to who had a great sound.
If his style is something you are interested in learning or getting better at, then you may want to check out my course.
It's not going to make you play like Stevie or the rest of the blues legends (I don't make silly promises like that), but it will give you a really cool start.
The 12-bar blues example I teach in it is something that a few people told me sounds like a bit of a tribute to Stevie.
That's a nice compliment.
Anyway, you can check out the course and the example of music I'm talking about below.
The course is on sale until midnight tonight (Pacific time).
Find out more about the 12-Bar Blues Mini Masterclass
Have a fun day of practice!
Dan Thorpe
Guitar Domination
P.S. This post was originally taken from Dan Thorpe's private email list. To get blog posts like this sent to you which are full of great tips to make fingerpicking, strumming, and learning guitar more enjoyable (especially if you are over 40) join Dan's list. It's 100% free, HERE.