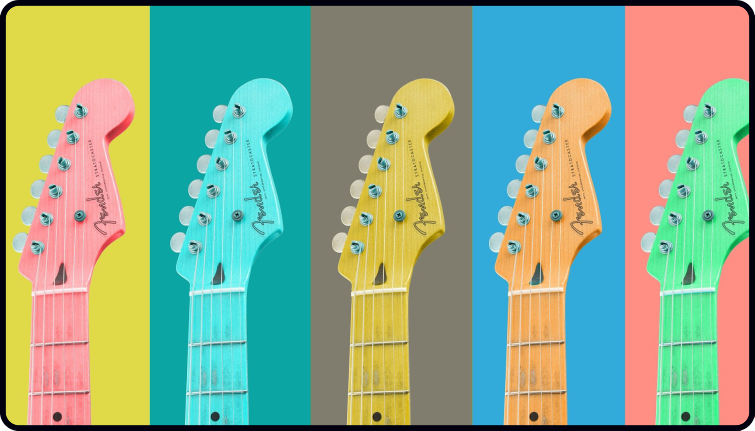 Here's a quote that all musicians can learn a lot from.
It's from an interview I watched recently with the late, great David Bowie.
This was his advice to all musicians…
"If you feel safe in the area you are working in, you are not working on the right area. Always go a little further in the water than you feel safe. Go a little out of your depth. When you don't feel your feet are quite touching the bottom, you are about to do something quite exciting."
I have nothing but respect for so much of Bowie's work and this quote sums up a lot of what I think about learning an instrument like guitar.
You have to push yourself that little bit further while not getting too out of your depth.
Just enough, but not too much.
That's key.
…And that's one of the reasons I'm such a big fan of bite-sizing big goals into small monthly goals which are much more measurable and achievable…
…and therefore, more motivating when the going gets tough.
It's how you make progress without splashing and thrashing about in the deep end of learning guitar, like Jaws thrashing at your ankles.
So on that note, here is a good mini-plan for the month of May so you can make big progress this month.
Learn a super simple song that sounds beautiful (spend 10-15 minutes or so on this per day).
Do a musicality improving exercise so all your songs sound better and are more fun to play (for 5-10 minutes per day).
Bonus – Fill in any gaping holesin your playing (using any extra practice time you have spare). This includes ironing out your theory, fretboard knowledge, ear training, etc.
That's it.
That there is a good, simple plan that will help you make big progress throughout May.
If you are busy, the shorter version of the above takes up to 15 minutes, but if you have time, you can spend 30 minutes or more to make even better progress.
Simply focus on the above in that exact order of priority.

Now, of course, you might ask, what is a great song, and what musicality exercise should I do, and how do I fill in these holes?
Well, it's all taken care of for you.
In the Dan Thorpe Acoustic Academy, for the month of May, all three of these steps have been taken care of.
#1 is sorted as you get the song to practise – "House of the Rising Sun". We are using the "3D method" for this, where there are three versions ideal for absolute beginners all the way to intermediate guitarists. Start with the simplest version which ANYONE can play (I would get you playing this on your very first lesson), then you can start to swim a little deeper by adding the layers from the Level 2 version, and bit by bit start adding in the exiting stuff David Bowie talked about.
Then there is Step #2 where you will learn one of my favourite musicality exercises ever, and Step #3, I take you through too.
Of course, if you are busy and prefer to go at your own pace, that is 100% fine too, but the plan is there if you need it.
It's all inside the Dan Thorpe Acoustic Academy.The only thing is you have to join before midnight tonight (PST time) to get these new lessons.
After that, these lessons are gone.
If this sounds good to you, and you are willing to log in, use the lessons and give it your best, do check it out on the link below where you can find out more, hear the new song, and if you like, join…
The Dan Thorpe Acoustic Academy


Imagine in a few weeks' time being able to play a legendary song everyone knows and then adding layers and more excitement to it over time while going at your own pace.
It can happen.
Dan Thorpe
Guitar Domination

P.S. Yes, membership is not cheap, but the most valuable things in life are worth the price. This means less wasted time, more happiness, improved self-confidence, and the ability to play music you enjoy and have others who hear you play enjoy it too. Plus, the other members and I will have your back so you can get the best out of yourself.
P.P.S. Yesterday I mentioned the next five people who join would get a free 30-minute zoom call/coaching session with me. I've just emailed those five. If you joined but didn't get an email from me, do get in touch in if you want a coaching call though, I have another option for you that I think you'll love. Just email me and let me know.
P.P.P.S. This post was originally taken from Dan Thorpe's private email list. To get blog posts like this sent to you which are full of great tips to make fingerpicking, strumming, and learning guitar more enjoyable (especially if you are over 40) join Dan's list. It's 100% free, HERE.