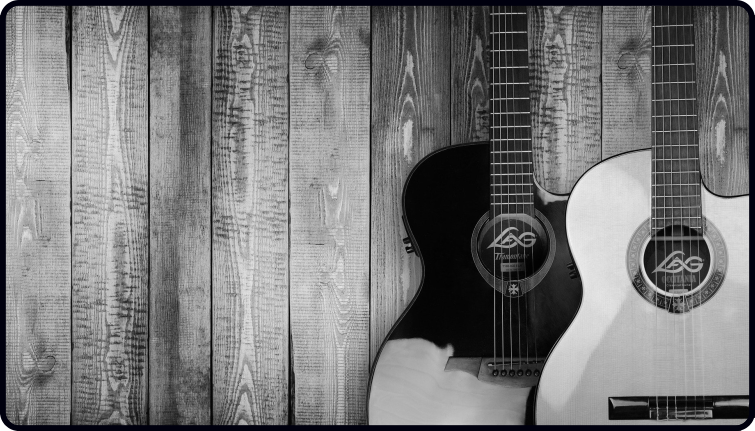 Just want to give you a polite heads up…
In a few hours, enrolment for the Dan Thorpe Acoustic Academy will end.
After this time, the shopping cart will close, and you will no longer be able to join.
If you join before the deadline though, you will get the 3-step plan to help you make rapid progress throughout the month of May.
These are just some of the specifics you will discover inside the new lessons:
Impress others (and more importantly yourself) by playing the incredibly famous "House of The Rising Sun" – one of the most popular I've ever taught.
Each version builds upon the previous one, meaning you can keep coming back to it, giving you endless hours of fun.
The super-simple Level 1 arrangement is one you can learn in just minutes, making it suitable for all guitarists, especially if you lack practice time or are in need of a quick shot of musical motivation.
Discover the "3D Method", which is the secret to playing stunning solo fingerstyle arrangements and will make playing any song more enjoyable.
How to stop being frustrated when learning a song and instead start enjoying every second of your practice time – it all starts with this one technical tip most guitarists don't know.
A memory tip most people neglect but then kick themselves for not listening to me after.
How to merge arrangements to create your own stunning version, which lets your creative side shine (which is great for brain health, by the way).
How to refine and perfect any song just like the pros do by going deep on specific sections (using some surprisingly simple tips).
Instantly make any song sound more exciting with the use of hammer-ons, pull-offs, and slides when all taught in this specific way.
A simple two-minute challenge to help you master one barre chord shape today to build your confidence and motivation going forward.
The most fun musicality exercise I've come across which will make playing any boring scale more enjoyable and taught in a fun, slightly silly way.
How to add vibrato to any piece of music to make even the simplest of melodies shine (it's something all the greats like Clapton, Peter Greene, Santana do).
Plus… lessons on "Universal Musicality", a primer on effective "Economy Picking" (making your picking hand more accurate), and the one thing you should avoid when playing any scale.
The bottom line is I want you to fall in love with the guitar, play every day with confidence, and I want to give you a clear path forward so you can make every note shine and create memories playing guitar any time, any place.
That may be when camping, jamming in the garden, playing for loved ones, or jamming with your friends, kids or grandkids.
…And you can go at your own pace, but if you worry about distractions, fear not, because throughout the month, I'll be sending you regular emails to keep you on track.
Here's the link to get in…
Join the Dan Thorpe Acoustic Academy before it closes
Dan Thorpe

Guitar Domination
P.S. I thought I would finish off with a handful of recent comments from students inside the member area…
"Enjoying this piece so much, and for me, this "unlocking the frets" is what I've always been looking for. Finally, someone is taking away the mystery! Thanks so much for always connecting things."
"I absolutely love your instruction, and this month has been my best month of learning – I have learned 4 songs – my first actual songs, so I am really stoked!!!"
"Getting towards the end of the month and this workout has become routine. It is a really great warm up exercise to do before diving into playing. Very helpful to wake up the fingers and brain😎"
"A beautiful melodic piece, Dan, sounds like a waterfall as it comes to life beneath my fingers. Top Mark's"
P.P.S. Even if you don't join, it's definitely worth having a think about how you can create a solid 3-step plan for yourself like the above for May. If you do so, you can make more progress in a month or less, than many make in years.
P.P.P.S. This post was originally taken from Dan Thorpe's private email list. To get blog posts like this sent to you which are full of gxreat tips to make fingerpicking, strumming, and learning guitar more enjoyable (especially if you are over 40) join Dan's list. It's 100% free, HERE.