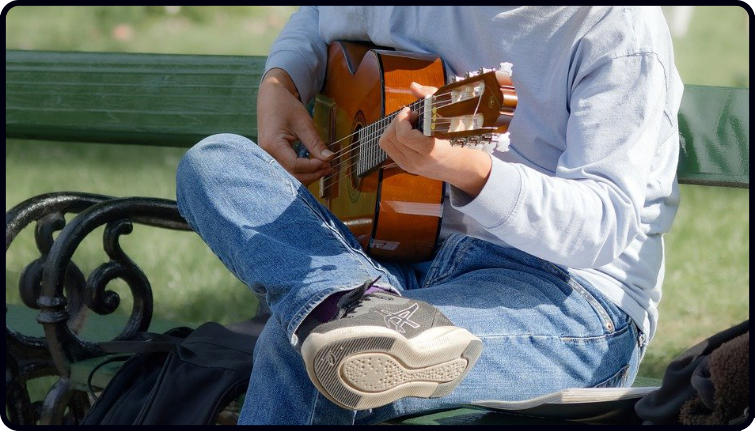 It's easy to misjudge the difficulty of a piece of music.
Walt said this the other day after listening to my latest podcast episode.
"Hey Dan! 
What a great rendition of Frankie and Johnny.  
I can flatpick an intermediate version but your fingerpicking version sounds quite advanced.  Do you plan to teach a simplified version? I love fingerpicking but getting the finger coordination up to speed has been a challenge.
By the way, 30 degrees centigrade is 86 degrees Fahrenheit.  That's a nice summer day in much of the U.S.!  Many summer days are 90F and higher in the south and midwestern states.  (For reference, F = (Cx 9/5) + 32).
I thoroughly enjoy your emails and podcasts.  Thanks so much!  Inching closer to the DT Academy every day."
Walt
Lexington, KY
It's interesting Walt said this because this exact arrangement is not technically hard to play.
There are no tricky chords (apart from one right at the end).
…And throughout the arrangement, I'm using just one fretting-hand finger, sometimes two.
It is lots of fun.
Of course, when I say it's "not technically hard to play" that is relative to your current skill level, how coordinated you are, and how dextrous your fingers are.
…But the arrangement I created for "Frankie and Johnny" is already pretty simple.
It just sounds like there's a lot going on.
So never be put off by how tricky something sounds.
If you enjoy the sound of it and it fills you with a flutter of excitement when you hear it, then give it a go.
You can always simplify things.
That's what I'm doing with this arrangement in a new DTAA lesson.
I teach the song in the exact same way I play it myself.
…But I also teach a simpler version, where we isolate only the most important parts.
You can learn the simple way OR the super simple way.
Both are really enjoyable to play.
You will get the TAB and notation to make it easier to learn, but I also teach it in video form.
I will say this though, just be aware, like any song, putting all the parts together requires some patience (unless you're already a seasoned/intermediate player, in which case you can probably learn this quickly).
…But if you enjoy the process of learning a song or you want to, that is great.
…Because learning songs methodically can be a lot of fun.
I go through how to do this and how to play the song in a clear and concise way in the new DTAA lesson.
To check out the arrangement and build some good habits you can use to learn ANY song in the future, check it out below:
Check out the exciting brand-new arrangement for "Frankie and Johnny"
If you've got any questions on the arrangement or about joining the academy, hit reply and let us know.
Remember, keep believing in yourself…
Dan Thorpe
Guitar Domination
P.S. This post was originally taken from Dan Thorpe's private email list. To get blog posts like this sent to you which are full of great tips to make fingerpicking, strumming, and learning guitar more enjoyable (especially if you are over 40) join Dan's list. It's 100% free, HERE.