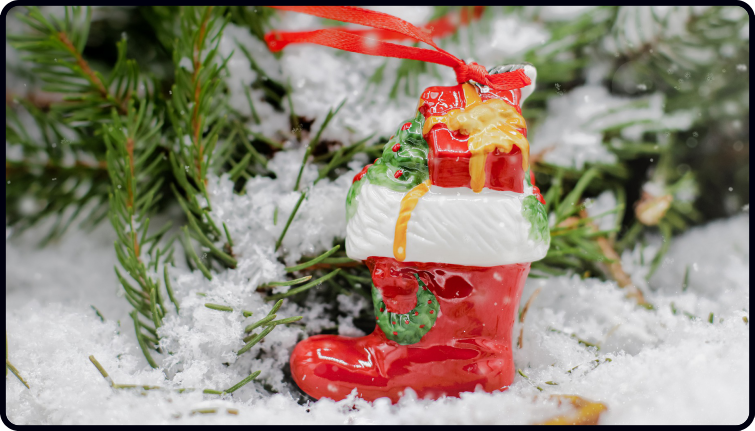 Ho, ho, ho, my guitar-playing friends.
Are you getting ready for Christmas?
I'd like to say I'm sitting here wearing a big Santa suit, eating mince pies with a sack full of goodies.
Actually, though, I'm wearing sportswear and just ate an omelette as I've been to the gym.
…But as Christmas is fast approaching, I've done something I've never done before.
That is, create a medley of Christmas songs.
You see, one of the coolest things about playing guitar is playing medleys.
(If you've never seen the Tommy Emmanuel Beatles medley, check it out as that is astoundingly good).
A medley is a great performance piece.
For example, when playing for friends or family, we don't really have an hour to impress them like a pro at a gig does.
So, instead, you can play a medley of five or so songs in just a few minutes.
Do it well and it will knock their socks off.
A good medley is also a highly effective way of practising a bunch of songs in a time-efficient way.
If you only have five minutes to practise but know you have a lot of songs to keep on top of, put them into a medley and practise that!
Creating medleys though is not that easy and requires some real thought in terms of which songs, the order of the songs, how to transition between them, etc.
…And that's before we begin to learn it.
Therefore, the new fingerstyle Christmas medley I've created might well be for you.
In this medley, I take 5 of the best Christmas carols of all time and segue them together for a powerful medley, which is a few minutes long.
It contains all the up-tempo classics – "Jingle Bells", "We Wish You a Merry Christmas", "Hark! The Herald Angels Sing", and more.
The pieces are not hard to play.
Of course, they take some perseverance and focus – just like learning anything.
…but if you enjoy fingerstyle, you'll be sure to love it.
If you're keen to hear it, hit reply and I'll send you the link.
…But to get access to the medley with complete TAB and notation, today, you can join the Dan Thorpe Acoustic Academy.
This medley is an early bonus gift for members which you can play year after year for hours of festive fun for you and your family.
Anyway, to get the lesson today, join at the link below:
The Dan Thorpe Acoustic Academy
Dan Thorpe
Guitar Domination
P.S. This post was originally taken from Dan Thorpe's private email list. To get blog posts like this sent to you which are full of great tips to make fingerpicking, strumming, and learning guitar more enjoyable (especially if you are over 40) join Dan's list. It's 100% free, HERE.