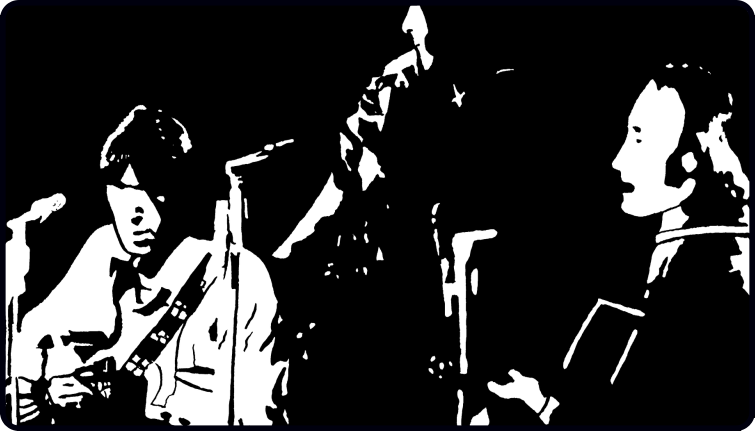 Welcome to a new Monday post with 3 random thoughts on all things guitar, music, and life, including a story of how five guitar legends came together, the struggle of small hands, and more.
Here we go…
#1) – Even legends love to jam
I talk a lot about how fun it is to jam with friends.
Well, even the legends of guitar love to do this.
I was reading the other day about the great George Harrison.
It was spring '88, and he needed to get a band together to record a bonus track for his album, Cloud Nine.
George called up some pals – Jeff Lynne, Roy Orbison, Tom Petty, and Bob Dylan.
For sure, that's a great bunch of friends to call upon to play on your record.
The five of them were having so much fun writing and playing music together, they didn't really want it to end.
…So, they released multiple albums together.
The sad passing of Roy Orbison meant the band didn't really hit its full potential I reckon, but they still had some big tunes.
…And five superstar musicians were all having fun, hanging out, and writing music.
It's pretty cool thinking of these guys doing this and it's something I urge everyone to do in their own way.
#2) – A common issue with people with small hands
The other day, DTAA member Shelley was telling me how she struggles with scales.
This is due to her very small hands.
She told me when playing scales, she has to move her hand around to reach the notes.
I reassured her and told her that it's okay to move your hand around when playing.
In fact, it's a mistake to keep your hand static.
Some people press too hard on the back of the neck of the guitar with their thumb.
This can stop them from moving their hand, which is not a good thing.
So, try your best to keep the fretting hand's thumb relaxed when you play.
This will help give you the freedom to move your hand around.
That can make playing scales, riffs, chord changes, and melodies easier.
…And that can go a long way in preventing you from overreaching and straining, no matter what your hand size.
#3) – New podcast is here…
Today, I want to announce my new podcast.
It's going to be a little different and a lot of fun.
In fact, this is a bit "out there" in many ways, but still very relevant and a whole load of fun.
I've decided to call the podcast the "Acoustic Asylum".
There's a meaning to the name.
That's because, as I often say, the guitar can drive us a little crazy and make us feel incredibly frustrated.
I've never met anyone who didn't feel this way at some point.
So, the podcast name is a bit of a tongue-in-cheek parody of this.
…But it's not just a name of a podcast.
Soon, there will be a full website with some very cool imagery (I have an illustrator working on this right now)…
There will be a story and some characters…
…And even some secret things you can "unlock" (more on this soon).
I don't want to spoil the surprises and say too much right now. but I truly believe this is going to be epic.
Above all, though, the main thing I want to achieve with this podcast is to help make learning guitar even more fun and add an exciting and unique edge to it.
Anyway, more will be revealed very soon.
You can listen to episode #1 today if you like.
After a bit of playing around (this is new territory for me), the first episode is on Apple podcasts, Amazon, Spotify and more.
To listen to it, go to wherever you listen to your podcasts and search for "Acoustic Asylum".
(I had a listen to it in my car via the Apple Podcasts app earlier – that was fun).
If you do listen to it, I'd love it if you could subscribe and leave it a review.
I'll talk a bit more about the podcast this week and get the links together so you can access it directly.
I'm super excited by the possibilities of what is coming.
Anyway, I hope you enjoyed these three random thoughts and you have a great week!
Dan Thorpe
Guitar Domination
P.S. For more help on fixing and improving the 7 areas most beginners struggle with, you may want to check this out…
Guitar Domination Super eBook Bundle
P.P.S. This post was originally taken from Dan Thorpe's private email list. To get blog posts like this sent to you which are full of great tips to make fingerpicking, strumming, and learning guitar more enjoyable (especially if you are over 40) join Dan's list. It's 100% free, HERE.