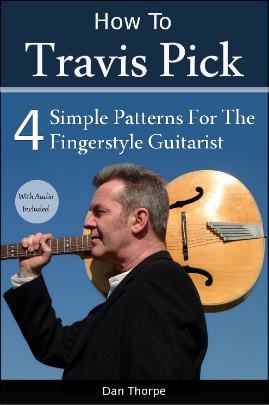 I want to let you know about something I have spent some time on lately. It is my brand new, 100% free eBook on Travis Picking.
If you are on the mailing list, then watch out for the email tomorrow.
Travis Picking is a subject many of you have told me specifically you want to learn more about.
I listened and I have created for you….
How To Travis Pick: 4 Simple Patterns For The Fingerstyle Guitarist.
It is not a long book. It is straight to the point and features four different Travis picking patterns. There are two variations for each pattern and all the patterns come with audio.
That's not all. The audio also comes with a slow version and a fast version of each pattern.
That means there are 16 different audio tracks for you to listen to and play along with.
Not bad for a freebie, eh?
This book is replacing 'Fingerstyle 101:  Learn 8 Beautiful Fingerpicking Patterns That Every Guitarist Should Know' as a free eBook on my site.
From next week, Fingerstyle 101 will no longer be free.
I still want you to get Fingerstyle 101 for free as a thank you for being on my mailing list.
Therefore, tomorrow, all my subscribers will get an email from me with a link to get both the new Travis picking book and the Fingerstyle 101 eBook for free.
Fingerstyle 101 was only meant to be free for a short period before I wrote this Travis picking book.
If you are keen on fingerpicking which I know nearly all of you are, then watch out for an email from me tomorrow with the link for where you can download both these eBooks (as well as another) completely free.
If you are not on the free mailing list, get on it now to get your free eBook, for everybody else, keep your eyes peeled for an email from me tomorrow with the link.
I hope you enjoy it. Keep on fingerpicking!