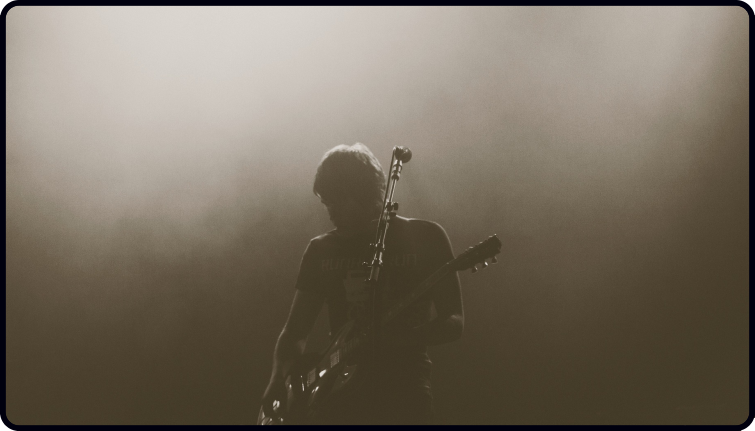 Here's something fun for you today.
It's a list of some of the most popular guitar heroes of all time, along with my thoughts on what made these legends of guitar so good, and how they've inspired my own playing.
I hope you enjoy…
Eric Clapton
I used to find Clapton a little overrated when I was growing up. Then again, I'd only heard a handful of his songs and never watched him play any live performances. How wrong was I!
The fact is, there's a reason why he's so admired across the globe and has been for many decades. The man's back catalogue from his days playing blues rock in Cream to his massively varied solo work, and his immense passion for blues playing is second to none.
There aren't many guitarists out there who are equally brilliant playing acoustic as they are electric, and not many guitarists can do what Clapton can do. He's a guitar legend for a reason.
Jimi Hendrix
Many people rave about Hendrix for his tone. For me personally, his guitar tone was never the thing that stood out.
It was his wild, frenetic brilliance, incredible rhythm, embellishments, and pioneering ways that did it for me. Although his tone on tracks such as "Voodoo Chile" is wonderful, I really love how Jimi could play the same parts but vary them each time while still keeping the music solid and super tight.
There aren't many guitarists out there that have this ability. Quite a few pros play it safe with guitar, but Jimi always pushed the boundaries of playing. For that alone, he will always be a huge inspiration.
Tommy Emmanuel
If you've never heard his Beatles medley, then you are missing out for sure. Tommy is certainly one of the best of the best of one-man-band style guitarists out there.
He has a great knack for being able to play the bass parts, melody, and chord tones all at once, and with real precision.
Not only that though, but he's also a real entertainer too. Unlike most guitar virtuosos (who can often get lost up their own backsides), Tommy always keeps things interesting. He's definitely a guitarist all acoustic players should check out and what's nice is that he seems to be a thoroughly humble chap too.
Brian May
A few years ago, he was voted the greatest guitar player of all time in Total Guitar magazine. I remember reading the interview that followed, and Brian was surprised about this.
It seems it's only these days that he gets the credit for being brilliant. Is he the greatest though? That's subjective, but he's certainly very well-loved.
He has a huge back catalogue of memorable and unique riffs, a signature sound, and a real versatility in his playing (plus, he made his own guitar too). These things all added up to be a massive part of Queen's success, that's for sure. Brian is always a super enjoyable player to listen to.
Jimmy Page
He's known as one of the greats, but some people slate him for allegedly stealing the occasional riff from others. Either way, he's a hell of a player.
For me personally, I've never really been blown away by that many of his guitar solos (they're still great though). It's his rhythm work that drops my jaw. The legendary riffs such as "Black Dog", "Whole Lotta Love", and "Immigrant Song" to name a few, are staples for all rockers.
What really stood out to me, though, is Jimmy's ability to play a wide variety of styles and do so brilliantly. He could play rock, blues, folk, acoustic, country, alternate tunings, and everything in between. Has there ever been a mainstream guitarist who can seamlessly switch styles and cover so many different sounds as Jimmy did? Personally, I don't think so.
David Gilmour
The tone, the soul, the emotion. Those are some of the things that just ooze out of Gilmour's playing.
I spent ages in my late teens trying to recreate his epic delay and reverb-soaked lead sound. It's just so special, but it's not just about his tone, but the notes he plays and the sheer beauty that radiates from his guitar.
The Dark Side of the Moon will always be one of the most special records in my life and the epic sounds on it still sound amazing almost 50 years later. He's never the flashiest, but pretty much every note he plays sounds wonderful. What a great player!
I hope you enjoyed that.
I may well do another of these emails about other legends of guitar (there are many, after all).
So, feel free to hit reply and send me your thoughts on this and who your guitar heroes are.
On a side note, no one can promise to make you play guitar like your heroes, but what you can do is play to your potential.
To do so, it all starts with the basics and nailing the essentials.
…Then you can have a tonne of fun on the guitar.
That's where this can come in handy.
The Guitar Domination Super eBook Bundle
Enjoy the rest of your day!
Dan Thorpe
Guitar Domination
P.S. This post was originally taken from Dan Thorpe's private email list. To get blog posts like this sent to you which are full of great tips to make fingerpicking, strumming, and learning guitar more enjoyable (especially if you are over 40) join Dan's list. It's 100% free, HERE.