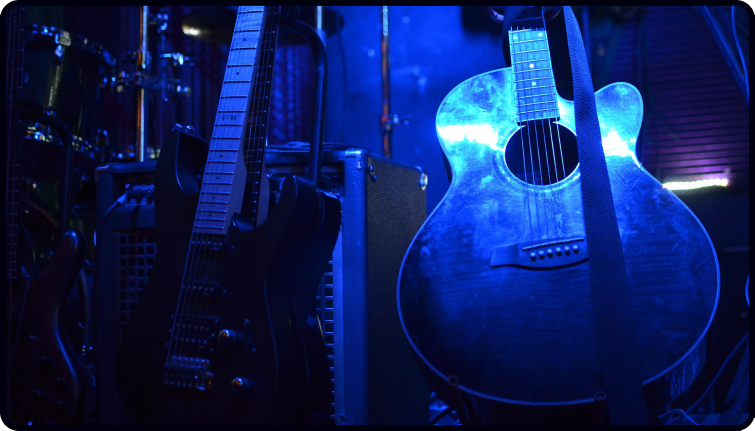 I love a good quote.
Today I thought I'd share a few classics from great guitar players about the blues.
To make them more interesting, I've added some of my thoughts on what these quotes mean and how they can relate to your playing journey!
"The blues tells a story. Every line of the blues has a meaning." – John Lee Hooker
That's so true.
The lyrics in a lot of blues songs paint some vivid pictures.
It's probably because the folks who wrote those lyrics actually lived those stories in real life. They were there, often oppressed and suffering in many ways.
That's very unlike the candy pop lyrics we hear on the radio these days, where most songs seem to be about empty crushes or nothingness. In contrast, the blues were very real.
"If you don't know the blues…there's no point in picking up the guitar and playing rock n roll or any form of popular music." – Keith Richards
 I don't know about that. I get what Keith is saying, but I didn't really touch the blues in my first few years and still enjoyed the guitar. I get what Keith is saying though, rock n roll and a lot of pop music have their roots in the blues in some way, shape or form. I know it's not for everyone, but I will say pretty much all my students who learnt the blues loved it.
"Blues is a tonic for whatever ails you. I could play the blues and then not be blue anymore." – B.B. King
Yeah, that's more like it from B.B. One of my favourite jams I have with students is where I put on a blues drumbeat and we both jam. I start by playing the rhythm, the student plays the lead, and then halfway through, we swap over. This is such a fun way to finish a lesson where we both part ways for the week with a big smile. The blues really can be a tonne of uplifting fun!
"When all the original blues guys are gone, you start to realize that someone has to tend to the tradition."  – Eric Clapton.
Well, someone's got to tend to the blues when Eric is gone. There will always be a love for this style no matter what, though. The blues will go on forever in some way. I just hope the next generation of guitarists are taught some blues songs and aren't just taught to play Ed Sheeran on guitar! I mean, yes, Ed writes a nice catchy pop number, but how's his blues playing? Kidding, I reckon he would play it well and respectfully, but you know what I mean. Long live the blues!
"That's the thing about the blues: It's one thing to hit a note on a guitar. To make it matter is something else altogether." – Joe Bonamassa 
This is where the blues shine. You can literally play any simple little lick and have it range in emotion from 1 to 10. A 1 would sound cold and bland and a 10 is where the lick is full of emotion. Blues playing is all about that emotion. It can be hard to know how to add emotion to a lick, but all the little things add up. This includes things such as vibrato, timing, phrasing, where you play the lick in relation to the beat, dynamics, and much more.
"Just a blues player can play 20 blues songs in a row but find a way to make each one different…." – Joe Satriani
I love this about blues songs. There're so many spins we can put on a song. You can play the same 12 bars of a song but in a variety of ways. Delta blues, Piedmont blues, fingerstyle blues, rock n rock, the shuffle, Chicago blues, Texas blues, and more. If you're a blues lover, it's quite exciting taking a song and playing it in a variety of ways.
There you go. That's some of my thoughts on some great blues quotes.
I hope you found that inspiring.
If you did, and you want to learn the blues, then you can do so below in my mini masterclass course.
It's a fun course that goes deep on the 12-bar blues shuffle (which is what I start everyone off with when it comes to blues and is pretty much an ideal foundation for blues guitar).
Plus, you'll learn a variety of riffs, get backing tracks to jam with, and more.
You can check it out below:
Find out more about the 12-Bar Blues Mini Masterclass here
Enjoy the blues – especially if you ever feel blue!
Dan Thorpe
Guitar Domination
P.S. This post was originally taken from Dan Thorpe's private email list. To get blog posts like this sent to you which are full of great tips to make fingerpicking, strumming, and learning guitar more enjoyable (especially if you are over 40) join Dan's list. It's 100% free, HERE.